Seafood Technology and Marketing Specialist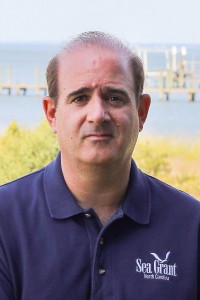 barry_nash@ncsu.edu | 252-222-6337
Focus Areas: New product development, seafood safety, quality enhancement, marketing
Barry Nash maintains an economic development program for the North Carolina seafood industry that addresses business diversification, seafood safety, quality enhancement and market development. He assists seafood businesses with commercializing new products, regulatory compliance, manufacturing and direct marketing.
Nash's expertise was instrumental in the development of Carteret Catch, a joint venture between the Carteret County fishing industry and local restaurants to generate greater visibility for local seafood and the heritage of the county's fishing families through promotion and consumer education. He also collaborated with supply-chain specialists at North Carolina State University and East Carolina University to improve the distribution of local seafood to inland markets across North Carolina.
Nash has authored and co-authored several publications about seafood technology, product safety and marketing, including A Supply Chain Analysis of North Carolina's Commercial Fishing Industry, Ready-to-Sell: Developing Value-Added Seafood Products, Branding Seafood: Developing a Marketing Plan to Sell Value-Added Seafood Products, and Control Measures for Harvesters to Prevent Scombrotoxin Fish Poisoning.
Prior to Sea Grant, Nash worked as a research and development project manager for GoodMark Foods, Inc., a food technologist for Ralston Purina Company, and as a research scientist for ConAgra, Inc. He holds master's and bachelor's degrees in food science and technology from North Carolina State University.