Fisheries Specialist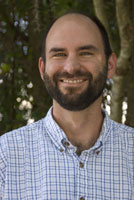 msbaker@ncsu.edu  | 910-962-2492
Scott Baker helps the commercial and recreational fishing communities understand and apply the latest in fisheries management, research and technology. Some of his latest activities include pilot testing electronic monitoring systems and bycatch reduction devices in commercial fisheries, and developing and testing fish descending devices for use in the marine recreational fishing sector.
Baker currently serves as President of the American Fisheries Society Tidewater Chapter and Chair of the South Atlantic Fishery Management Council's Information and Education Advisory Panel.
Baker's peer-reviewed publications can be found in a number of scholarly journals, including Marine and Coastal Fisheries and North American Journal of Fisheries Management.
Baker holds a master's in oceanography and coastal sciences from Louisiana State University and a bachelor's in biology from the University of North Carolina at Chapel Hill. Prior to joining Sea Grant, Baker worked as a research associate at Louisiana State University and as a biological science technician for NOAA Fisheries in Panama City, Fla.