Marine Education Specialist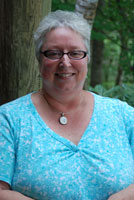 tkhathaw@ncsu.edu | 252-475-5486
Focus Areas: Environmental education, K-12, marine education, Scotch Bonnet
Terri Kirby Hathaway identifies and coordinates coastal curricula for use in classrooms across the state. In addition, she organizes teacher workshops and serves as an education associate with the Center for Ocean Sciences Education Excellence – Southeast, serving North Carolina, South Carolina and Georgia. Her marine education newsletter, Scotch Bonnet, is published three times a year.
In addition, Hathaway has presented at conferences for various education organizations, including Environmental Educators of N.C., the Mid-Atlantic Marine Education Association, the N.C. Science Teachers Association, the National Marine Educators Association, and the North American Association for Environmental Education.
Prior to joining North Carolina Sea Grant, Hathaway spent more than 18 years as the education curator with the N.C. Aquarium on Roanoke Island. Early in her career, she worked as a biological technician and researcher in Florida, Louisiana and Texas.
Hathaway holds a master's in science education from East Carolina University and a bachelor's in marine biology from the University of North Carolina Wilmington.