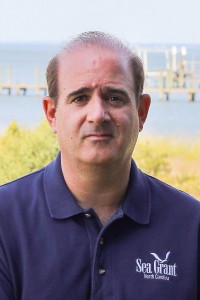 Barry Nash is a seafood technology and marketing specialist based in Morehead City. He maintains an economic development program for the North Carolina seafood industry that addresses product commercialization, manufacturing, regulatory compliance and direct marketing. He has assisted 13 North Carolina businesses in developing 49 new products for retail and wholesale markets and has provided seafood-safety assistance to more than 75 companies. He is certified by the Association of Food & Drug Officials to train individuals in designing and managing seafood-safety assurance programs.
Barry's expertise and connections from the private sector were instrumental in his leading the development of Carteret Catch, an educational partnership between Carteret County fishermen and restaurants to raise public awareness of local seafood and of commercial fishing. He also helped establish Brunswick Catch and Ocracoke Fresh, the retail brand for the Ocracoke Seafood Company of Ocracoke Island.
Barry partnered with Susan Andreatta of the University of North Carolina-Greensboro to pilot the nation's first direct-marketing program for local seafood, Community Supported Fisheries. Barry serves on the North Carolina Sustainable Local Food Council and the Carteret County Local Food Council.
Watch his posts for all things seafood — such as new products, safe handling methods and marketing practices. Contact him at barry_nash@ncsu.edu or 252-222-6337.