Posted Nov. 13, 2014
By E-CHING LEE
At Sea Grant, we are getting ready to send the Holiday 2014 issue of Coastwatch to the printer. Soon, the communications staff will be checking color proofs. Our hope is to get the magazine into our subscribers' mailboxes in time for Thanksgiving.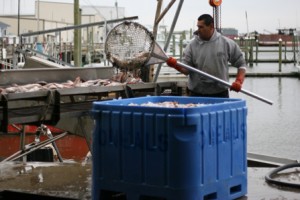 In this issue, we talk about seafood at the market. Devika Banerji examines the seafood supply chain in the state. Barry Nash, Sea Grant's seafood technology and marketing specialist, gives some tips on selecting and preparing frozen seafood. And we have some seafood recipes from Mariner's Menu that you might want to serve your guests this holiday. These seafood meals were selected, prepared and photographed by Vanda Lewis, our Mariner's Menu blogger.
Also, we continue our series on former North Carolina Knauss fellows. In this installment, we talk with three previous fellows who all are based in Washington, D.C. — including one who works in the most famous house in the country.
You also will get to hear from the 2014 N.C. Coastal Policy fellows, Mikey Goralnik and Kimberly Hernandez, who discuss major findings and lessons learned from their appointments.
But in the midst of the last-minute tasks to get the magazine to our readers, several writers already are working on assignments for the first issue of 2015.
And yes, there will be recipes — with a nod to the aquaculture industry in North Carolina.
I hope I've whetted your appetite for our Holiday issue. In the meantime, read our most current issue here or review our previous issues.
If you have questions, suggestions and feedback about Coastwatch, email me at eching_lee@ncsu.edu.