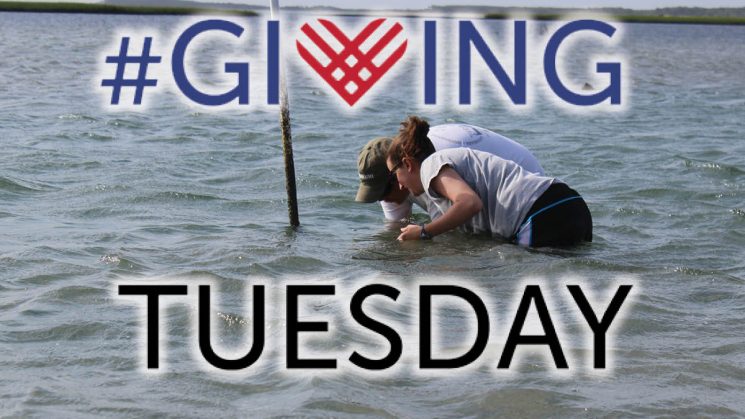 Healthy coastal ecosystems and economies are the foundation for life along North Carolina's coast. For more than 40 years, North Carolina Sea Grant's innovative programs have addressed issues key to enhancing the sustainability of these special resources.
Shannon Brown's research as a coastal research fellow is a great example of our interdisciplinary and collaborative approach. While a master's student at North Carolina State University, Brown, pictured above, received a 2014 fellowship from North Carolina Sea Grant and the North Carolina Coastal Reserve to study soundscapes in the Rachel Carson Reserve. Her work refined sound collection techniques and contributed a new type of baseline data for use in future management decisions.
We are committed to increasing our role as a key leader in enhancing the sustainable use and conservation of North Carolina's ocean, coastal and watershed resources. You can support this work on Giving Tuesday by making a gift to the North Carolina Sea Grant Program Enhancement Fund. All donations are tax-deductible to the fullest extent of the law.
The first Tuesday after Thanksgiving, designated in 2012 as Giving Tuesday, has grown into an international day of philanthropy. #GivingTuesday kicks off end-of-year giving and relies heavily on social media to drive involvement. Last year, the event raised more than $116 million for charities in 70 different countries.
Share this post on Facebook and/or Twitter with why you love and support the North Carolina coast!
As a friend of North Carolina Sea Grant, you help us maintain a link to research and resources for a healthier North Carolina coast. Your support will benefit all who work, live or play there. Thank you.
P.S. Don't despair if you missed donating on Giving Tuesday — we accept and appreciate your gift all year online or by mail!
—
Photo: Shannon Brown received a 2014 N.C. Coastal Research Fellowship from North Carolina Sea Grant and North Carolina Coastal Reserve to study soundscapes in the Rachel Carson Reserve. Photo by Doreen McVeigh