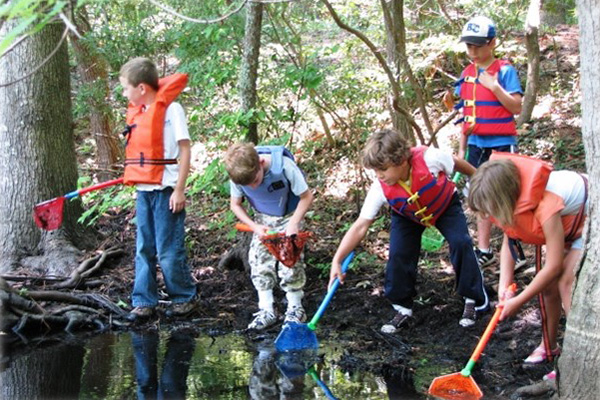 Photos courtesy N.C. Aquariums
School-aged kids can learn about aquatic animals and gain an appreciation for the coastal environment.

April 7, 2017: Additional camps added at the end of the post
If "now is the winter of our discontent" (William Shakespeare in Richard III), then we should start planning for our summer of content. By that, I am using two definitions of these homonyms:
con-'tent — an adjective meaning pleased and satisfied; and
'con-tent — a noun meaning substance or something contained.
Yes, it's time to start thinking about summer camps for students! Many informal science-education facilities and organizations in North Carolina offer summer camps — residential and nonresidential opportunities for students of most ages. These events may have a marine focus, occur in the coastal region, or are a combination of both.
Research has shown that some students have learning loss during their summer break from school. Exciting camp sessions full of hands-on and feet-wet learning can help stem that effect. Sea Camp, Surf Camp, Whale Camp, Sea Turtle Camp — there's something for everyone.
DISCLAIMER: A mention in this post does not imply support or in-depth knowledge of the camps. I know some, but not all, of the organizations and/or facilities and/or staff involved.
The three North Carolina Aquariums and Jennette's Pier offer nonresidential day camps for multiple age groups. Check their websites for details. Sign-ups for these camps are competitive, and the sessions fill up quickly. Online registration for all summer camps begins soon at the aquariums at Roanoke Island, Pine Knoll Shores and Fort Fisher, and at Jennette's Pier.
The University of North Carolina's Coastal Studies Institute has six, week-long summer camps for students ages 10 to 15. The two Surf Science camps are offered in conjunction with Jennette's Pier. New this summer is the Art and Science Camp, July 31 to Aug. 4, that will incorporate art into STEM — science, technology, engineering and math — to make STEAM.
The North Carolina Maritime Museum in Beaufort offers 1-, 2-, and 3-day nonresidential Summer Science School during June and July. These programs investigate the coastal environment and North Carolina's rich maritime history. Registration starts on Feb. 14. Find descriptions of their 2017 programs in this brochure.
The Karen Beasley Sea Turtle Hospital partners with the private, nonprofit Sea Turtle Camp to offer residential experiences for ages 10 to 17 on Topsail Island, along with other camps in Hawai'i and Costa Rica. More details are in their 2017 brochure.
UNC Wilmington's MarineQuest is accepting registrations for its summer camp sessions. MarineQuest offers half-day, residential and commuter camps for ages 4 to 17. Visit its website for descriptions of all the different themes and options.
Outdoor and indoor activities are featured at Camp Don Lee, as well as at YMCA Camps Sea Gull and Seafarer, with the Neuse River playing a major role in their on-the-water experiences.
Other organizations in North Carolina and beyond offer summer programs for youth. Check out their summer camp information:
The Bridge, an online teacher resource center for all things marine and aquatic, has a special section about summer programs for students. The collection contains entries from around the country.
Now, there is no excuse for the summer slide. Students, get out there and learn something new during the summer of 2017!
Additional camps added since this blog was posted
The newly-formed Young Scientist Academy in Wilmington is offering summer camps in June and July. Early-bird pricing available if you register by April 15.
The Solar House offers two sessions of Coastal Science and Technologies Camps for middle-school students on July 17 to 21 and Aug. 7 to 11. These camps are located at North Carolina State University's Center for Marine Sciences and Technology in Morehead City. Applications are due June 1.