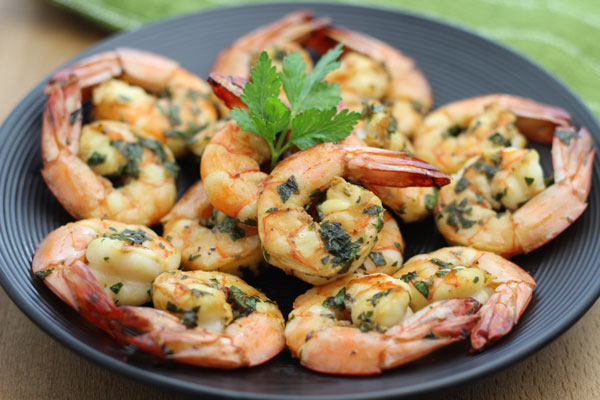 Above: North Carolina Sea Grant conducted a pilot project to determine the market value of local, quick-frozen shrimp that were peeled and deveined. Photo by Vanda Lewis.

By Barry Nash
Consumers value convenience when purchasing and preparing food.
Data company Food Genius reports that nearly 80 percent of Americans do not know what they want for dinner by 4 p.m. that same day. People are too time-starved to cook, so they want portable options with bold flavors and more protein, choices that are fresher and healthier than a typical fast-food meal.
American consumers also prize products with "clean" labels that contain all-natural, recognizable ingredients with no artificial preservatives or "harmful" chemicals. Increasingly, people believe fresh, natural foods offer greater nutritional value, and can help prevent or even mitigate serious health conditions.
Slade Gorton, headquartered in Boston, is one of America's largest importers, distributors and manufacturers of fresh, frozen and premium value-added seafood products. Due to increased U.S. demand for prepared products — and growing consumer demand for seafood — the company recently expanded its production capacity. Its CEO says consumers' rising interest in health and convenience is propelling growth in prepared seafood meals that are ready to cook and eat.
A prime reason for the rising demand for seafood is that it meets the expectations of health-conscious foodies. Marine species tend to be high in protein and low in fat. Nearly two-thirds of consumers believe protein aids weight loss and 33 percent believe it boosts metabolism. About 44 percent of adults prefer getting their omega-3 fatty acids, among top heart-healthy ingredients, through food rather than supplements.
Besides being fresh and high in protein, consumers also want their food choices to use locally sourced ingredients. As a result, people are choosing niche brands developed closer to where they live rather than national or multinational food brands. This "local is best" trend favors coastal processors who wish to compete in the prepared-seafood retail category.
Since 2001, North Carolina Sea Grant has assisted 13 businesses develop and market over 50 new food products for retail markets. Some examples are highlighted on our Producer Resources page under the Case Studies heading.
Over the next few months, look for my profiles of consumer trends and highlights of products North Carolina food producers offer or soon will introduce to consumers. If you have questions or comments about value-added seafood, contact me at barry_nash@ncsu.edu or 252-222-6337.