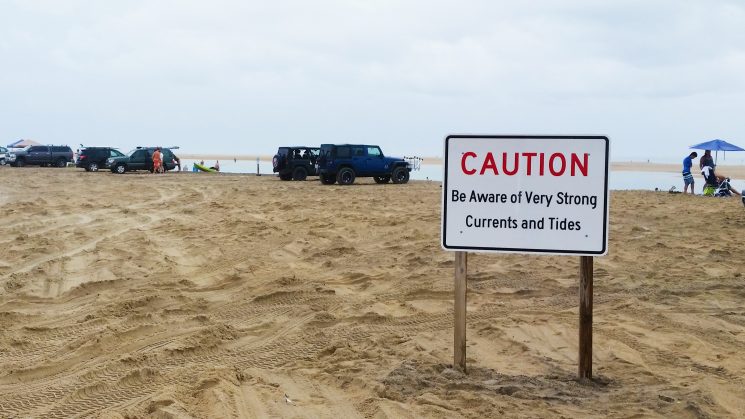 ABOVE: The newly exposed Shelly Island can be seen in the background of a sign that warns beachgoers of currents surrounding the island. Photo courtesy Mike Barber. 
By Danielle Costantini
Editor's Note, Sept. 1: The Cape Hatteras National Seashore has released updated safety information regarding Shelly Island. Due to current weather events, it is discouraged to walk or swim to the island, particularly during high tide. More information can be found here. 
On the Outer Banks, safety warnings have been out all summer for visitors hoping to visit a newly exposed shoal — dubbed Shelly Island. In recent weeks, the new island appears to be getting closer to attaching to Cape Point. But the distance can be deceiving.
"People constantly have been deciding to take the risk and wade through a channel with currents moving as fast as whitewater rapids just to reach Shelly Island," says Kermit Farrow, who coordinates community education programs for the Hatteras Island Rescue Squad that serves an area from Avon to Hatteras Village.
Upon first glance, Shelly Island often appears to be an easy swim. However, the safest way to get on the island is by boat or using a flotation device, Farrow suggests. He discourages visitors from swimming or wading to the island even when the water appears calm to a casual observer.
Mike Barber from the National Park Service explains that signs at Cape Point provide warnings about the currents surrounding Shelly Island. At peak times during the summer, National Park Service staff members have been stationed at a ramp entrance to educate visitors about the challenges of Cape Point and the island.
A permit from NPS is required to drive on the beach, otherwise visitors must trek 1.25 miles along the shore from the parking lot to Cape Point. This is especially hazardous in the summer heat and as incoming tides wash away portions of the beach, Barber adds.
Still, many visitors see the closing distance from the cape to the island at low tide as a sign of safety. A small sandbar has even accumulated in the channel separating the island and the point.
"How close the island and the cape come to connecting depends on the tides," Farrow explains. At some points over the last few weeks, he adds, "you could walk to the island, but today at high tide you would have to wade across chest deep to reach it."
To learn more about the formation of Shelly Island and the forces that shape the North Carolina coast, read New Island Sheds Light on Ever-Changing N.C. Coast.