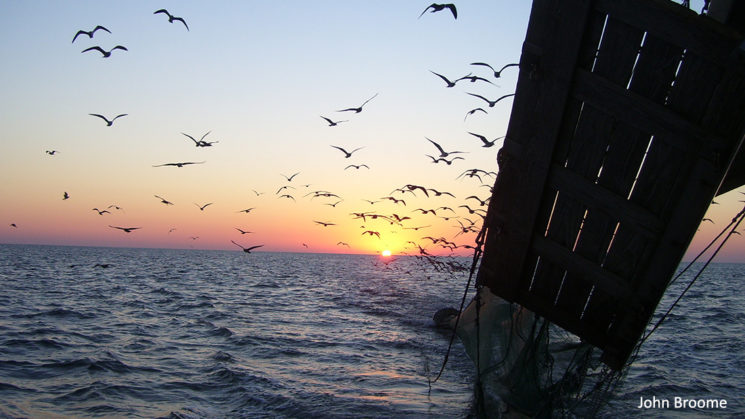 Sara Mirabilio is a fisheries specialist for North Carolina Sea Grant.
Next week, the N.C. Marine Fisheries Commission, or MFC, will discuss the results of a three-year, collaborative research effort to develop technical solutions to reduce bycatch in North Carolina's shrimp trawl fishery.
Generally speaking, bycatch refers to the unwanted fish and other marine creatures caught by fishermen while going after their target catch. Most of this bycatch is discarded overboard — either because regulations don't allow fishermen to keep the species, or because those species are undesirable to seafood consumers. Fishermen can retain a small portion of bycatch to sell if it's legal and marketable.
A year ago, I wrote a blog post to explain the research process and the results from the first two years. In late 2014, the N.C. Division of Marine Fisheries, or DMF, had formed an industry work group to guide testing of experimental bycatch-reducing gear for shrimp trawls in North Carolina waters out to three miles in the ocean. As North Carolina Sea Grant fisheries specialists, Scott Baker and I are members of the work group.
The specific goal has been to achieve an additional 40-percent reduction in bycatch coming aboard trawlers. Currently, federally mandated bycatch reduction devices, or BRDs, reduce this unwanted catch by 30 percent, compared with nets that don't have BRDs. In other words, the new benchmark in North Carolina would reduce bycatch by at least 58 percent in relation to nets without a BRD.
In the first two years, four out of nine experimental gear configurations met or exceeded the target of 40 percent additional bycatch reduction.
We can't attribute observed reductions to one particular experimental gear element, but we can share some observations. For example, we combined two federal fisheyes, which are essentially cone-shaped, rigid metal frames that form an opening for fish to escape through. Together, these federal fisheyes provided an opening almost four times that of the industry-standard state fisheye.
Our hunch is this additional space allows larger fish to escape the trawl. The larger escape openings also likely result in a larger area of disturbed water flow, which has been shown to increase escapement rates for all sizes of fish.
We tested the larger fisheye in conjunction with a modified turtle excluder device, or TED. This device, which looks a bit like a grill grate, blocks turtles from passing through a net. A large opening in the trawl near the TED, typically covered by a moveable flap, allows any captured turtles to escape.
Reducing the bar spacing in the TED also appears to contribute to overall bycatch reduction. That reduction was even more pronounced after we increased the mesh size of the tailbag — the end-most part of the trawl where shrimp and fish are collected.
During the first two years of our research, only larger shrimp boats — that is, greater than 40 feet — tested experimental gears, and principally in estuarine waters. For the third and final year of the study, smaller boats, as well as ocean-going trawlers, tested additional gear configurations.
Based on the most recent five-year average, in North Carolina smaller vessels comprise nearly 73 percent of the state's shrimp trawl fleet. Further, they account for 56 percent of the effort, as identified by the number of trips reported to the N.C. Trip Ticket Program, administered by DMF. Also, while the majority of shrimp trawling effort occurs in estuarine waters, approximately 25 percent occurs in the nearshore Atlantic Ocean.
In January, DMF presented results from the study's third year to the industry work group. Unfortunately, gear modifications tested by these boats did not meet the additional 40-percent bycatch reduction target.
The work group met again in April to formulate overall recommendations to be presented to the MFC on May 17. The April session included additional data and analyses to aid in deliberations.
The work group endorses use of the four experimental gear configurations that met the 40-percent target, but only for otter trawls fishing in areas where a combined head rope of 90 feet or greater is allowed, as identified in the state's shrimp fishery management plan. They also recommend continuing collaborative bycatch reduction research and the work group.
Staff members from the N.C. Division of Marine Fisheries will present the Shrimp Bycatch Reduction Industry Work Group results and recommendations to the Marine Fisheries Commission at 9:45 a.m. on Thursday, May 17, at the Hilton Riverfront in New Bern, N.C.