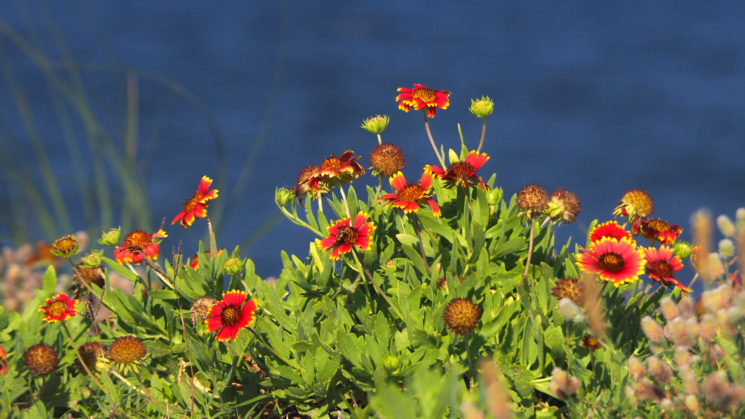 Above: Blanket flowers along the beach front in Fort Fisher, North Carolina. Photo by Gary Allen
Seacoast Plants of the Carolinas: A New Guide for Plant Identification and Use in the Coastal Landscape is now available in bookstores. The Summer 2018 issue of Coastwatch will offer several excerpts, along with an extensive Q & A with author Paul Hosier and photos of him sharing his expertise.
The book is a publication of the University of North Carolina Press and North Carolina Sea Grant.
With this edition of Seacoast Plants, Hosier has updated a much-used 1970s classic, bringing new perspectives and science to this 492-page book. The enhanced guide will suit nature lovers, gardeners, landscapers, educators, students and community leaders.
From Seacoast Plants
"A complex interplay of features gives the coast its identity. There are salty ocean waters and muddy estuaries, nutrient-poor and highly mobile sandy substrates, salt-sheared forests and expansive coastal grasslands, occasional nor'easters and punishing hurricanes. These elements, combined with the dynamic wave and tide actions, merge in time and space to create a unique complex of conditions to which only a limited number of plants and animals have adapted."

Hosier's 15-year labor of love includes detailed profiles of over 200 plants — from ferns to trees — with striking color photographs of each species.
From Seacoast Plants
"Eat persimmons when they are just about to fall off the tree, but test them with a tiny bite first. They are delicious when ripe but bitter, bitter, bitter when not yet ripe! The traditional method of harvesting persimmons involves spreading an old sheet under the tree to make collection of the fruit easier."
In the coming weeks, in print and online, the Summer 2018 Coastwatch will showcase Seacoast Plants of the Carolinas and provide an inside look at the author — as well as tell why he created what Katherine Mitchell of the N.C. Aquarium at Roanoke Island calls "a valuable resource for all those who love the coast."
From our Q & A with Paul Hosier
"Any time I'm in the dunes it's just like heaven, especially when sea oats are in full bloom or fruit. There's something about being in the dunes. The golden color of the sea oats fruit really makes me happy. I enjoy the openness of the dunes with this plant waving in the winds. I think we as humans, by nature, like to be able to see long distances and wide open spaces; I think that's what attracts us to environments like lakes and the ocean…"
Watch North Carolina Sea Grant social media for events with the author. In the meantime, check with your local bookstore and coastal giftshops for the book, or order online from UNC Press.
Also, member of the media or educators considering the book for a class can also contact UNC Press for a review copy.
North Carolina Sea Grant also will be working with partners, including those involved in the Coastal Landscapes Initiative, for special projects that would include the book. If you are interested, contact Katie Mosher: kmosher@ncsu.edu.