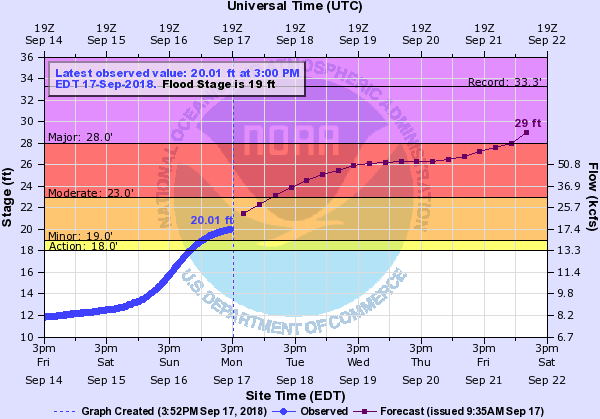 Above: Pee Dee River flooding forecast, time-stamped at 3 p.m. on Sept. 17, 2018. Courtesy NOAA/National Weather Service
Editor's Note: Hurricane Florence officially made landfall on Thursday morning at Wrightsville Beach, N.C. But days later, the storm's impacts were still arriving across the Carolinas — with forecasters using "catastrophic" and "record-setting" to describe flooding today and continuing this week.
Melissa Griffin (@mlgriffinWX1), Assistant State Climatologist of South Carolina, initially offered the following analogy via a Twitter thread to help those in the Carolinas understand the flooding issues — and so that they could explain those issues to others. She uses examples of river basins that connect our two states.
By Melissa Griffin
It is crucial that you listen to your local emergency management officials, state agency announcements and the National Weather Service forecasts in the upcoming days. Places that have flooded before will flood again.
Even areas that have never flooded now have a strong possibility of being included in Florence's devastation. Still not sure why there are so many evacuations? Here are examples of river basins that connect the Carolinas.
Water basins are like the U.S. Highway system — but instead of controlling traffic, they control the movement of the water across the land. With that in mind, consider the Great Pee Dee River as the primary Interstate.
Major highways would be the Lumber, Waccamaw, and Black rivers. State roads would be the smaller tributaries. The merging of waters into the Great Pee Dee are entrance ramps.
Now imagine it's rush hour. Traffic volume is already high, and there is a massive event in the area. The concert/game/festival brings more traffic than usual. The interstate slows from its typical flow. Before long, it is down to a crawl, with traffic starting to back up.
Add in the entrance points. At each interchange, there's more traffic trying to get onto the Interstate. Now, traffic is backing up onto the ramps — and causing problems on the major highways.
The issues go back to the state roads, where you have regular commuters and those heading to the special event. This is what is starting to happen as all of the water that has fallen in the Pee Dee Watershed.
The story is the same along other key river basins in the Carolinas: the Yadkin, Santee, Cape Fear, and Neuse. NC is seeing the effects first, but SC will see these impacts within the next several days. Thanks to @DrJessWhitehead, @SeaGrantNC, @WxComm for your help.
Jessica Whitehead, communities hazards adaptation specialist for North Carolina Sea Grant, and Gina Eosco, a risk communication expert with Cherokee Nation Strategic Programs, which provides support to NOAA's Office of Weather and Air Quality, contributed to this piece. 
##