Use the Early Detection and Distribution Mapping System: Southeast Early Detection Network, or EDDMapS SEEDN, online reporting system. This is an easy and intuitive way to report new sightings of Hydrilla or other invasive plants.
You will need to create a free account and download the smartphone app. After you are set up, reporting is simple.
The Plant Industry Division of the N.C. Department of Agriculture and Consumer Services will receive and verify your Hydrilla sightings.
These are the steps you need to take:
---
Create Account
Before you can report your sightings online, you need to set up an account.
Go to the EDDMapS SEEDN website, https://www.eddmaps.org/southeast/.
In the top, right-hand corner of the page, you will either see a "Register" button (on your computer), or a box with a drop-down menu with the "Register" option (on your smartphone).
Fill out the information form and click on "Become a Participant." Once you have registered, sign in to report an infestation.
You can report your data through the SEEDN app or website.
---
Report with the SEEDN App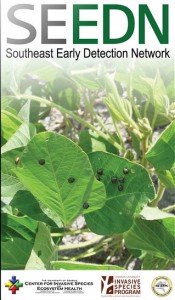 To use the app, install it on your smartphone.
Download the app to your smartphone. Search for "SEEDN app," created by Bugwood.
Open the app after it is installed and click on "My Species List."
Click on "Edit," scroll to Hydrilla verticillata in the list, check it and select "Done."
Hydrilla should now appear in your "My Species List."
You are now ready to report using the app.
Open the app.
In "My Species List," click on Hydrilla.
Fill in the form.
Use the camera icon to take new images or upload photos that you have already taken. Follow these guidelines when taking samples and photos. You can take up to five photos per reported sighting.
Hit "Save" when you have finished entering data.
You do not need cell coverage while you are collecting data. Your data will be saved to your phone in the upload queue.
When you do have Internet access, you can upload all of your records at the same time. Open the SEEDN app and choose "Upload Queue." Data will be deleted from your phone after they are uploaded.
To view or edit your submissions, go to "MY EDDMapS." Experts will verify your data before they go live on the EDDMapS website.
---
Report through the SEEDN Website
Before you upload your data through the website, make sure you have photos downloaded and the location data on hand (with GPS coordinates if possible).
Under "Report Sightings," choose "NC" as your state and select the "Plants" button.
On the next page, type "Hydrilla" as the scientific or common name of the "Pest" you are reporting and select it from the drop-down menu.
Enter data into the form.

Fill in the observation date, habitat, abundance and plant description areas, when possible.
Include the GPS coordinates, if you have them. If not, choose the county where you found the plant and zoom in to the location of the new sighting or infestation. The form will automatically fill in the coordinates for you.
The "Ownership" line refers to where the Hydrilla was found. Select "Other/Unknown" unless it is a state/national/county site.
Use the "Identified By" line if someone else also identified the plant as Hydrilla. Leave blank otherwise.

Report the infestation as a point or as a polygon using one of the tools at the top of the map. If you are reporting an infestation on private land, get the landowner's permission to be on his or her land.
Upload up to five images with each report, adding a caption and the photographer's name for each image. Follow these guidelines when taking samples and photos.
Finish by clicking on "Submit Report."