Crab Cake Appetizers with Fresh Tarragon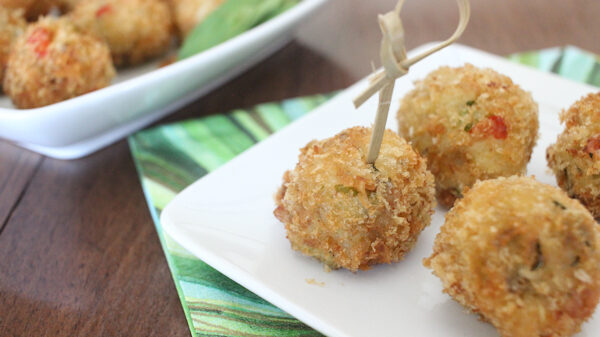 Recipe
1 pound backfin crabmeat
3 tablespoons butter
¼ cup red pepper, chopped
¼ cup celery, chopped
¼ cup onion, chopped
3 tablespoons fresh tarragon, chopped
¼ teaspoon Tabasco sauce
⅛ teaspoon cayenne pepper
½ teaspoon salt
½ cup mayonnaise
1 egg, beaten
1 cup French bread crumbs
1 cup French bread crumbs for coating
Melt butter in a medium saucepan. Sauté red pepper, celery and onion until tender.
Remove from heat. Stir in tarragon, Tabasco, cayenne and salt.
Blend in mayonnaise, egg and bread crumbs. Gently blend in crab meat, being careful not to break the meat apart.
Shape into bite-size balls, about 1-inch in diameter. Dredge lightly in the remaining 1 cup of bread crumbs.
Deep fry in hot oil until golden brown, about 3 minutes. Be sure the oil is hot before putting in the second batch.
These can also be made as regular crab cakes.
Contributed by Joyce Taylor MM2