North Carolina Shrimp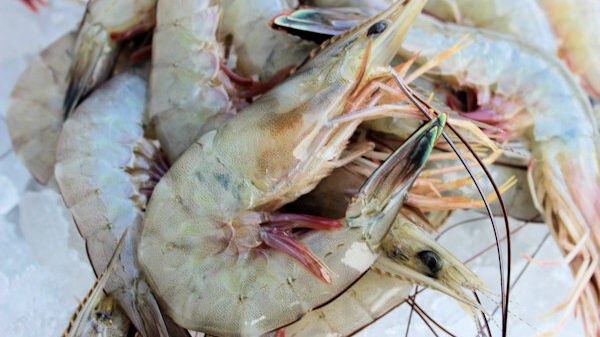 Shrimp is the nation's most popular seafood and the second most economically important fishery in North Carolina. The state's commercial shrimp fleet is comprised primarily of small to medium-sized vessels that fish overnight in the internal waters of the state's southern coastal region and in the tributaries of larger water bodies in the central and northern coastal regions. Both overnight and multi-day trips are used to harvest in Pamlico Sound, Core Sound, and the Atlantic Ocean as well as in the Neuse, Pamlico, Pungo and Bay Rivers.
North Carolina watermen harvest three shrimp species. Pink shrimp, called "spotted," are generally harvested from April to June. White shrimp, called "green tailed," are available from August to November. Brown shrimp are harvested in the late summer and fall and account for two-thirds of the shrimp landed in the state. The southern district in North Carolina harvests mostly white shrimp caught in the ocean.
Approximately 51 percent of North Carolina's annual harvest comes from the Pamlico Sound, 24 percent comes from the Atlantic Ocean and 10 percent is caught in Core Sound. The remaining 15 percent come from the Atlantic Intracoastal Waterway and other inland waters.
Contributed by Barry Nash.
For more information check out Fresh Local is Preferred: Ensuring the Quality of Wild-Caught Seafood.