North Carolina's coastal history is closely tied to changes in its barrier islands, and to the inlets that link protected sounds to the open ocean.
Each year during hurricane season and on into winter — notorious for nor'easters — coastal residents and geologists alike ponder the possibility: Will a storm move enough water to cut a new inlet, or enough sand to close an existing one?
Since the initial publication in 1999 of Shifting Shorelines: A Pictorial Atlas of North Carolina Inlets, many significant changes have occurred within the N.C. inlet systems and along the adjacent shorelines. The major natural changes include the closure of three inlets: Old Topsail, New and Mad. Anthropogenic-related changes include the relocation of an entire inlet, Mason, and the realignment/relocation of all or a portion of the ebb channel at three inlets — Bogue, Cape Fear and Shallotte.
Now you can see these changes without leaving your home, thanks to a tool called Time Machine, developed by Google Earth Engine and Carnegie Mellon University's CREATE Lab. Working with Sea Grant, NC State's Center for Geospatial Analytics has used Time Machine to create a virtual tour of N.C. inlets, revealing how they fluctuated from 1984 to 2016. The imagery was collected by Landsat, a joint observation project of the United States Geological Survey and NASA.
Click here to start the tour, which begins in the north at Oregon Inlet, and continues south to the former Mad Inlet.
Tips: Once you click the inlet tour link, you will see thumbnail images below a large image; use those to navigate. If your browser stalls on the tour, please try a different browser. If you need a short link to this page, use this one: http://go.ncsu.edu/inletatlas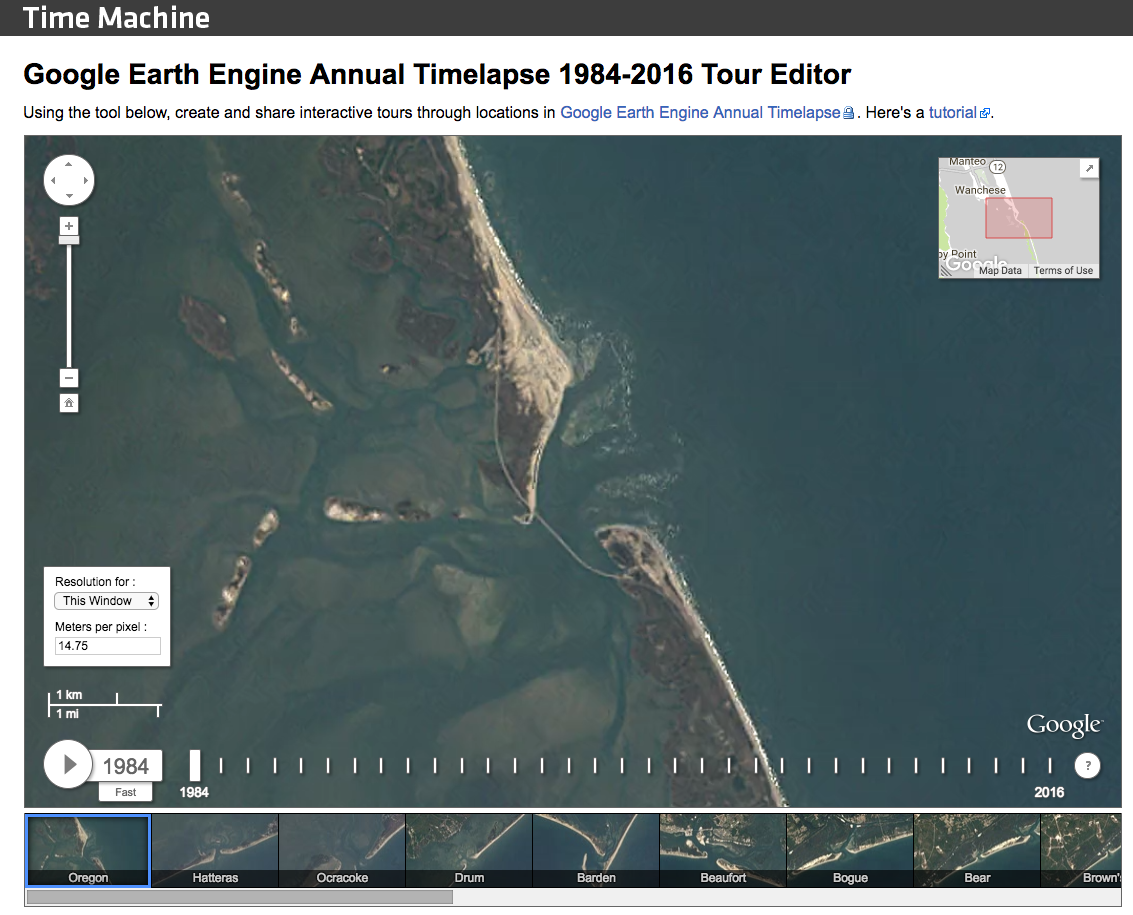 For more information about the Inlet Atlas, contact Spencer Rogers, Sea Grant's coastal construction and erosion specialist, at smrogers@ncsu.edu  or 910-962-2491.