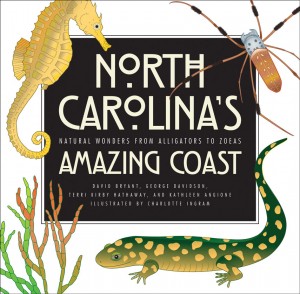 A delight for learners of all ages, North Carolina's Amazing Coast: Natural Wonders from Alligators to Zoeas is the result of a partnership of the North Carolina and Georgia Sea Grant programs. The book is available from our bookstore.
Terri Kirby Hathaway, our marine education specialist, and Kathleen Angione, a writer and former Coastwatch senior editor, teamed with Georgia writers David Bryant and George Davidson, and illustrator Charlotte Ingram.
Hathaway is working with teachers to develop lesson plans based on the species in this book.
More than two dozen new North Carolina entries — such as the red wolf, margined sea star, blanket flower and maritime forest — join a selection of southeastern species that also appeared in Georgia's Amazing Coast.
Coastwatch Stories
Amazing Coast has been the inspiration for several stories in the Coastwatch magazine.
Contact