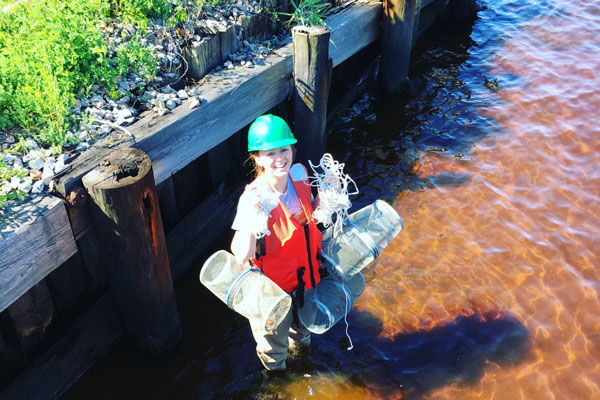 Casey Lindberg from Duke University will study the impacts of multiple environmental stressors on fish populations native to estuaries along the East Coast. Photo courtesy Casey Lindberg.
Five recipients of graduate research fellowships, awarded by North Carolina Sea Grant and the Water Resources Research Institute of the University of North Carolina system, will explore current water resources and coastal issues in North Carolina.
Research topics range from the prevalence of E. coli in North Carolina's agricultural watersheds, to innovative nanotechnology research for filtering brackish groundwater.
The 2016 student recipients are from Duke University, East Carolina University, North Carolina State University and the University of North Carolina at Chapel Hill.
"This set of projects exemplifies the diversity of topics available to students through the joint Sea Grant and WRRI fellowship, allowing both organizations to expand into new areas of research," notes John Fear, Sea Grant deputy director.
Regina Bledsoe is a doctoral student in ECU's interdisciplinary doctoral program in biological sciences, where her advisor is Ariane Peralta.
Bledsoe will study a newly constructed stormwater wetland on the university's campus, designed in part by project collaborator Eban Bean, on faculty at East Carolina and NC State, and recently appointed to faculty at the University of Florida.
"The fellowship gives me an opportunity to test hypotheses generated from previous studies in an applied context, where hydrological manipulation is a management strategy," Bledsoe explains. Hydrological manipulation involves a strategic regime of saturating and drying wetland soils to examine potential tradeoffs in water and air pollution.
The study builds off previous work in restored wetlands by Peralta in 2013. By conducting her project in an urban setting, Bledsoe will address gaps in previous research and determine management strategies for enhancing wetland function. This would include improving urban water quality and decreasing negative side effects, such as greenhouse gas production.
Bledsoe is from Theriot, Louisiana. She received her bachelor's degree in environmental science from Nicholls State University in Louisiana. She also is the recipient of a National Science Foundation 2016 Graduate Research Fellowship.
Elizabeth Christenson, a doctoral student in applied microbiology at the UNC-Chapel Hill's Gillings School of Public Health, will study the prevalence of antibiotic-resistant, virulent E. coli in North Carolina's agricultural watersheds. Her advisor is Jill Stewart.
"Testing surface water for fecal indicator bacteria, such as E. coli, is commonly used to identify fecal pollution and human pathogen exposure," Christenson explains. Using water samples from agricultural watersheds with and without large swine-feeding operations, she will test for differences in the number of pathogenic and antibiotic resistant E. coli present.
Microbial source tracking, a recently developed technique that enables researchers to determine the host source of fecal contamination using a "gene marker," will identify where E. coli originate.
"I'm also incorporating spatial analysis to identify whether land-use characteristics, such as wetlands and vegetative river buffers, may help mitigate effects of runoff from swine operations on nearby water bodies," Christenson adds.
Originally from Wisconsin, Christenson grew up in Charlotte, North Carolina. She received a bachelor's degree in environmental science and a master's degree in environmental sciences and engineering from UNC-Chapel Hill. She is a recipient of a 2016 North Carolina Impact Award by The Graduate School at UNC-Chapel Hill for developing a spatial database of industrial hog farm sprayfields in Duplin County.
Jack Kurki-Fox is a doctoral student in biological and agricultural engineering at NC State, where his advisor is Michael Burchell.
He will test an innovative lab-scale model of nutrient removal for restored wetlands — previously developed by Burchell and department members as a jointly-funded Sea Grant and WRRI project — to demonstrate water-quality and ecosystem benefits at a field scale.
To test the model, agricultural drainage water will be rerouted by pumping it to a large restored wetland in Hyde County. Water quality will be monitored across the wetland to determine how efficiently the restored wetland removes nutrients.
"Results of this project hopefully can be used to guide further large-scale wetland restoration projects on former agricultural lands, and encourage wetland restoration as a water management strategy in coastal agricultural areas," Kurki-Fox notes.
Fox grew up in Ashland, Wisconsin. He holds master's and bachelor's degrees in civil engineering from the University of Florida. He also is the recipient of a 2016 William H. and Glenda N. Johnson Graduate Engineering Fellowship, administered by the Department of Biological and Agricultural Engineering at NC State.
Casey Lindberg is a doctoral student in Duke's integrated toxicology and environmental health program, part of the Nicholas School of the Environment. Her advisor is Richard Di Giulio.
Using wild-caught populations of Atlantic killifish, Lindberg will study the impacts of multiple environmental stressors on fish populations native to estuaries along the East Coast.
Atlantic killifish are small, nonmigratory fish commonly found in estuarine systems along the Eastern Seaboard. Subpopulations of these fish have evolved to become resistant to toxic waters caused by certain chemical pollutants found in contaminated ecosystems, including the Cape Fear River system, Lindberg notes.
"My research aims to understand how co-exposures to hypoxia, a condition characterized by oxygen-deficient waters, and a class of chemical pollutants known as polycyclic aromatic hydrocarbons, or PAHS, impact the development and health of local fish species," she explains, "and how evolved resistance to one stressor may influence tolerance to a secondary stressor, like hypoxia."
The work may be used to identify population-level responses to both stressors, and model ecological risks across several regions of the United States.
Originally from Maryland, Lindberg received her bachelor's degree in marine science with a concentration in chemical oceanography from the University of South Carolina.
James Peerless is a doctoral student in materials science and engineering at NC State. His advisor is Yaroslava Yingling.
Peerless will study a novel technology to filter and desalinate brackish groundwater. "I'm investigating a new filtration method that potentially will remove harmful contaminants from salt water, and produce safe drinking water for North Carolina coastal communities," Peerless says.
The design involves combining activated carbon with functionalized nanoparticles. These particles measure 1 to 100 nanometers in size — for comparison, a human hair is 80,000 to 100,000 nanometers wide. Nanotechnology research is a quickly growing field. Improved water-purification methods currently are being sought for next-generation filtration designs.
"Our design uses one of the most promising nanomaterials investigated for selective absorption of water contaminants — functionalized inorganic nanoparticles, or INPs," Peerless explains. INPs have been heavily studied in water purification for their antimicrobial, or disease-inhibiting, properties, as well as their ability to remove heavy metals from wastewater.
Using computer simulations, Peerless will design and optimize the model to potentially inform future fabrication and implementation. "We have a unique opportunity to investigate an economic and technological bottleneck in clean water production crucial to the environmental and economic stability of North Carolina," he notes.
Peerless is a native of Granby, Connecticut. He received his bachelor's degree in chemical engineering from Northeastern University in Boston.
For more information on North Carolina Sea Grant funding opportunities and fellowships, visit ncseagrant.ncsu.edu/funding-opps/.