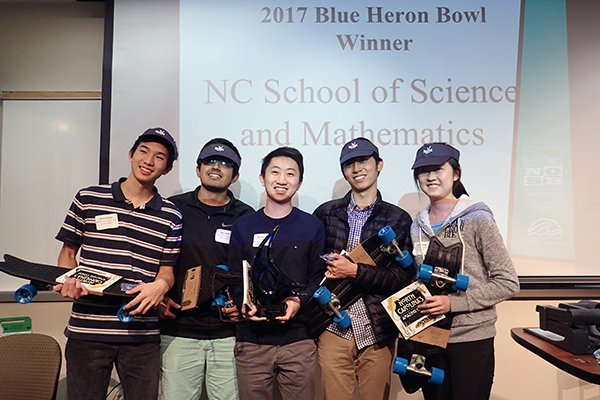 By Kenneth Xu and Emily Zheng
Kenneth Xu (pictured above, middle) and Emily Zheng (right) are high school seniors at the North Carolina School of Science and Mathematics (NCSSM) and co-captains of the NCSSM National Ocean Sciences Bowl team. They are pictured here, left to right, with teammates Vincent Xia, Shiv Patel and Raymond Gao. Photos courtesy NCSSM and the Blue Heron Bowl.
"Which dinoflagellate genus is associated with ciguatera poisoning?*
W: Pseudonitzschia
X: Pfiesteria
Y: Gambierdiscus
Z: Noctiluca"
[half-second pause]
"Y"
"Correct, but why didn't you buzz in earlier?!"
It's 9:45 p.m., and as co-captains, we lead our team of students from NCSSM, a public residential magnet school for 11th and 12th graders, in practicing our buzzing skills in a library conference room — our second home. Together, we are a five-member National Ocean Sciences Bowl (NOSB) team, deep in the midst of yearlong preparation for the national competition in Corvallis, Oregon.
All of the people in this cluttered room have been brought together by two shared interests: curiosity about the environment around us and an uncommon passion for marine science.
Our team's beginnings stem from the first trimester of the school year, when as co-captains we taught a student-led, half-credit oceanography seminar to a dozen interested students. Our class met weekly, and we surveyed subjects found in the competition and future college courses, such as marine biology, chemical oceanography and environmental policy.
The course also prepared prospective students for our team tryouts, which consisted of a 125-question exam and an intense mock buzzer competition against other potential members. After a lengthy process, we selected juniors Shiv Patel and Vincent Xia, as well as senior Raymond Gao, to complete our team.
As NCSSM students, our NOSB team is somewhat unusual. Though we come from across the state, we all live with each other in Durham, which means we can hold meetings at 10 p.m., or even later for team members who live in the same building. The multitude of residential activities available at NCSSM, and the long hours we share collaborating on challenging academics bring us all the more closer, forming an especially close-knit team.
Back in the library conference room again, this time just two days away from the regional NOSB event, the Blue Heron Bowl, we worked from morning until night. We reviewed every imaginable concept in marine science that might be tested.
During the competition at the University of North Carolina Wilmington, we remained calm and collected with the help of Raymond's metaphors comparing our team to Russian gymnastics — another dedicated interest of his. As a result of our intense preparation and visualization of the gymnasts' successes, we won every round of the competition. We placed first and had a great time meeting the other teams.
We especially enjoyed exploring UNCW's marine biology laboratories and the campus surroundings.
With the 2017 national competition — April 20 to 23 in Corvallis, Oregon, drawing near, we continue to study in the hopes of performing well. The seniors on the team also are busy planning our next steps after high school. Next year, Kenneth and Raymond will attend Yale University to pursue environmental studies and environmental engineering degrees, respectively, and Emily will likely attend Carnegie Mellon University's School of Computer Science.
As proud NOSB alumni, we plan to volunteer for local regional bowls in the future, in addition to helping future NCSSM teams continue our winning streak!
Our entire team would like to sincerely thank the NOSB, and Blue Heron Bowl co-sponsor North Carolina Sea Grant, for bringing us together and immersing us in the amazing field of marine science.
*Dinoflagellates are single-celled organisms found in all types of aquatic ecosystems. Dinoflagellates in the genus Gambierdiscus produce the toxin that causes ciguatera, a foodborne illness caused by the consumption of contaminated fish.