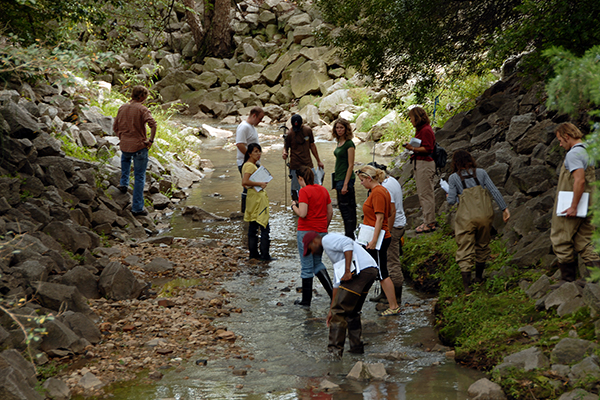 The North Carolina Aquatic Data Hub seeks input from volunteers from around the state engaging in water quality and aquatic habitat monitoring. Photos by Roger Winstead/NC State
By Diana Hackenburg
Citizens across North Carolina play important roles in monitoring water quality. A new project hopes to further build upon their efforts. The North Carolina Aquatic Data Hub now seeks input from these volunteers to inform this statewide network.
Any person or organization collecting aquatic data in North Carolina can provide feedback. The survey closes on April 23.
Z. Smith Reynolds Foundation awarded a $160,000 two-year grant to the New River Conservancy on behalf of multiple non-profits and agencies across the state to fund the project. Christy Perrin, sustainable waters and communities coordinator for the N.C. Water Resources Research Institute and co-coordinator of the N.C. Watershed Stewardship Network, is part of the team rolling out the hub.
"Citizen-led monitoring provides important data needed for managing the quality of our waters in the state," Perrin says. "This project will create tools to make monitoring more streamlined and accessible, as well as provide a platform for increasing citizen understanding and engagement in water quality issues."
North Carolina Department of Environmental Quality's Division of Water Resources or DWR, monitoring coalitions from across the state, local governments, and environmental groups as well as industry, municipal and university coalitions also collect surface water quality samples from the state's lakes, rivers and streams. DWR uses this data to assess waterbodies and identify those exceeding state standards.
Interested in learning more about your local watershed? Check out N.C. Watershed Stewardship Network's interactive map to learn more about water quality in your backyard and how to get involved.
And if you are already involved in collecting aquatic data, don't forget to take the survey by April 23!