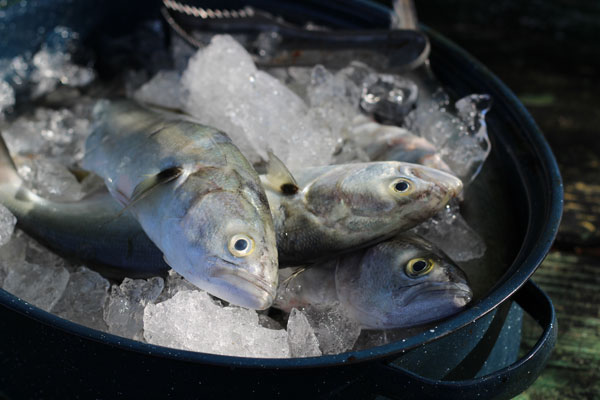 Vanda Lewis shares memories of local bluefish.
By Vanda Lewis
Recently, my uncle caught some bluefish and kindly shared a "mess" of them. This reminded me how excess fresh fish were shared among family and neighbors when I was growing up on Harkers Island.
I have many wonderful memories of answering a knock at the door, only to be greeted by the delightful sight of a neighbor with a bucket full of fresh bluefish. My mother gladly took a share off their hands, filling up her silver oblong fish pan.
Immediately, she would head outside to the fish bench, located under the oak trees, to clean them.
In no time flat, the bluefish were in and out of the frying pan. Fried potatoes and onions, bread, and freshly sliced, salted and peppered cucumbers soaked in vinegar and water were often served with the fried fillets and fried backbones.
Now that was, and still is, good eating!
Find recipes for bluefish salad with almonds, fresh bluefish corn chowder and pan-fried lemon bluefish at Mariner's Menu. The site offers many recipes from Joyce Taylor's resource book, Mariner's Menu: 30 Years of Fresh Seafood Ideas, also featured on Pinterest. Read more about North Carolina bluefish in the Coastwatch Holiday 2016 issue.