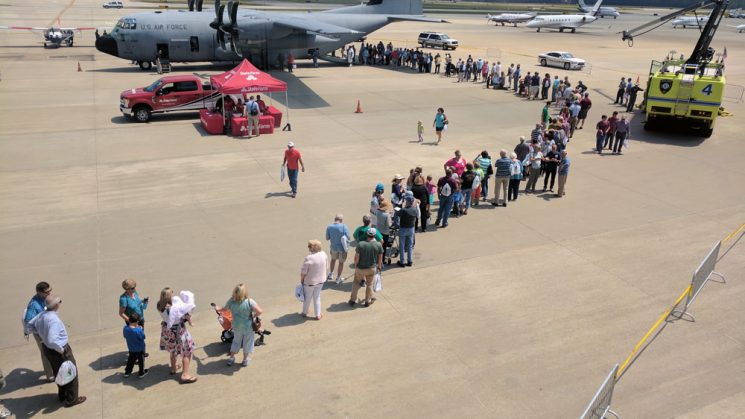 Photo: A long line formed for the chance to climb aboard the WC-130J "Hurricane Hunter" plane. Photo by Jack Thigpen
By Diana Hackenburg
Without the slightest hint of a breeze, more than a thousand people stood under a surprisingly hot May sun at Raleigh-Durham International Airport to catch a glimpse of the planes and pilots known for facing fierce winds. The visitors were in line to tour Hurricane Hunter aircrafts as part of the National Oceanic and Atmospheric Administration's East Coast hurricane awareness tour on May 10.
Hurricane experts showed off the U.S. Air Force Reserve WC-130J Hurricane Hunter aircraft, along with the smaller NOAA G-IV aircraft. Military crews aboard the WC-130J fly directly into storms, collecting real-time information to help forecasters track a storm's movements. With an ability to fly high, fast and far, the G-IV cruises in the upper atmosphere above storm systems, dropping instrument-laden sondes to gather data vital to mapping the currents that influence a hurricane's path.
While the G-IV does not fly straight into the hurricanes, it isn't always a smooth ride, according to NOAA pilot Lt. David Cowan. He said that about 70 percent of the time, flight conditions are fairly normal, while the other 30 percent can be challenging — but worth the effort.
Cowan explained that these reconnaissance-type missions have greatly advanced NOAA's ability to forecast and track hurricanes. Comparing the forecasted paths for Hurricane Katrina with and without sonde-drops clearly show how the additional data can improve storm predictions — and subsequent warnings, he explained.
Out of the heat, a number of local, state and national organizations, including North Carolina Sea Grant, provided visitors with more information about weather and other statewide issues. In addition to partnerships with many of these programs, Sea Grant serves as a Weather-Ready Nation Ambassador, promoting and engaging the public in efforts to build readiness and resilience against extreme weather events.
Additional information and resources related to Hurricane Preparedness Week can be found at www.weather.gov/wrn/hurricane-preparedness. Sea Grant also has North Carolina-specific resources on what to do before, during and after storm-related flooding.
Check out additional photos, videos and social media featuring #HurricaneStrong from the event below:
[View the story "#HurricaneStrong Comes to North Carolina" on Storify]