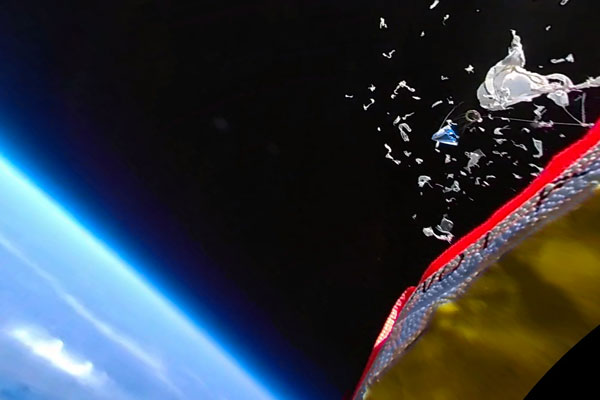 Photo: Southwestern Community College won the best photo award/video for this image capturing the moment their balloon burst. Photo by Southwestern Community College.
By Marisa Incremona
This spring, six North Carolina teams took their scientific expertise out of this world.
They participated in the third Community College High-Altitude Ballooning Team Challenge and Competition. The event, sponsored by the National Aeronautics and Space Administration and North Carolina Space Grant, was held in early April in Hickory.
"This event is all about the student experience," explains Sandra Canfield, Space Grant assistant director for partnerships and resource development. "Launch day is the culmination of their hard work. It is gratifying to see their excitement as the high-altitude balloons lift off and then see the pictures, videos and scientific data once they recover their payloads. We hope to find partners in order to continue this event on an annual basis moving forward."
Space Grant modeled the program on NASA's engineering design-build-launch process as an opportunity for community college students to be involved in hands-on experiential learning in a team environment, Canfield notes.
Students worked for months designing and equipping high-altitude balloons with payloads — equipment accompanying the balloon. All teams were required to include a camera and sensors to calculate temperature, altitude and barometric pressure. Each team also developed a secondary payload to gather additional information.
The secondary payload earned the team from Edgecombe Community College — "CritECCly Stable" — international attention.
Jilianne Leary, a high-school student taking college-level classes at ECC, reached out to Matthew Gibson from the University of Warwick in Coventry, United Kingdom, to include his research in her team's payload.
Gibson develops antifreeze protein polymers that are intended to slow the growth rate of ice. ECC's secondary payload carried samples of blood and plant algae mixed with the protein polymers. The collaboration proved fruitful for both parties — the proteins with the polymer survived the extreme cold of space.
"I was really proud to make a contribution to an enthusiastic set of students working on this great program to get high-school students involved in real science. I hope it inspires more to take part in the future," Gibson shares.
The event enabled students to put their academic knowledge and practical skills to the test. "This project is like a bunch of classes rolled into one," Leary recalls.
But not everything went according to plan. The Pitt Community College team could not locate its payload when the device transmitting location coordinates failed. The payload was recovered several weeks later by Tommy Taylor, who found it during one of his regular walks along Sugar Loaf Mountain Trail in Albemarle. The team received their payload about a month after the initial launch and found over 2,000 images on the camera.
The competition provided useful experiences for all involved, with several teams taking home honors. The other five teams represented were event host Catawba Valley Community College, Southwestern Community College, Rowan-Cabarrus Community CollegeDurham Technical Community College.
The winners were:
Best Flight-Readiness Briefing: Edgecombe Community College
Best Payload: Edgecombe Community College
Best Team Work: Catawba Valley Community College
Highest Recorded Altitude: Rowan-Cabarrus Community College (100,351-foot data point)
Best Picture/Video: Southwestern Community College
Best Overall Team: Edgecombe Community College
To find out more about Space Grant, visit www.ncspacegrant.org. For photos and videos of this event, check out Space Grant on Facebook at NCSpaceGrant.
Check out the summer issue of Coastwatch, coming out in July, for a story on the total solar eclipse and the high-altitude ballooning team from Lenoir-Rhyne University.