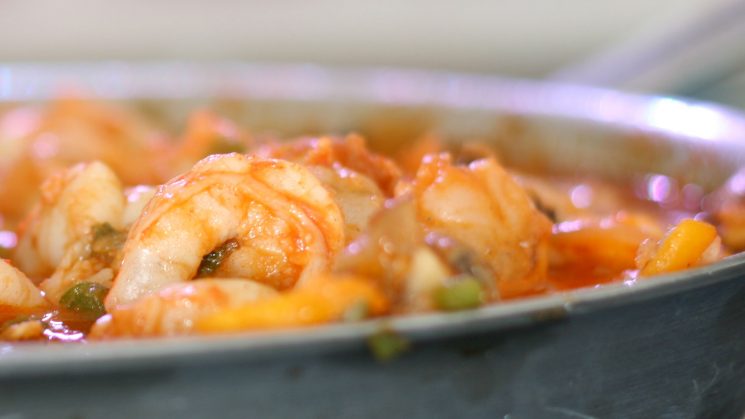 Buying local seafood may seem challenging, but North Carolina Sea Grant offers numerous resources to help you make safe and informed decisions.
Here are some of the questions I prepared for a presentation for agents at North Carolina Cooperative Extension.
How available is North Carolina seafood around the state?
North Carolina seafood is easily available along the coast but becomes harder to find the further inland you travel, according to 2012 research by the East Carolina University College of Business and North Carolina Sea Grant. In North Carolina, east-to-west supply chains traditionally were underdeveloped, whereas transporting seafood to northern markets (e.g., Washington, Baltimore, New York) had been well established over generations using I-95 as a trucking corridor.
Even though I-40, US 64 and other routes are now available, deliveries to the Triangle, Triad and Charlotte are often handled by smaller operations. The size of these inland delivery companies means that, although local seafood is available farther from the coast, supply is limited.
Where do I find local seafood in my community in North Carolina?
Buy from a reputable seafood retailer, and ask which items were landed by North Carolina fishermen. Find sellers who are candid about the origins of their selections. When you're visiting the coast, learn of the establishments that offer local seafood by checking out Brunswick Catch in the southern coastal region, Carteret Catch in the central region, Outer Banks Catch in the northern region, and Ocracoke Fresh along the southern part of the Outer Banks.
Does seafood have a season like fruits and vegetables?
Yes, and North Carolina Sea Grant has numerous resources available on the Consumer Awareness page to help you figure out what is available by season, as well as by coastal region. For some history about the seasonality of local seafood, check out Scott Baker's blog post.
How can consumers know they are purchasing the highest-quality seafood?
Sea Grant developed this chart to inform consumers what to look for when purchasing various types of seafood and to make sure they are buying the best and safest options.
How can consumers preserve the quality and safety of seafood at home?
You can find some tips in Mariner's Menu and the Sea Grant seafood availability and freshness charts. Here are some general rules to follow:
Keep unfrozen, raw seafood ­— including shucked clams and oysters — as close to 32 degrees F as possible.
The maximum storage temperature for seafood is 40 F.
Live shellfish — clams and oysters — should be kept refrigerated around 45 F.
Read more of my previous discussions about Fresh vs. Frozen Seafood and Frozen Shrimp.
Is seafood inspected by state or federal agencies like meat and poultry?
Yes. Seafood products fall under the purview of the North Carolina Department of Agriculture's Food & Drug Division and the U.S. Food & Drug Administration. Shellfish Sanitation, part of the North Carolina Division of Marine Fisheries, ensures the safety of clams and oysters by monitoring harvesting waters and ensuring the proper handling of shellfish sold to the public.
In some markets/places, local seafood seems more expensive than imported products. Explain why consumers should prioritize locale over price?
In general, prices for local seafood tend to be higher because labor, a significant production expense, costs more in the United States. When people purchase local seafood, they support the human and manufacturing infrastructure that maintains our state's commercial seafood industry. If we ever lose this foundation, we may never get it back.
Some imported seafood, like peeled-and-deveined shrimp from Asian countries, may cost more per pound than shell-on, local shrimp. But peeled shrimp have undergone additional processing and are in a ready-to-cook form favored by food establishments like restaurant chains. Despite the ease of ready-to-cook, it is important to remember that buying local contributes to the sustainability of N.C. seafood.
It seems many consumers don't know how to prepare or cook seafood. Where can they find simple recipes to try at home?
Our food blog marinersmenu.org features kitchen-tested recipes from the Mariner's Menu: 30 Years of Fresh Seafood Ideas. Both the site and the book offer instructions on baking, broiling, grilling, steaming, poaching and frying. These recipes were developed between 1973 and 2011 by members of Carteret County extension clubs in partnership with Sea Grant. You can also check out some of these recipes on Pinterest.
What are some common seafood-borne illnesses consumers should know about and how can they avoid them?
Foodborne illnesses can be caused by any food. The Centers for Disease Control and Prevention notes that raw animal foods are the most likely to be contaminated. Because shellfish — like oysters, clams and mussels — can filter and accumulate bacteria that are present in the waters in which they live, they are more likely to contain pathogens that could cause foodborne illnesses.
Consumers can prevent seafood-borne illnesses at home by using safe handling practices:
Wash hands, utensils and cooking surfaces often.
Cook seafood to a minimum internal temperature of 145 F for 15 seconds.
Keep raw and cooked seafood separate to avoid cross-contamination.
Store seafood in the refrigerator below 40 F or in the freezer below 0 F.
A very common illness is scombroid, or histamine, poisoning. It happens when consumers ingest histamine and histamine-like chemicals from fishes that are not promptly or properly cooled after capture.
Symptoms of scombroid poisoning generally begin about 30 minutes to one hour after ingestion of contaminated fish. Effects include nausea, vomiting, abdominal cramps, diarrhea and headache. Severe reactions include dropping blood pressure, racing heart and wheezing.
After certain finfish like tunas, mackerels, mahi-mahi and amberjack die, bacteria will convert histidine, an amino acid in these fishes' bodies, into histamine if the catch is not iced properly. Histamine forms when the fish spoils — when the histamine fish is not iced immediately or frozen after harvest, or when it is not kept cold enough or properly frozen during storage.
Histamine cannot be destroyed by cooking or freezing. Therefore, it's important to make sure the fish is handled properly from the moment it is caught. Ice it immediately and keep it at 32 F until you are ready to cook the fish.
To ensure you are getting the safest, highest-quality products, buy from a reputable seafood retailer.
What are your main take-home points?
Three things:
Keep seafood as close to 32 F as possible,
Fishermen are responsible stewards, following science-based regulations set by state and federal agencies, and
Choose local seafood to support the state's commercial seafood industry. If North Carolina loses its fishing infrastructure, we may never get it back.