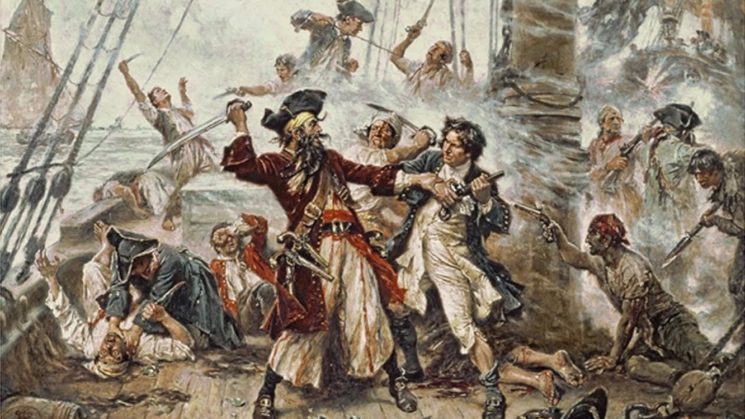 Above: The Capture of the Pirate, Blackbeard, 1718, depicts a notorious battle in Ocracoke Bay. By Jean Leon Gerome Ferris/Public Domain
Blackbeard was a paragon of a pirate. During the early 18th century, he stalked the shipping lanes of the Atlantic and Caribbean. His ship was, perhaps, as notorious as his name.
In late 1717, Blackbeard commandeered a French vessel called La Concorde, renaming it Queen Anne's Revenge. After a spate of fruitful acquisitions of booty and crew, he set his sights on North Carolina.
It was the beginning of the end. Whether by design or bad luck, the Queen Anne's Revenge ran aground in June 1718. Blackbeard ventured to Ocracoke, where he met his fate six months later.
This year marks the 300th anniversary of Blackbeard's adventures along the N.C. coast. Pirate fans and scholars are marking the occasion with activities across the state.
"Celebrating Blackbeard and the Golden Age of Piracy gives us an opportunity to talk about and celebrate North Carolina's maritime history in a fun and engaging way," says Michele Walker, a public information officer with the N.C. Department of Cultural and Natural Resources, or DNCR.
A June symposium at the N.C. Maritime Museum in Beaufort will offer a scholarly look at piracy in the state. An exhibit on the Queen Anne's Revenge is on tour. And if you're headed to Ocracoke, you might notice Blackbeard flags waving from the ferries.
Meanwhile, the state's QAR Conservation Lab continues to make discoveries about the Queen Anne's Revenge. "They found these little, bitty pieces of paper that turned out to be from a book," Walker says. "It's the first time we were ever able to actually document a specific book that may have been on a pirate ship from that era."
For more Blackbeard research and anniversary events, check out the DCNR's Pirate Portal. For more about Sea Grant's history with the Queen Anne's Revenge Project, read this Coastwatch article.
This article originally appeared in the Spring 2018 issue of Coastwatch.
##