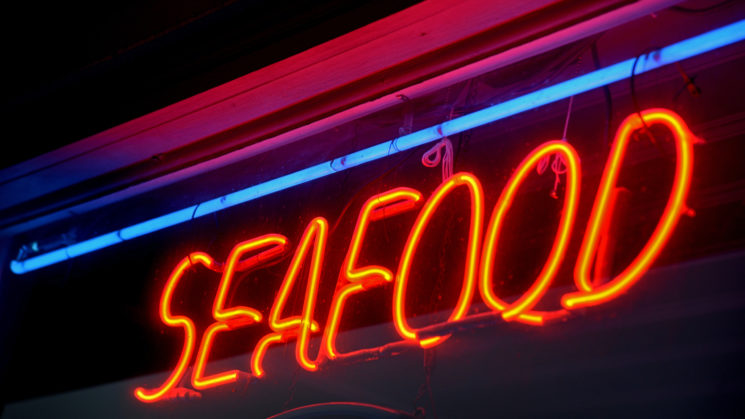 Photo by Roger Winstead
Greg Cox knows his way around food. The News & Observer's food critic since 1995, he has eaten his way around the Triangle, tasting a multitude of cuisine over the years.
Recently, he ranked the Triangle's top restaurants of 2018 so far. His story highlighted a trend that we at Sea Grant have been noticing for a while.
Seafood is shining brightly in the Triangle. Of his top-six restaurant picks — those with a four-star rating or higher — three focus on North Carolina seafood.
"The fact that half of these places specialize in fresh seafood — a category that has long been underrepresented in these parts — is icing on the cake," Cox wrote in the N&O.
Saint James and Saltbox Seafood Joint, both in Durham, and Postal Fish Company in Pittsboro received praise for their excellence in seafood. Cox also lauded a fourth restaurant, Postmaster in Cary, known for Southern cuisine, for its use of "market catch" fish.
Cox speaks excitedly about this new culinary wave. "I'm a huge seafood fan," he says. "If I could only eat one animal protein for the rest of my life, it would be that."
Lucky for him, North Carolina seafood has been on the rise in recent years. And it's not just Sea Grant noticing. "There absolutely has been an increase in seafood," Cox confirms. Not only are more restaurants serving local fare, but the quality of that seafood also has improved, he says.
Seafood's increasing popularity may simply reflect the growing restaurant diversity in the Raleigh-Durham-Chapel Hill area. Cox speculates that healthy and "local eating" trends play a role, as seen in the growth of farmer's markets in the area. He also cites a more educated and demanding customer base that is interested in quality and freshness.
Barry Nash, Sea Grant's seafood technology and marketing specialist, has worked with local catch groups to conduct market research, along the coast as well as inland.
"Our research shows the demand for local products is strong, and has grown stronger over the years," Nash says.
Health benefits of seafood are key, but so too are the clear ties to fishing families. "People value the heritage of coastal communities," he adds.
While the restaurants on Cox's list may get their seafood from various sources, each values local vendors.
In a prior review of Postal Fish Company, Cox discovered that the chef-owners drive to the coast to buy their seafood directly off the boats. Others rely on seafood distributors for quality products. In his recent story, Cox gave a shout to Postmaster for procuring its fresh seafood from Locals Seafood, a duo that brings N.C. seafood to the Piedmont.
Aside from supplying to restaurants, Locals Seafood is also an established vendor at farmers markets in the area. When he stops by the State Farmers Market in Raleigh, Cox witnesses the company's popularity. "They always have huge lines," he says.
For those hankering for a seafood dinner out, Cox recommends doing research ahead of time. Many restaurants detail menu options and seafood sources. Or, before ordering, ask the server about the fresh catch, including where it came from and how it's prepared.
But will the N.C. seafood boom last?
Cox is optimistic. "It might be wishful thinking, but I hope the trend will continue."