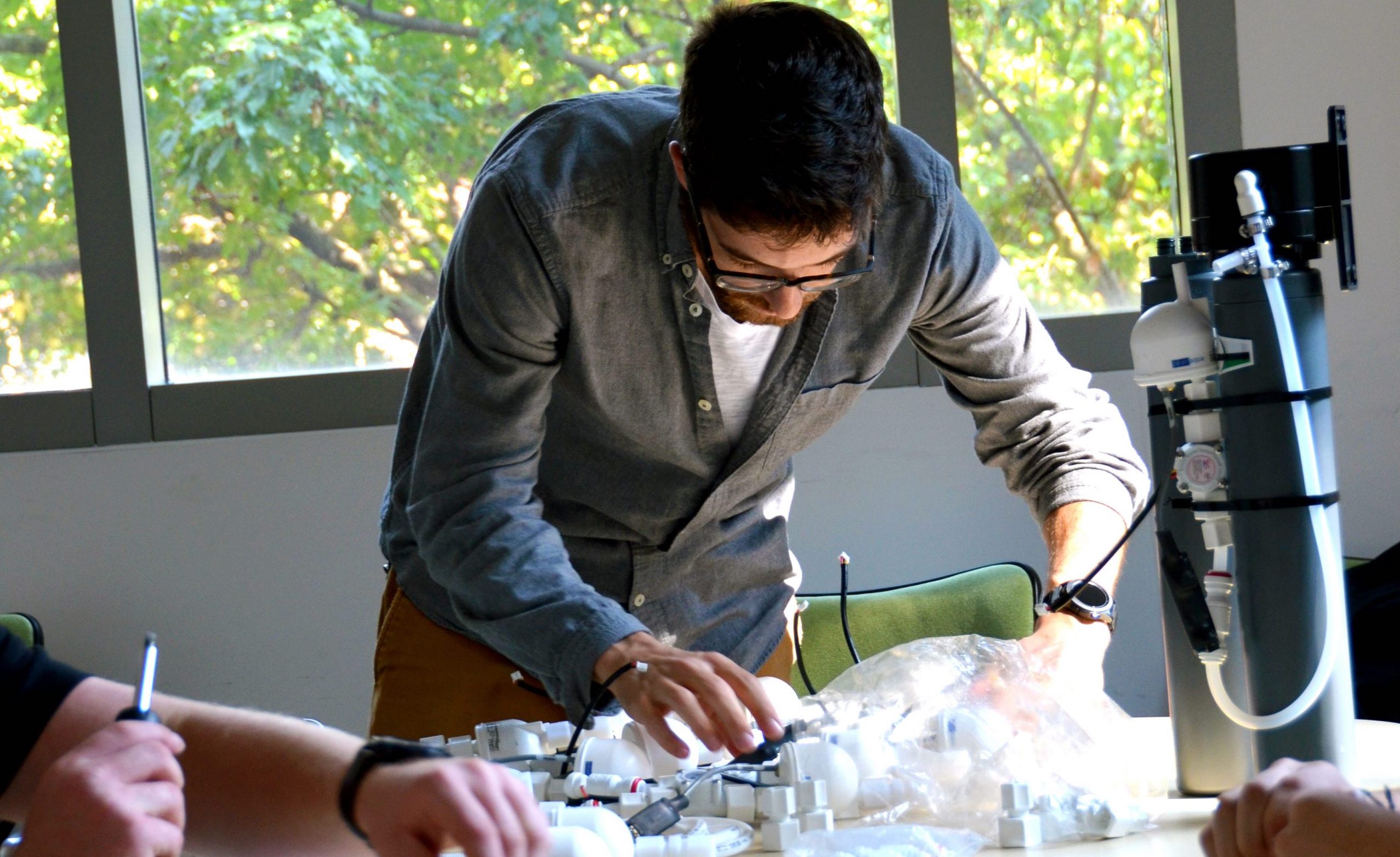 Riley Mulhern assembles water filters to install in study participants' homes.
Lead threatens water security in low-income and African American communities.
BY MAYA HOON
As household plumbing and water pipes age, lead, a potent neurotoxin, may contaminate drinking water from corrosion. With this issue raising concern within North Carolina, researchers seek to produce information on where contaminated drinking waters are more likely to occur.
Among these researchers is Riley Mulhern, a Ph.D. student with the Environmental Sciences & Engineering program in the Gillings School of Global Public Health at University of North Carolina at Chapel Hill. In a pursuit to improve North Carolina communities' water quality, Mulhern strives to identify utilities at higher risk of lead contamination, so that they may work towards providing appropriate solutions to their customers.
With his North Carolina Sea Grant – WRRI graduate research fellowship award, Mulhern is developing a model that uses machine learning, a form of artificial intelligence, to predict where contaminated drinking waters are likely to occur. To do this, he designs his computer model to predict characteristics of households and areas with a higher chance of water contamination.
Ideally, water utilities will work with their customers to improve infrastructure and reduce the risks of harmful water contaminants. However, the process is slow and some utilities lack the finances to make those improvements, especially in lower-income areas. Furthermore, Dr. Jacqueline MacDonald Gibson, Mulhern's advisor, has done research showing that people who rely on private well waters are at higher risk than those who get their water from a community water system.
Thus, in the second piece of his research, Mulhern works on immediate solutions to protect community members living in areas identified to be at higher risk, with a focus on private well owners. To do this, Mulhern installs water filters in participating community members' homes and regularly assesses how well the filters can remove lead and other contaminants.
"I often get back from those field days pretty exhausted but somehow energized too, and that's why I do this."
The Process
With the help of three undergraduate students, Mulhern uses a machine learning software called BayesiaLab to predict areas at risk of water contamination by feeding large data sets to the computer. These data sets pair drinking water quality and utility infrastructure characteristics with child blood-lead measurements, provided by the state of North Carolina. This process helps Mulhern's team identify patterns between blood-lead occurrences in children and water-system characteristics.
So far, Mulhern's team has found a strong association between higher lead levels in children within Wake County and low-income and African-American neighborhoods. While these results do not concretely stamp water as the primary source of lead exposure – as lead may be introduced through other mediums (e.g. air and soil) – Mulhern explains that "drinking water may be associated with low levels of chronic lead exposure that might not be detected otherwise."
Essentially, this means appropriate steps to remove the lead will not occur since it is below official detection and required action levels. However, the lead may accumulate in the people drinking the contaminated water, placing them at risk of health problems in the future.
For the second portion of his research, Mulhern has installed water filters into 18 homes on private wells in Robeson and Orange County and has been collecting water samples from these homes regularly for five months.
"I kind of had to learn how to become a plumber," Mulhern says. "I had to learn how to install all of these filters in people's homes, which is fairly simple, but every home is different and I had to learn a lot about different plumbing fixtures, which was a challenge."
After collecting his samples, he processes them in his lab, testing for metals, organic chemicals and microbes, such as E. coli and viruses. After obtaining the test results, Mulhern sends the data back to his study participants, communicating it in an understandable and compelling manner.
Despite the overwhelming data produced from each house, "I do try and be very intentional in my research with communication with every study participant to understand their water quality data," Mulhern states. "I don't think I do it perfectly, but to do it perfectly, I would need a whole team because it takes a lot of time. But it's worth it. It's worth that time."
As a means of testing his computer model's effectiveness outside of the North Carolina communities he built it for, Mulhern aims to use his model in other counties, such as water utilities in southern North Carolina, this summer. By doing so, he will be able to understand how well his model can predict risk in other areas.
Although he feels pressure and stress from time constraints, Mulhern finds his field work to be a rewarding experience.
"I often get back from those field days pretty exhausted," Mulhern states. "But somehow energized too, and that's why I do this. I get to establish a rapport with study participants and be someone they feel they can trust, and I feel like that's an important part of doing public health work – that people involved in the study are able to trust the researcher."
With his current data, the water filters show promise as effective tools for lead removal. However, Mulhern does not just want to analyze the filters' ability to remove lead, but also to what extent and for how long. The goal is to identify a cost-effective solution, especially since lower-income communities have higher lead contamination risks.
With more evidence of their effectiveness, water filters could better prepare health departments and water utilities, so that they may provide protective services to vulnerable communities.
"It's just satisfying being able to provide these filters to people. It feels like a service to the community, at the same time as it is an academic pursuit."
Life Leading Up to a PhD
Spending six months as an undergraduate intern in Nicaragua, Mulhern worked with communities struggling with arsenic-contaminated well waters, which ultimately compelled him to pursue a master's degree in environmental engineering and water treatment at the University of Colorado Boulder.
After graduating with his master's, he and his wife volunteered with the Mennonite Central Committee and lived in Bolivia for two years. During this time, he interacted with indigenous communities whose water was contaminated by mining activities.
"I continued to see some concern around water quality," Mulhern says. "Not only that but also a desperation for more research to be done, because there was a lot of debate and confusion about the full impacts of mining in the area and the health effects. And so, those communities really wanted researchers to come alongside them and support them. That was another instance that really compelled me to want to do a Ph.D. in particular, because I saw the value of research as a means to accompany communities in some of these difficult circumstances."
While his global experiences have broadened his knowledge on the relationship between water sanitation and extreme health issues in the global context, the water issues he witnessed pushed him to think of his own country's context.
Mulhern realized that there are many of the same issues in America. Drinking water disparities and their higher occurrence in low-income, minority communities is an issue many Americans overlook, since there is more attention paid to global water sanitation issues.
Mulhern feels he can best contribute to resolving these social justice issues in American society through earning a Ph.D. and seeing what doors that can open for his long-term career.
"It's just satisfying being able to provide these filters to people," Mulhern says. "It feels like a service to the community, at the same time as it is an academic pursuit. I enjoy that. Now I just need to find a way to make them sustainable, so that these people continue to be provided with the service."
Once he obtains his Ph.D., Mulhern is interested in continuing his focus on lead, and on PFAS, a category of potentially harmful chemicals that requires more research and attention.
While Mulhern has not yet decided whether he would work with a governmental agency, a university, or a consulting firm, he is certain that wherever he may end up he will ultimately continue serving vulnerable communities.