Can You Identify North Carolina's Three Species of Flounder?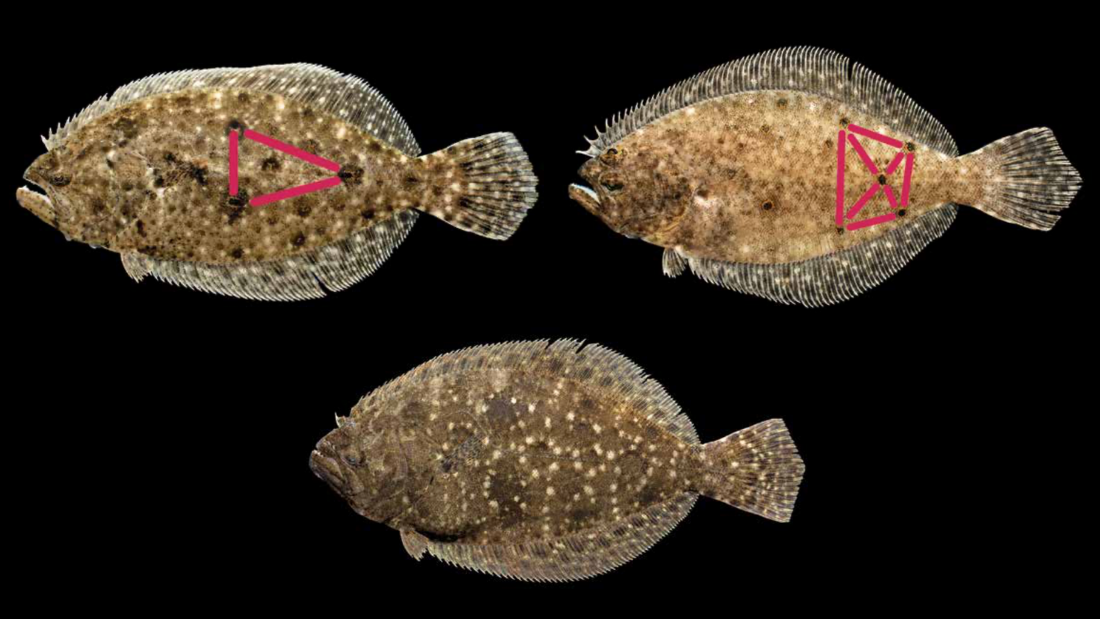 It turns out, most anglers can't. Luckily, NCDMF has some tips.
The N.C. Division of Marine Fisheries announced that the 2023 recreational flounder season will open at 12:01 a.m. September 15 and close at 11:59 p.m. September 29. Recreational anglers are allowed one-fish per person per day, and a retained fish must be 15-inches in total length (from the tip of the snout to the tip of the tail) to meet the minimum size limit.
The NC Division of Marine Fisheries has created a guide that has everything you need to know about founder. In anticipation of this week's opening, anglers might want to brush up on which of the three species is biting on the end of their line.
Research Need
The N.C. Division of Marine Fisheries (NCDMF) collects information on recreational fishing through in-person and mail surveys. Staff talk to more than 20,000 anglers each year on the beach, at the piers and at boat ramps to find out what they caught, what they threw back, where and how long they fished, and other information.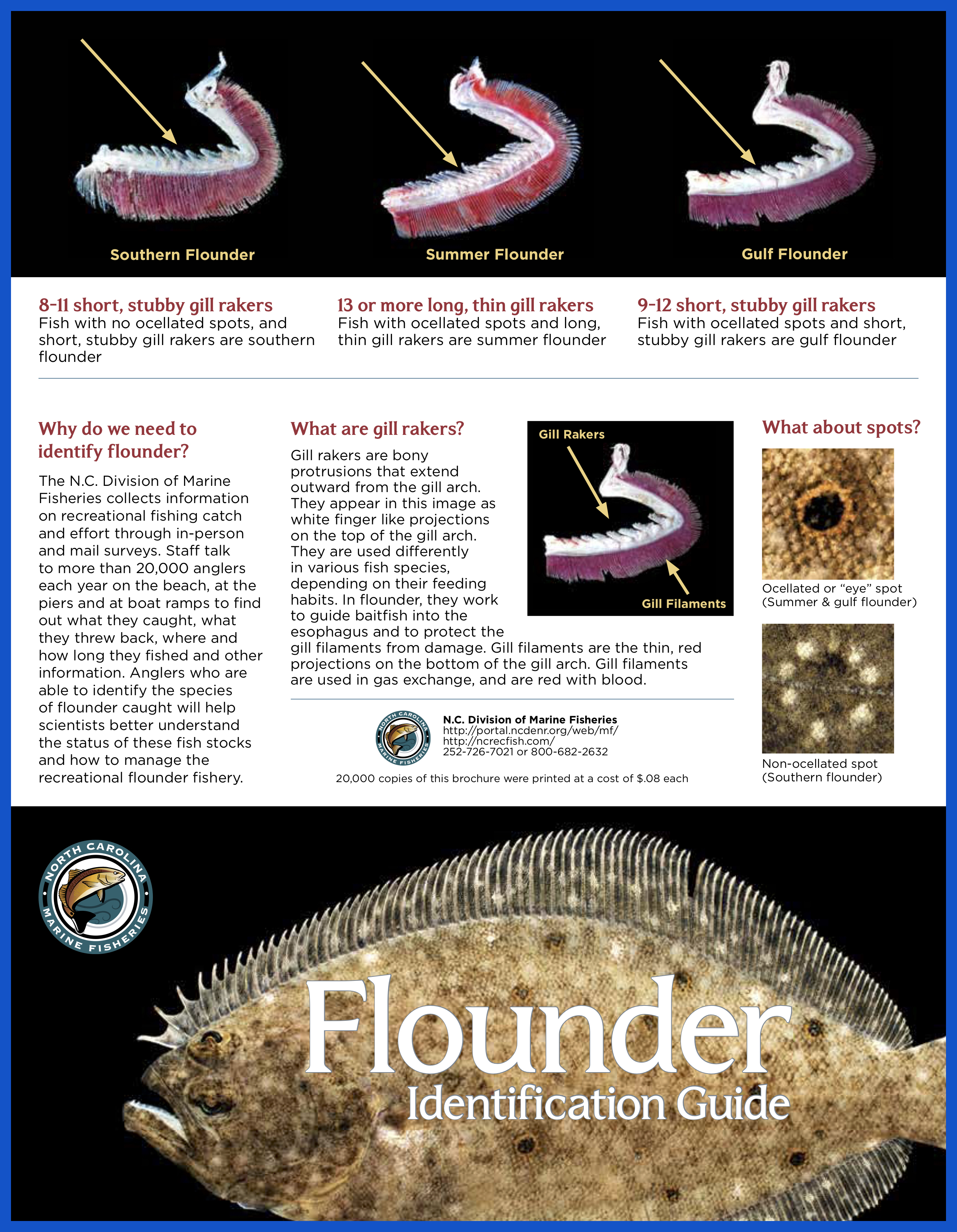 Anglers who can correctly identify fish to the species level will help scientists better understand the status of these fish stocks and better estimate the size of annual harvests. In North Carolina estuarine and marine waters, there are three flounder species — Southern Flounder, Summer Flounder and Gulf Flounder — that all look alike to the untrained eye. So much so, that NCDMF says even most anglers have a hard time correctly identifying the flounder they catch.
What do anglers need to know?
For starters, it's important to understand the general patterns of flounder abundance in North Carolina. Southern Flounder is the most common flounder caught in our state, especially in estuarine waters. Summer Flounder are common around inlets and in the ocean, but also in estuarine waters. Gulf Flounders are least common of the three species and occasionally swim in ocean waters near reefs.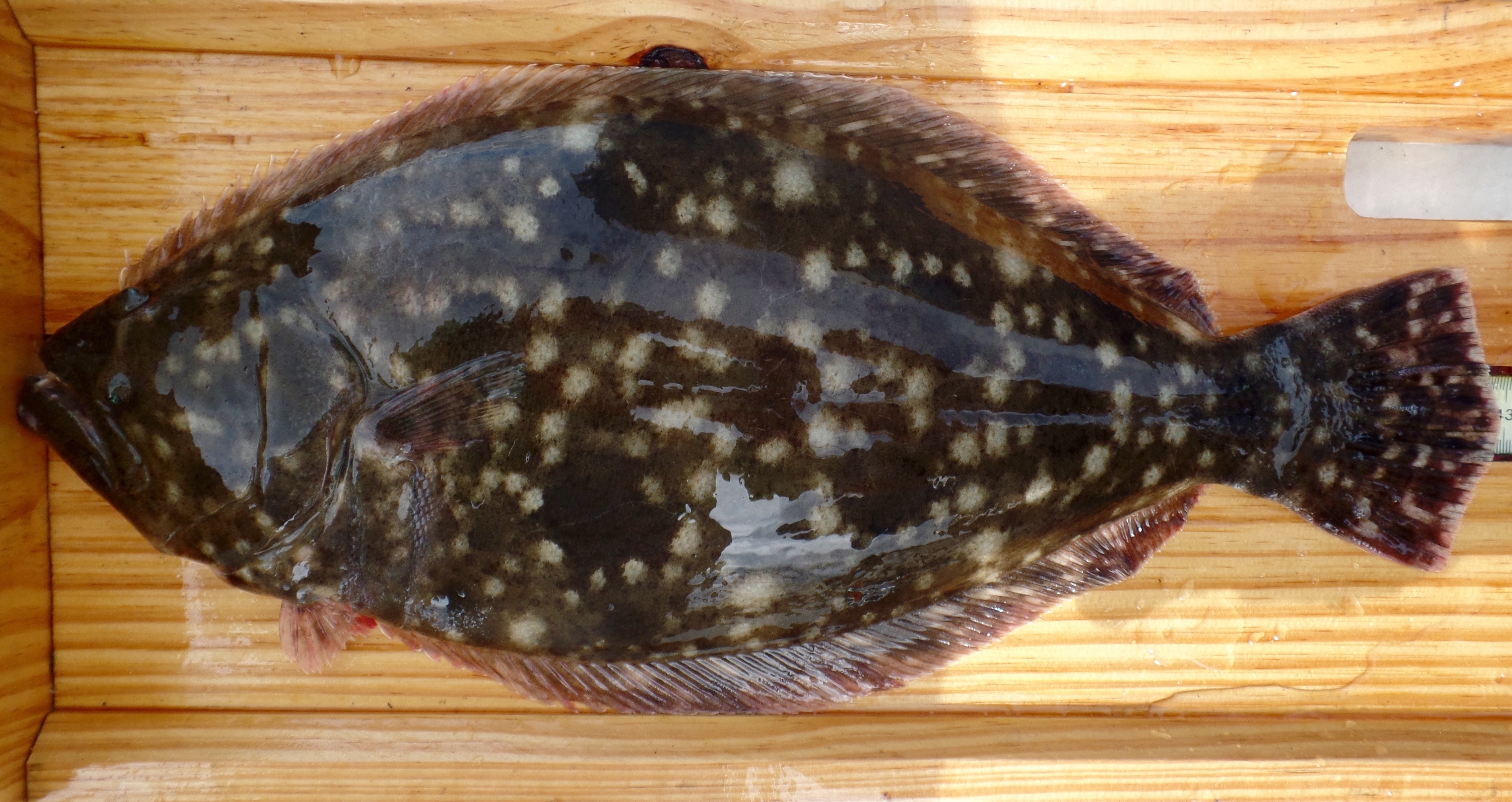 Second, the most distinguishing feature between species is the type of spots: Southern Flounder (left) have "non-ocellated spots" on the body, whereas Summer and Gulf Flounder have ocellated or "eye" spots. In addition, Summer and Gulf Flounder each have distinctive patterns of spots.
However, colors can often change after death, making identification even more difficult. That's why its good to know about other tell-tale signs, such as the number and style of gill rakers or the number of anal fin rays.
Luckily, anglers don't need to refer to a scientific field guide to help with flounder identification. The NCDMF has a developed a beautiful 2-page guide that provides all this information along with clear images of real flounder on black backgrounds. You can see all the differences between species, and once you see what to look for, it becomes a little easier to identify North Carolina flounder by species.
Reading
Flounder Identification Guide from the N.C. Division of Marine Fisheries
Summary compiled by Scott Baker
Lead photo montage: Three prominent ocellated spots form a triangle on the body of Gulf flounder (top left). On summer flounder, five ocellated spots form a pattern like the five side of a die (top right). Southern flounder have non-ocellated spots (bottom). Courtesy of the N.C. Division of Marine Fisheries
Second photo by Fred Scharf (UNCW)
The text from Hook, Line & Science is available to reprint and republish, but only in its entirety and with this attribution: Hook, Line & Science, courtesy of Scott Baker and Sara Mirabilio, North Carolina Sea Grant. HookLineScience.com