Reeling in the Past: What Can We Learn from Historic Fishing Photos?
Volunteers helped to describe historic fisheries through FISHstory, a pilot project developed through the South Atlantic Fishery Management Council.
Research Need
Much of the finfish harvest in the South Atlantic is dominated by recreational fisheries. There were few recreational monitoring programs in the region prior to the mid-1970s. However, we all know from the stories of Hemingway's catches and other fishermen (e.g., Zane Gray) that recreational fisheries were operating well before then.
Having catch and size information could improve our understanding of these historic fisheries, better inform historic recreational information used in stock assessments, and help us better understand our current fisheries.
What did they study?
FISHstory analyzed historic photos from the 1940s to 1970s from a for-hire fleet based in Daytona Beach, Florida. These photos captured diverse species, from reef fish to mackerels and cobia to blue water species like dolphinfish.
The project had three primary components: digitizing and archiving historic fishing photos; analyzing historic photos to estimate for-hire catch; and developing a method to estimate fish length in historic photos.
Through Zooniverse, an online platform, the project trained people to identify and count the fish and people in historic photos. When there was substantial disagreement, a "Validation Team" of fish ID experts, comprised of fishermen and scientists, verified the information in the photos.
Outside of Zooniverse, FISHstory developed a method to measure the size of fish in historic photos using the lumber in the leaderboards for scale. Analysts with fish identification expertise then tested the method on king mackerel.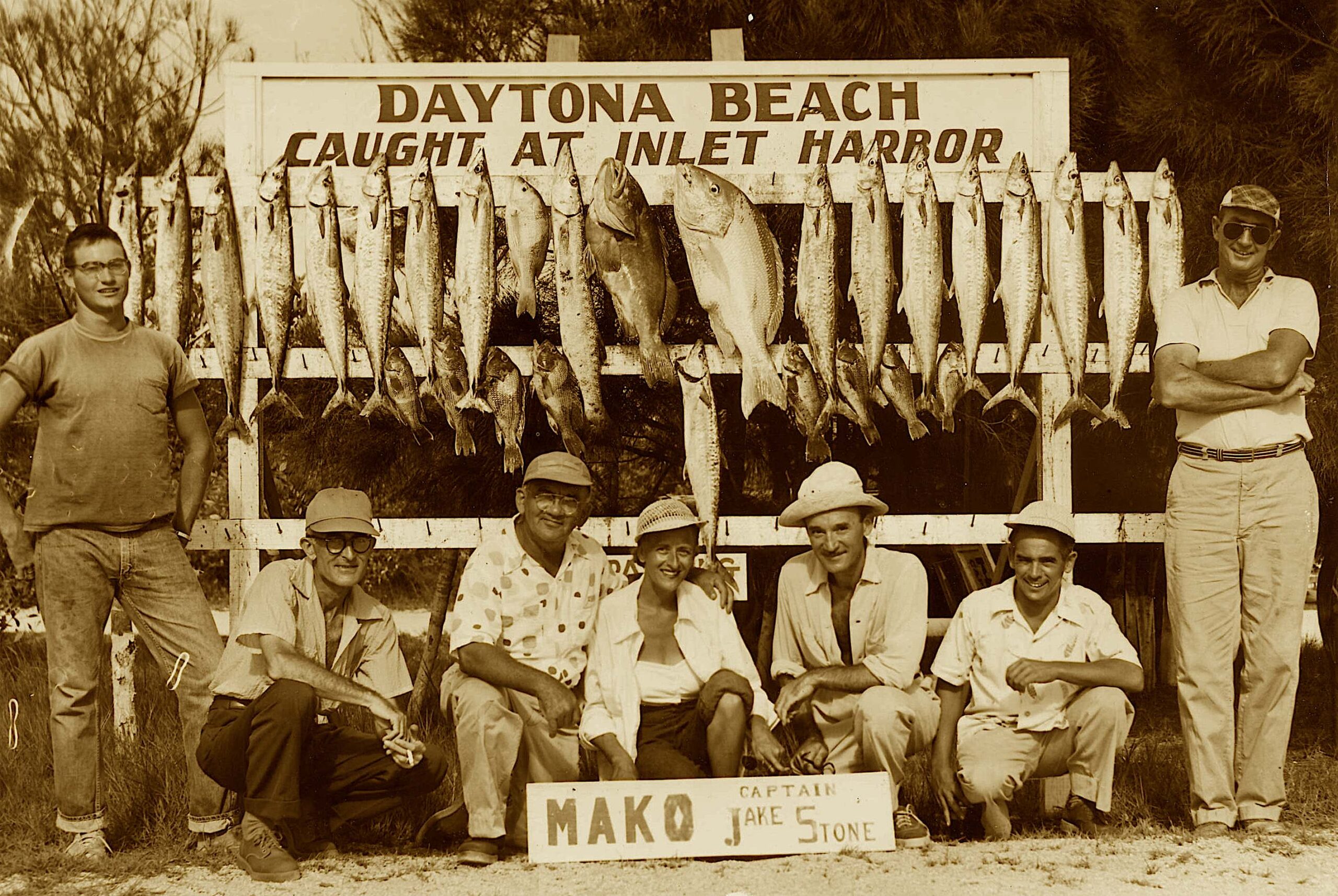 What did they find?
Historic photos are a valuable source of information. The methods developed through FISHstory showed promise and volunteers made valuable contributions to these efforts.
As part of the pilot, 1,374 historic photos were digitized and archived. Over 2,120 volunteers analyzed photos through Zooniverse and made over 35,740 individual classifications (identifications and counts). All 1,374 photos were analyzed for king mackerel measurements.
Identifying fish in these historic photos was challenging, even for those with fish ID experience. The species most frequently found in the photos — king mackerel, red snapper, grouper species, and amberjack species — didn't show any bias in counts, meaning experts and volunteers didn't consistently count higher or lower than one another. Based on these findings, we were able to look for trends in catch composition and catch rate in the photos analyzed by our volunteers.
When tested, the method developed to estimate fish size in historic photos showed that we could get within approximately two inches of known measurements, which is precise and accurate enough for use in the king mackerel assessment. When the method was applied to the historic photos, our analysts found king mackerel in ~42% of the archived photos, with most common fork lengths ranging between 19 and 37 inches.
What's Next?
Due to its success, we're working to grow FISHstory from a pilot to a full-scale project. We're expanding the geographic range of photos so the data gathered will be more representative of the South Atlantic region as a whole. In addition to king mackerel, we're gathering length measurements on red snapper, and we're refining methods to improve data quality and efficiency as the project moves forward.
Anything else?
The first step in expanding FISHstory will be finding and archiving more historic fishing photos from across the South Atlantic region.
Do you or someone you know have historic fishing photos to contribute to the FISHstory project? Reach out to julia.byrd@safmc.net to learn more.
Reading
Byrd, J., C. Collier, and A. Iberle. 2022. Designing the FISHstory project to support fisheries management. Fisheries: 47 (11), pg. 492-498. https://afspubs.onlinelibrary.wiley.com/doi/full/10.1002/fsh.10809
Visit the FISHstory Project Results Zooniverse Page.
Special thanks to Rusty Hudson and the Timmons, Hudson, and Stone families for sharing their treasured photos, including these above of Daytona Beach in 1963 (top photo) and 1952, as well as to a NOAA Fisheries' Fisheries Information System Program grant for helping fund the FISHstory pilot project.
By Julia Byrd, Chip Collier, and Allie Iberle.
The text from Hook, Line & Science is available to reprint and republish at no cost, but only in its entirety and with this attribution: Hook, Line & Science, courtesy of Scott Baker and Sara Mirabilio, North Carolina Sea Grant.