What Can Twitter Tell Us About Red Tides?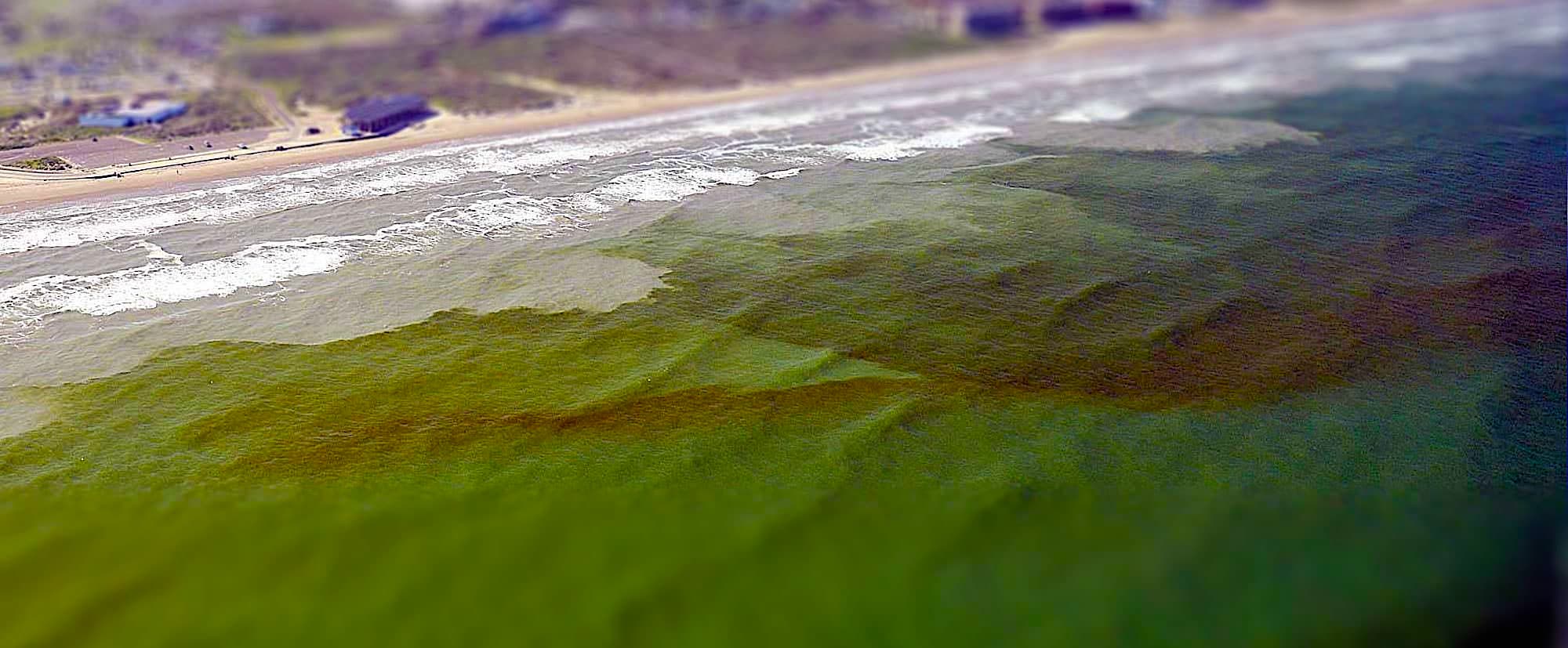 A new study compared tweets and scientific counts of algae during a year-long red tide.
Research Need
Red tides occur when there is an overgrowth of algae in coastal waters that depletes oxygen levels and releases toxins. The condition turns the water a reddish-brown and can be harmful to human health and sea life. In particular, red tides can kill fish and make shellfish dangerous to eat.
Tracking the reach of a red tide event helps state and local governments respond quickly and accurately to an outbreak. After the extreme red tide outbreak in Florida from 2017 to 2019, researchers wanted to find out if social media posts could provide a timely and accurate real-time roadmap of such an event.
What did they study?
During hurricanes and other natural disasters, people often turn to social media to share their observations and experiences. Scientists analyzed Twitter messages for this study, because tweets are limited in length and easy to "retweet" to others, which can increase the original tweets' reach beyond one person's network.
Researchers analyzed over 18,000 tweets originating from five counties of interest in southwestern Florida from May 2018 to May 2019 and determined whether the tweets referenced a red tide. They also evaluated whether the tweets used strong or extreme language (like "bad" or "disgusting") to describe the tides. Then they compared the number of tweets in a geographic location to the scientific counts of algae in the local area.
What did they find?
Researchers found strong relationships between local Twitter activity and the actual red tide conditions scientists observed. In addition, they observed a close geographic relationship between the affected coastal areas and per-capita counts for relevant tweets.
Results of this study show that Twitter can present a trustworthy and inexpensive record of a red tide's local presence and development over time. Tweets also could supplement existing tools for efficient assessment of red tides and a coordinated response.
What's Next?
The research team would like to see local governments and planners use an automated Twitter review process in the future on an ongoing basis. This would allow them to have useful data available in real time while a disaster unfolds.
For future studies, the researchers plan to conduct a deeper analysis of Twitter user groups, social influencers, and individual account types (e.g., media, public figure, government agency) in order to improve public communication during an unfolding weather event. They also plan on using tweets matched to a specific location through mentions of that locale, rather than relying on geo-tagging or geoprofiling.
Reading
Skripnikov, A. Wagner, N. Shafer, J. Beck, M. Sherwood, E. and Burke, M.. 2021. Using localized twitter activity to assess harmful algal bloom impacts of Karenia brevis in Florida, USA. Harmful Algae 110: 102118.
This project was supported in part through the Tampa Bay Environmental Restoration Fund (TBERF) and a USEPA Region 4 Cooperative Agreement Grant to the Tampa Bay Estuary Program (CE-00D89319-0). TBEP funding for this project stems from USEPA Section 320 Grant Funds, and the TBEP's local government partners (Hillsborough, Manatee, Pasco, and Pinellas Counties; the Cities of Clearwater, St. Petersburg, and Tampa; Tampa Bay Water; and the Southwest Florida Water Management District) through contributions to the TBEP's operating budget. The Sunrise Rotary Foundation of Sarasota also supported this project through a grant to the Science and Environment Council of Southwest Florida.
by Christine Ryan
lead photo: Gulf Coast red tide. Credit: NOAA.
The text from Hook, Line & Science is available to reprint and republish at no cost, but only in its entirety and with this attribution: Hook, Line & Science, courtesy of Scott Baker and Sara Mirabilio, North Carolina Sea Grant.