What Was Early Sportfishing Like in Coastal North Carolina?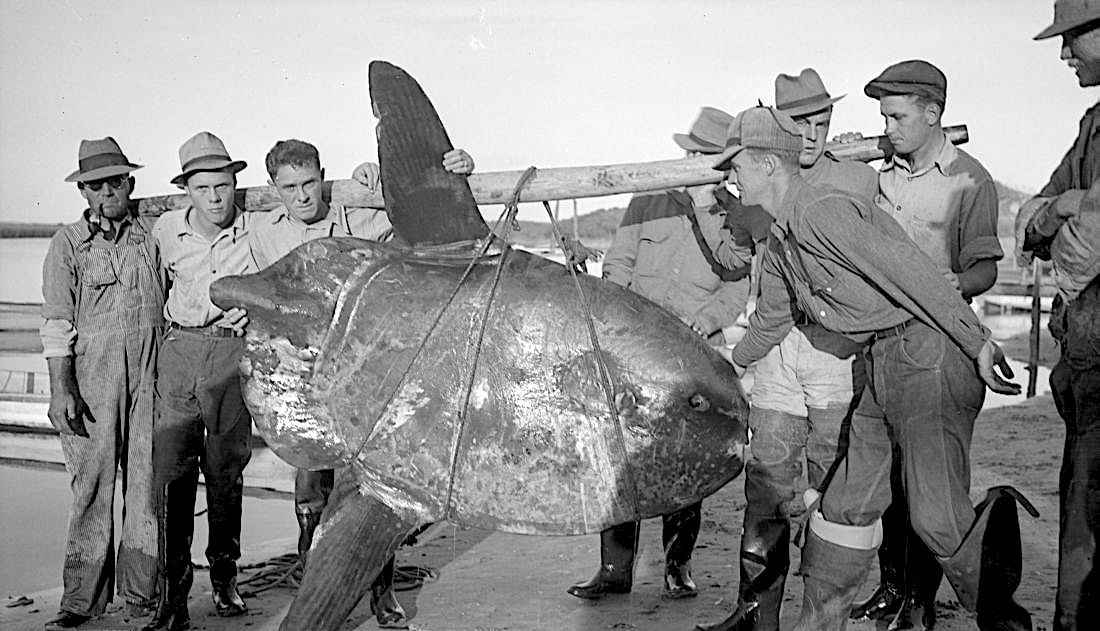 As North Carolina's commercial fishing industry expanded in the wake of the Civil War, sportfishing emerged as an offshoot. During the summer months, a lack of onboard refrigeration made commercial fishing impractical. Sportfishing, however, provided commercial fishermen with a year-round source of income.
The earliest watercraft used by North Carolina sportfishermen were workboats, such as logboats, called "kunners." Historical sources also reference small "clinker-boats" being used by sportfishermen out of Beaufort and Morehead City. By the 1880s, both the kunner and the clinker-boat faced obsolescence with the rise of the shad boat and the sharpie.
In 1878, thirty charter boats operated out of Morehead City and Beaufort. Thirteen years later, that number had more than tripled. After the Morehead City market became saturated, some captains took their sharpies to Ocracoke and Wrightsville Beach and catered to the fishing charter industry emerging in those localities. Charters during this period stayed close to shore, with inlets and nearshore shipwrecks serving as the ideal fishing spots.
In the late 19th century, North Carolina's coastal waters teemed with fish. Recreational fishermen targeted bluefish, drum, kingfish, Spanish mackerel, spot, and trout. In 1888, fisher G. C. Connor wrote: "I have never experienced delirium until I saw a 15lb. Spanish mackerel leap into the air in a struggle to shake himself free of the well-hooked artificial squid at the end of 200ft of stout line."
The thrill of sportfishing was not only in the fish putting up a good fight but, apparently, in catching as many fish as possible. A group of four men trolling Beaufort Inlet in 1874 caught 493 bluefish in five hours. In 1889, three men from Raleigh, fishing from a sharpie at Cape Lookout, caught 253 fish in an afternoon. One of the men commented, "That wasn't much for Morehead fishing — but it was something for us."
Saltwater angling was not an exclusively male endeavor. In 1888, a sportsman visiting Morehead City noted that "some of the very largest [Spanish] mackerel caught this season were hooked by ladies who are as devoted to the sport as men." In 1874, three women in a boat near Morehead City caught 290 trout and drum in less than three hours.
Black watermen, many of whom were formerly enslaved, frequently served as fishing guides and charter boat captains. Leading national publications for outdoor recreation, such as Forest and Stream and The Rod and The Gun, recommended some of these North Carolina fishing guides by name to their readers: Alfred and Henry Boyd, Caesar Davis, Stephen Turner, and Joseph Fisher. John Evans was a popular fishing guide who catered to wealthy tourists visiting Wrightsville Beach. During the summer, he made $60 per week. He made enough money during the summer months that he did not have to work for the remainder of the year.
As North Carolina entered the 20th century, the state's saltwater recreational fishing industry continued to grow. However, over time the number of fish caught diminished. As anglers became aware of the sea's limitations, they encouraged conservation to protect fish for future generations and to ensure the sport's growth.
By David Bennett, a maritime historian whose archival work is part of the 200th-year celebration for the NC Division of Marine Fisheries. He will give a talk about this topic in Beaufort, North Carolina, on June 21, 2023.
lead photo: 20th-century fishers, Onslow County, N.C., courtesy of the H.H. Brimley Photograph Collection, State Archives of North Carolina, Raleigh, N.C.
The text from Hook, Line & Science is available to reprint and republish at no cost, but only in its entirety and with this attribution: Hook, Line & Science, courtesy of Scott Baker and Sara Mirabilio, North Carolina Sea Grant.