What's the Greatest Risk to Your Boat?
The 10 Most Frequent Insurance Claims Reveal the Perils of Ownership
It's only mid-August, and I'm already tired of the 2020 hurricane season. Just last week I had to prepare my small center console — stored in an open-air dry stack at a local marina — for Hurricane Isaias.
Luckily, my boat and most of the others at the marina escaped unscathed. Other boats at other marinas in southeastern North Carolina were not as fortunate.
If you own a motorized boat, regardless of whether you carry insurance on it, or where you store it, you might be interested in knowing the top 10 most frequent boating insurance claims.
What did they study?
The BoatU.S. Marine Insurance Program recently examined it's top 10 claims from the last 5 years, from 2013 to 2017. They also looked at the most common claims over a 5-year period ending in 2013 and in 2005, using a similar methodology to rank claim types across time periods.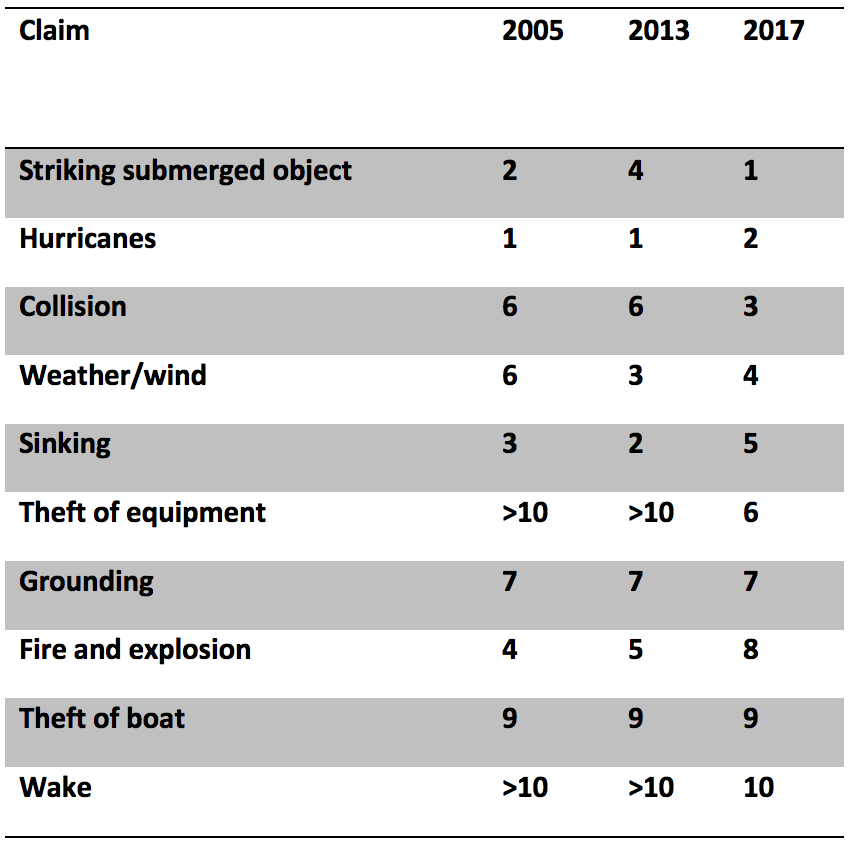 What did they find?
To the right is a ranking of the most common claims made for the 3 time periods. The lower the number, the more frequently the claim occurred.
What else did they find?
Hurricanes (storms) were consistently ranked #1 or #2 for each time period. While there were two major hurricanes in 2017, the preceding part of that 5-year period was relatively devoid of major hurricanes. This resulted in "Striking a submerged object" to gain the #1 position in this most recent assessment. While "Theft of boat" was consistently low in terms of numbers of claims made, this category resulted in the highest average payout per claim – because the claim is for the entire insured value.
Anything else?
In the 2013-to-2017 reporting period, approximately 40% of all claims were for reimbursement of on-the-water-towing through the BoatU.S. Marine Insurance Program. These were excluded from the top 10 list, as was standard in previous analyses.
Reading
Fort, Charles. (2018, August). Top 10 marine insurance claims. BoatU.S.
Summary by Scott Baker
Lead photo courtesy of FEMA
The text from Hook, Line & Science is available to reprint and republish, but only in its entirety and with this attribution: Hook, Line & Science, courtesy of Scott Baker and Sara Mirabilio, North Carolina Sea Grant. HookLineScience.com