What's Two Years Old and Has 100 Fisheries Science Updates for Anglers?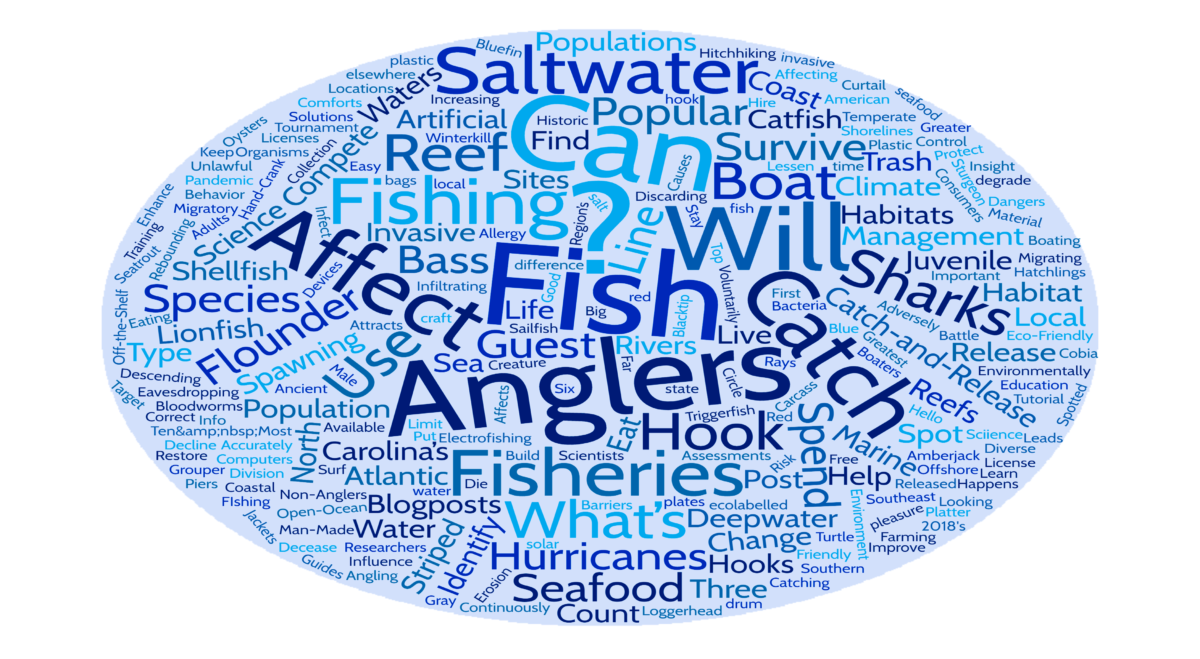 North Carolina Sea Grant's Hook, Line and Science!
This month Hook, Line & Science turns two years old. Yay! During that time, posts on flounder identification, changes in shrimp abundance, and fish tagging have been the most popular on the site, but there have been many others. In fact, with this post we also celebrate our 100th new post. Not bad, considering there have been only 107 Mondays since our launch on December 3, 2018. That's important because we always post on Mondays.
Our goal, as scientists who specialize in marine fisheries, has been to provide saltwater anglers, in particular, and a broader audience, in general, with easy access to science-based information related to fishing and fisheries.
And after all, science really isn't that useful unless we all have a chance to learn about it.
Over these last 2 years, we personally have summarized a ton of different studies – and we have also recruited 29 guest authors to discuss their own work, including posts written by 14 students.
Here are The Top 20 Most Popular Posts of Hook, Line and Science as of our second birthday.
1. Can You Identify North Carolina's Three Species of Flounder?

September 7, 2020

It turns out, most anglers can't. Luckily, NCDMF has some tips.

April 13, 2020

Are we catching more shrimp offshore during the winter and spring?

3. What Should You Do When You Hook a Tagged Fish?

June 24, 2019

Catch. Cut. Report. And then collect your reward.

4. Do Fish Shrink After They Die?

August 5, 2019

New research suggests anglers should think twice about keeping fish that are close to the minimum size limit.

5. What Fish Species Live in the Surf Zone?

November 25, 2019

At Wrightsville Beach, 84 different fishes use the surf zone.

6. What Does the Invasive Lionfish Eat?

February 11, 2019

Scientists have assumed that lionfish are not picky when it comes to consuming prey — but what if they are?

7. What Will Historic Dock Photos Reveal about Fisheries?

March 30, 2020

Citizen scientists will help to fill in the gaps.

8. How Are Blue Catfish Infiltrating New Waters?

January 28, 2019

Understanding the impact of invasive species on natural ecosystems is an important field of study in fisheries science.

9. Do Warmer Waters Cause Flounder to Become Male?

July 22, 2019

New research shows that higher temperatures can "masculinize" southern flounder populations.

10. Do Cobia Return to their Summer Spawning Habitat?

November 18, 2019

Electronic tagging reveals the answer.

11. Can Sand Tigers Survive Catch and Release?

December 17, 2018

Classifying the number and release condition of correctly identified sharks is more important than ever.

12. Can We Control the Lionfish Population by Hunting and Eating It?

August 26, 2019

The "eat 'em to beat 'em" strategy might only make a small dent in the pesky fish's numbers.

13. Is Climate Change Affecting Sea Turtle Hatchlings?

January 27, 2020

Researchers at UNCW show warming temperatures cause loggerheads to give birth mostly to female offspring.

14. Where Do Wahoo Spend Time in the Water Column?

May 6, 2019

Satellite tagging data reveals that wahoo prefer warm waters and visit a range of depths.

15. Can Released Deepwater Grouper Survive?

February 4, 2019

The use of descending devices in offshore bottom-fishing can combat the potentially life-threatening effects on fish brought up from depth.

16. Can Circle Hooks Compete with J Hooks?

January 7, 2019

If circle hooks were required, what impact would it have?

17. Do Trout Stocked in Western NC Rivers Stay Put?

August 31, 2020

Most trout stay within about a mile of their original stocking location but are available in high numbers to anglers for only a few weeks.

18. Do Bacteria in the Water Infect Us through Shellfish?

February 25, 2019

Water sampling could help to better understand potential risks to shellfish consumers.

19. Where Do Large NC Striped Bass Spend Their Summers?

July 8, 2019

In the northeast United States — and they don't waste time getting there.

20. Why Should We Protect Coastal Habitats?

January 13, 2020

Coastal habitats are vital for the state's important fish species, as well as for fish that migrate along the East Coast.
As always, you can find out more details about the studies and even access the original research articles through Hook, Line and Science.
Thanks for reading!
by Scott Baker
The text from Hook, Line & Science is available to reprint and republish, but only in its entirety and with this attribution: Hook, Line & Science, courtesy of Scott Baker and Sara Mirabilio, North Carolina Sea Grant. HookLineScience.com