Will Anglers Use Descending Devices on Reef Fish?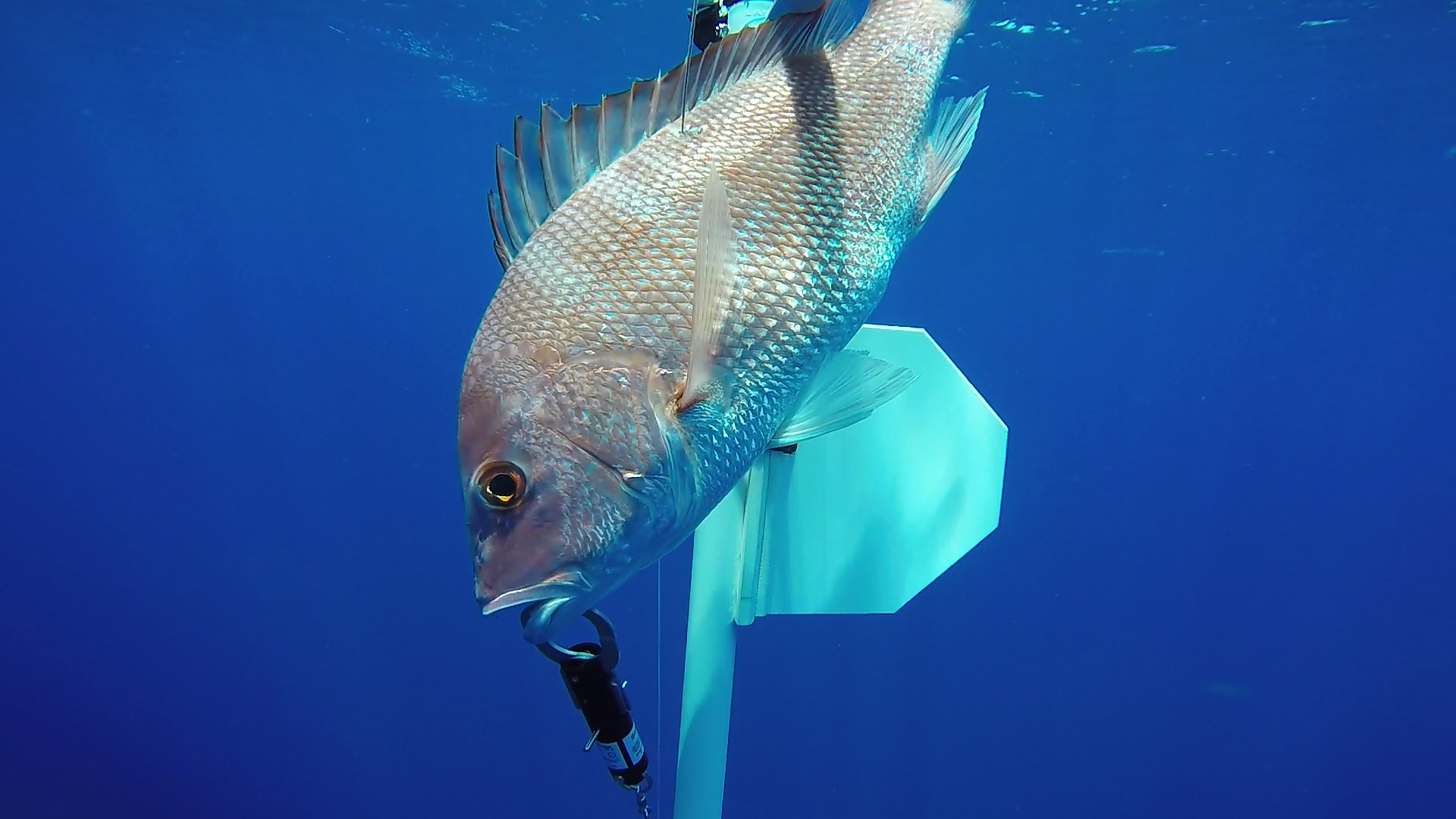 1,000 anglers received descending devices to try out for free, and here's what they thought.
Starting July 15, modifications to gear requirements go into effect for those fishing for snapper and grouper species in federal waters. Research is showing that use of best practices — notably, use of a descending device — help improve survival of released deep-water fishes. Make sure to have yours aboard and readily available starting this week.
Research Need
Reducing mortality after catch-and-release in offshore recreational fisheries remains an important component of stock rebuilding for many reef fish. Mortality for these species can be high due, in part, to injury sustained during capture, coupled with high catch rates and regulations about release.
Recent scientific studies have shown that fish descending devices are highly successful for minimizing trauma to reef fish by aiding in releasing them at depth. The devices perform better for increasing survival rates of many different species compared to venting, which involves use of a tool to expel gas that accumulates within fish when brought to the surface when caught.
Until recently, however, attitudes within the recreational angling community about using descending devices have been relatively unknown.
What did they study?
Scientists at the Center for Sportfish Science and Conservation, in partnership with the organization FishSmart, distributed over 1,000 fish descending devices to anglers from North Carolina to Texas and surveyed them about the use of these devices. After using the devices for an average of eight months and 15 fishing trips, recipients completed the survey.
Questions of particular interest assessed what percentage of fish the anglers believed survive after release and to what extent anglers would use the device in the future.
What did they find?
Anglers released over 7,000 red snapper and 4,000 other reef fish using their descending devices. Prior to receiving their device, 72% of respondents had little to no knowledge of descending devices, though 89% had used venting tools in the past.
After using their device, 70% of respondents indicated that they preferred this method of release over venting, and 76% were likely to continue employing the device on their vessel. In addition, 89% believed that using descending devices would significantly reduce mortality.
Anything else?
Although overall preferences for using descending devices was high, responses from the head boat sector were underrepresented. Because many anglers catch fish simultaneously on head boats, the few responses from this sector may indicate it is less likely to use these devices, due to the time-consuming nature of the process (compared to venting) while also juggling multiple client demands. Further research and development of more efficient strategies to descend fish and about how such strategies can best work on head boat charters would be extremely useful moving forward.
So what?
These data provide managers with important information regarding the opinions of fishery stakeholders. Despite some variations in attitudes and feasibility, the majority of anglers are receptive to using descending devices, and they believe the devices could be beneficial in reducing the mortality of reef fish species. Anglers have confidence their discards will survive, potentially even for future recapture.
Reading
Curtis, J.M., Tompkins, A.K., Loftus, A.J., and G.W. Stunz. 2019. Recreational Angler Attitudes and Perceptions Regarding the Use of Descending Devices in Southeast Reef Fish Fisheries. Marine and Coastal Fisheries: Dynamics, Management, and Ecosystem Science 11:506–518.
This work was supported by grants received from the NOAA Fisheries Bycatch Reduction Engineering Program, the National Fish and Wildlife Foundation's Fisheries Innovation Fund, and the American Sportfishing Association's FishAmerica Foundation.
Summary compiled by Judd Curtis
Photo courtesy of the Center for Sportfish Science and Conservation
The text from Hook, Line & Science is available to reprint and republish, but only in its entirety and with this attribution: Hook, Line & Science, courtesy of Scott Baker and Sara Mirabilio, North Carolina Sea Grant. HookLineScience.com