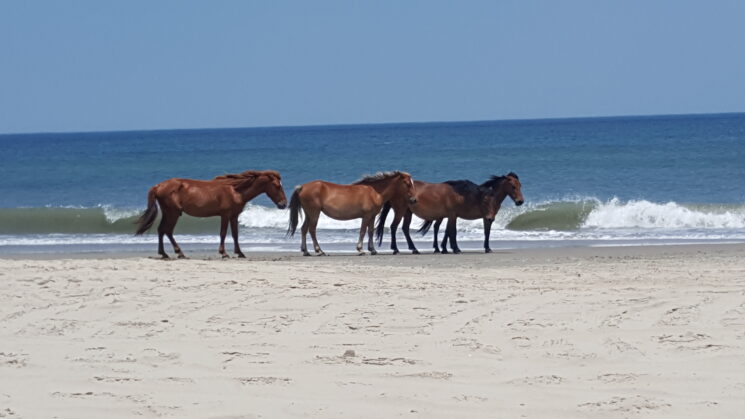 Above: Wild horses take a stroll in Corolla, Outer Banks. Photo by Terri Kirby Hathaway
Welcome to the newest online issue of Scotch Bonnet. This marine education newsletter also is available as a PDF, if you're like me and want to keep a hard copy.
Hope you're all settled into our "new normal," whatever that looks like for you! What a strange spring and summer, right? Like our "new normal," this issue of Scotch Bonnet has a different look. We're sharing resources for remote teaching and online learning, as well as virtual professional development opportunities. Hope you find these items useful.
I'm also excited to announce that North Carolina Sea Grant has debuted new supplementary instructional material for educators of grades 6 through 12. Coastwatch Classroom dives deeper into Coastwatch magazine articles through discussion questions and extension activities. Look for the new section in the Autumn 2020 issue, which comes out in a few weeks in print and online.
Thanks to Mike Campbell, Julie Connolly, Melissa Dowland, Bonnie Eamick, Julie Leibach, Manley Midgett, Katie Mosher, Harris Mulstein, Laura Sirak-Schaeffer, Renee Strnad, Dave Sybert, Dana Thomason and John White for their contributions to this issue.
As you explore this new issue of Scotch Bonnet, note the virtual professional development opportunities and remote-learning activities. Take advantage of these wonderful prospects, especially if you're working on your environmental education (EE) certification or collecting continuing education units (CEUs). Although most activities are virtual, there is still a lot going on in North Carolina and beyond!
North Carolina Opportunities
Bridging the Gap 2020: Uniting North Carolina K-16 STEM Education
bridgingthegapnc.com/#audience
Bridging the Gap is virtual this year, bringing together educators, business leaders, government officials and others who play a role in STEM education in our state. The goal of this annual event is to share ideas and resources that strengthen K-16 STEM education throughout North Carolina.
---
Coastal Studies Institute
coastalstudiesinstitute.org/education/k-12-programs/teacher-resources/
The Coastal Studies Institute (CSI), part of East Carolina University's Integrated Coastal Programs, offers short instructional videos, student activities and worksheets, teacher lesson plans and live virtual programming on topics such as storm surge modeling and shipwrecks.
Starting on Sept. 25, CSI will host virtual field trips and live virtual programming on their YouTube channel. Currently, you can enjoy my personal favorites featuring "Kitchen Science"; try these activities with your students and families.
---
North Carolina Aquariums
Check out the YouTube channel for the N.C. Aquarium on Roanoke Island. These instructional videos feature backyard biology, marine plastics and coastal ecosystems.
All three N.C. Aquariums, as well as Jennette's Pier, are offering virtual programs and activities.  Check out their offerings at the following links:
---
North Carolina Climate Blog
If you and your students are interested in North Carolina's weather and climate, subscribe to the State Climate Office's blog. Written by climatologists and meteorologists, this blog keeps you up-to-date on current weather forecasts, extreme weather events in the state and discussions about our changing climate.
---
North Carolina Department of Public Instruction
sites.google.com/dpi.nc.gov/remote-learning-resources/home?authuser=0
This site offers an excellent listing of online resources for both classroom and at-home educators. Sections include parent resources, instructional resources, leadership resources, professional development, online pedagogy and more. Look for the impressive section of tutorials for parents, including guides to Chromebooks, Google Classroom and ZOOM. This site is a work in progress, so it includes a "Latest Updates" tab to check new additions.
---
North Carolina Museum of Natural Sciences
naturalsciences.org/learn/educators/online-workshops
The N.C. Museum of Natural Sciences is offering a series of free professional development mini-workshops for educators. Each session includes a short introductory video and follow-up assignments that get you outdoors to explore your "nature neighborhood." Topics range from trees to squirrels to the fascinating creatures that live under a rotten log.
You can do these trainings at your own pace, as all the resources and materials are available on an ongoing basis. You can receive credit towards CEUs or EE certification (Criteria 2). In addition, the museum has made all resources available for you to borrow/adapt/modify for your students and families.
Live online events, do-it-yourself activities, virtual tours and videos are available at this link.
BugFest is going virtual for 2020, lasting an entire week instead of one day! Join the virtual infestation to interact with entomologists from North Carolina and around the world about the fascinating world of bugs. Enjoy six themed days of buggy adventures while celebrating the fly, this year's theme arthropod.
---
North Carolina Science Teachers Association (NCSTA)
Four members of NCSTA will be conducting a virtual "make it, take it" workshop over three weekday afternoons in October. Join them to see 75 learning aides that elementary students can make at home to better understand science concepts, such as electricity, force and motion, gravity, inertia, properties of water, buoyancy, the solar system, sound and weather. All items can be made from materials commonly found at home or in the grocery store.
Dates: Oct. 1, 15, and 29 (all Thursdays)
Time: 4:30 to 6 p.m.
Cost: FREE for NCSTA members; $30 for nonmembers; credit card payments only
One registration covers all three sessions. Registration opens Sept. 10 at ncsta.org. For more information, contact Manley Midgett at midgettm@meredith.edu.
---
North Carolina Sea Grant
ncseagrant.ncsu.edu/program-areas/education-training/education-resources-at-home-learning/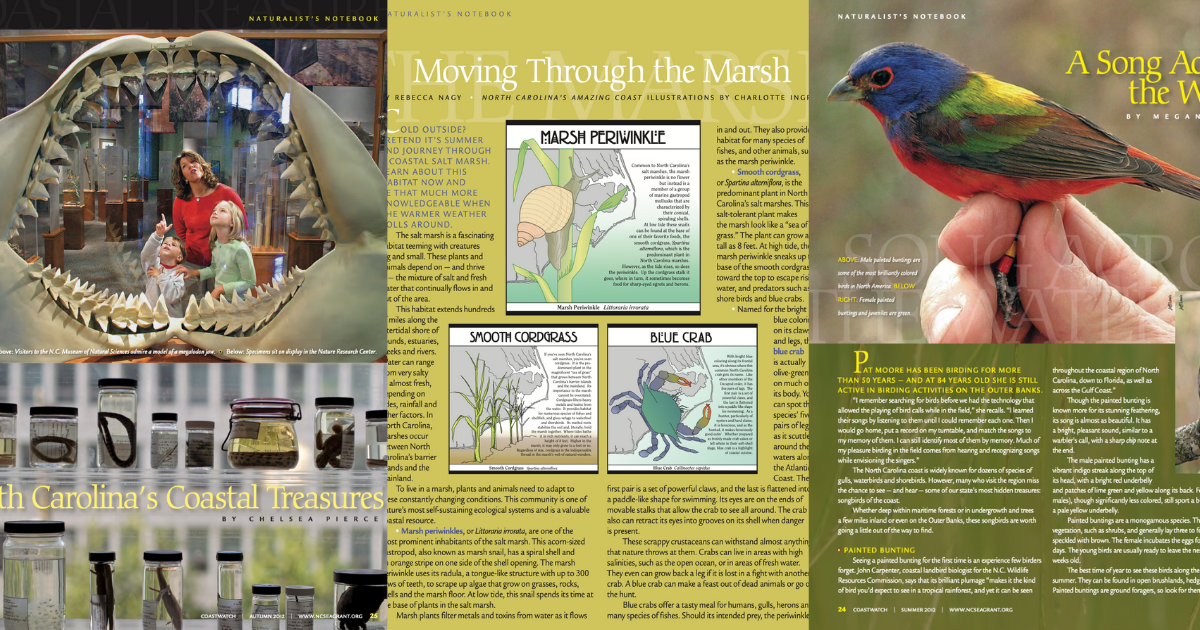 Over the years, North Carolina Sea Grant has published a number of articles about coastal flora, fauna and phenomena. Some of our top picks are available at this link. Adults may wish to read these pieces to youngsters, while older kids may enjoy perusing the pages on their own.
If you're in search of lesson plans and hands-on activities, please see the list of additional resources at the end of the link.
---
North Carolina Space Grant
ncspacegrant.ncsu.edu/educator-resources/stem-education-at-home/
North Carolina Space Grant, N.C. Sea Grant's sister agency, has compiled a list of useful resources for students, families, and formal and informal educators to use while learning remotely. N.C. Space Grant is dedicated to advancing space-related and general STEM education.
---
North Carolina Water Resources Research Institute
wrri.ncsu.edu/education/education-resources-k-12/
The North Carolina Water Resources Research Institute, another N.C. Sea Grant sister agency, created Watershed Wisdom, a 4th/5th grade unit developed in partnership with UNC-TV Science. This unit has a specially adapted guide for using the lessons during remote learning.
---
North Carolina Wildlife Resources Commission
youtube.com/user/NCWRC?blend=2&ob=video-mustangbase
This link goes to the Wildlife Resources Commission's YouTube page with videos on a number of topics, from developing hunting skills to restoring brook trout. Two ducation workshops have been recorded and are available on this channel.
"N.C. Salamanders" offers identification techniques, as well as range maps and habitat requirements.
"Frogs and Frog Calls" provides identification of N.C. frogs species and their calls, as well as their ranges.
---
Summer Science Institute 2020 (NCDPI)
sites.google.com/dpi.nc.gov/k-12science/professional-development/science-summer-institutes?authuser=0
The K-12 Science Section within the N.C. Department of Public Instruction (NCDPI) conducted the 2020 Science Summer Institute virtually. The series addressed gaps in instruction due to COVID-19 and consisted of four recorded webinars. These videos are archived on the website and cover broad topics, such as assessment and curriculum mapping.
---
Sylvan Heights Bird Park
shwpark.com/education/education-programs/resources-for-educators
Sylvan Heights is offering a number of video series that can enhance remote teaching. Videos featuring backyard science, talks with keepers and "Ask an Aviculturist" will keep students engaged. Through Virtual Field Trips, students will learn about the various species thriving at the park. Virtual Science Programs introduce topics such as wetlands, conservation, avian biology and more. These programs are correlated with Common Core State Standards and N.C. Essential Standards.
---
UNCW MarineQuest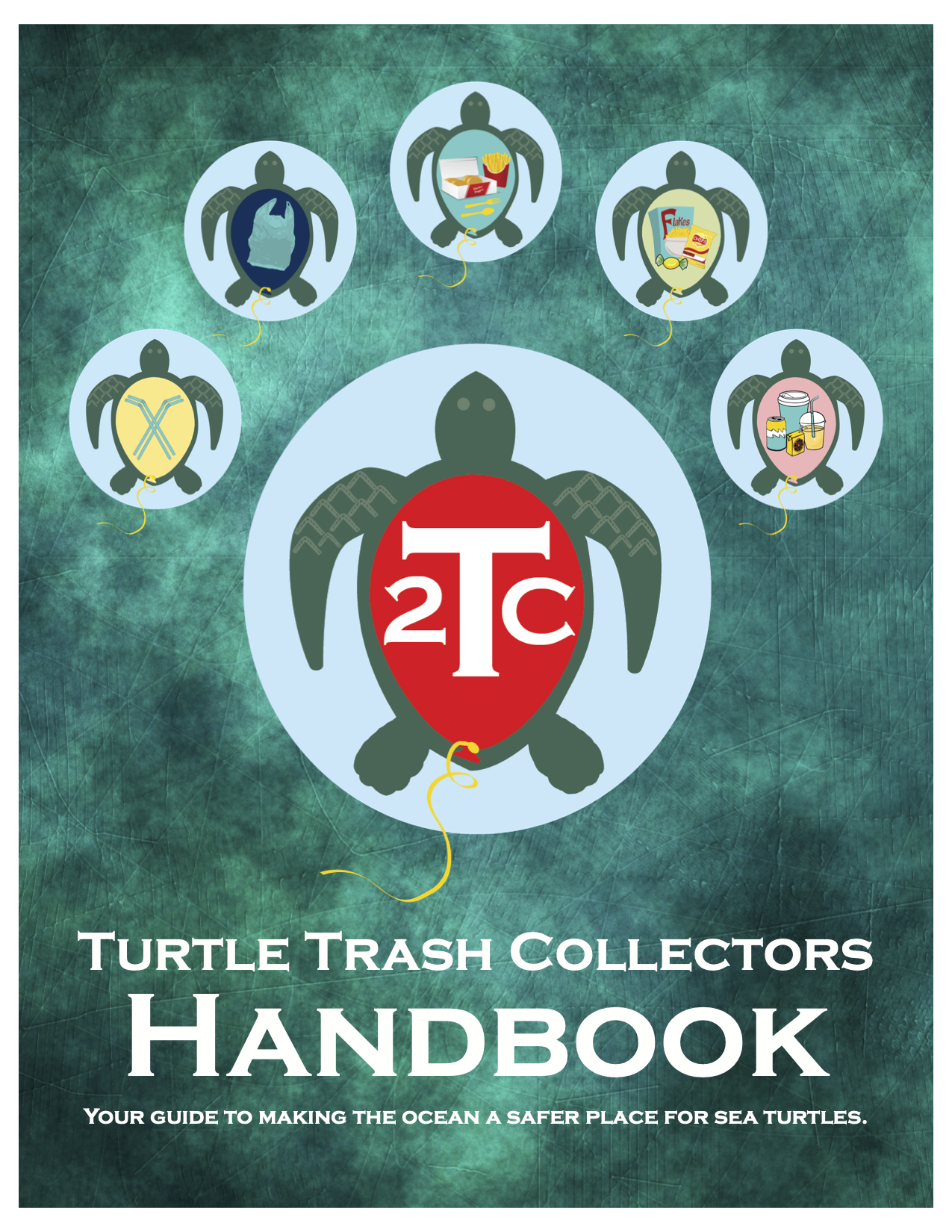 The University of North Carolina Wilmingont's MarineQuest program has a variety of virtual programs for your online learning situation. Their extensive curriculum offerings are correlated to state and national education standards, as well as Ocean Literacy standards. MarineQuest will ship educational STEM kits with the materials necessary to carry out their experiments while students explore the wonders of the marine world. To discover more about virtual MarineQuest opportunities, please contact Harris Muhlstein at muhlsteinh@uncw.edu or 910-962-3795.
New this year: free Virtual Turtle Trash Collectors programs funded by the NOAA Marine Debris Program. This program educates youth about the impacts of marine debris and encourages behavior changes to reduce marine debris in the future.
To request a Virtual Turtle Trash Collectors program, please complete the program request form, or contact program coordinator Laura Sirak-Schaeffer at SirakSchaefferL@uncw.edu or 910-833-0867.
National Opportunities
Bridge Ocean Science Education Resource Center
masweb.vims.edu/bridge/index.cfm
The Bridge, established in 1997 and supported by the National Sea Grant Program, serves as a clearinghouse for online marine education materials. All Bridge assets are evaluated by educators for usefulness and by scientists for accuracy, so they have been vetted by experts. Resources are organized by subject and are searchable by topic and grade level. This amazing collection of materials includes downloadable lesson plans; multimedia background information on ocean science topics; information about marine careers, internships and summer activities for students; and professional development opportunities for classroom and informal educators.
---
eeGuidance for Reopening Schools
naaee.org/eepro/resources/eeguidance-reopening-schools
The North American Association for Environmental Education (NAAEE) released eeGuidance for Reopening Schools, a new publication that offers support for schools and districts as they find ways to reopen. This free document offers dozens of specific recommendations for schools and districts. Solutions include using the school grounds for outdoor classroom spaces to ensure safe physical distancing; engaging community environmental and outdoor education programs as alternative resources for learning; tapping into the expertise of environmental educators to support teaching and learning; creating healthier learning environments; and supporting at-home learning.
---
Illinois-Indiana Sea Grant Weather & Climate Toolkit
iiseagrant.org/education/weather-climate-toolkit/
This online toolkit provides a sortable list of external resources on the general topics of weather, climate and climate change. Many of the resources can be readily used or adapted for online learning and at-home teaching environments.
For ease of use, resources can be filtered using the following labels: grade level, geographic scale, topic, learning mode and time required to complete.
---
National Oceanic and Atmospheric Administration (NOAA)
noaa.gov/education/resource-collections/special-topics/education-at-home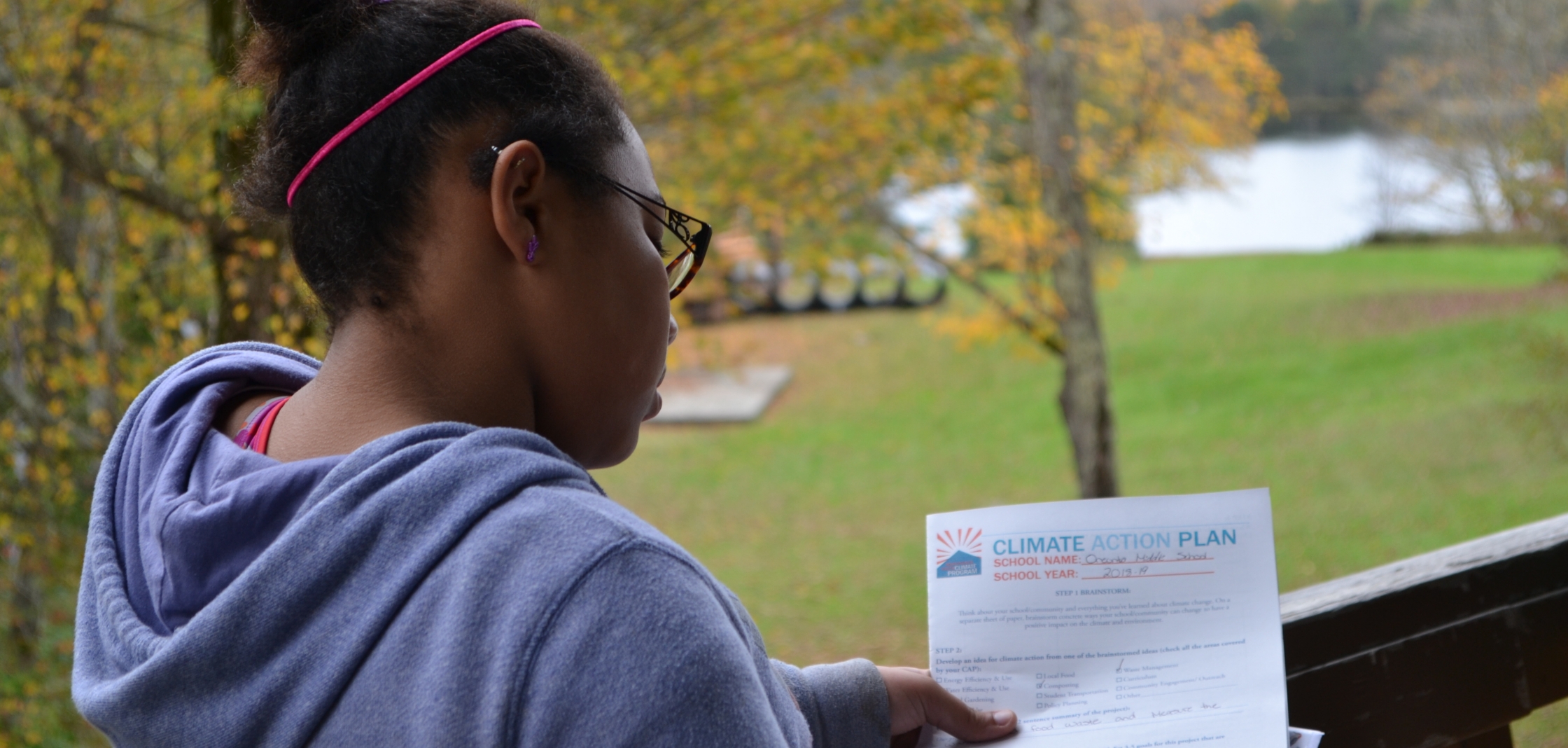 This NOAA site offers the agency's most popular remote-learning activities for classroom teachers and parent educators. These activities include grade level suggestions, as well as links to other NOAA agency collections and websites.
---
National Sea Grant Education
seagrant.noaa.gov/educationathome
Explore this collection of sites from state-specific Sea Grant programs around the country, dedicated to providing educational resources for teachers, parents and students. Visit these links for at-home learning ideas and activities.
---
Ocean Protection Advocacy Kids (OPAK)
This Plymouth, Massachusetts-based education organization combines ocean and climate sciences with an arts curriculum. OPAK offers virtual classroom programs (for a fee), as well as webinars paired with hands-on experiments, music and visual arts. Educators and parents can follow them on Facebook or subscribe to their YouTube channel.
---
World Ocean Observatory
worldoceanobservatory.org/distance-learning-resources-covid19
The World Ocean Observatory has pulled together a collection of home-study tools and resources for teaching and learning about the ocean. These resources can be used by classroom educators and parents. Check back often for updates.
Save the Dates
Join your fellow marine educators and beach lovers at one or more of these upcoming learning opportunities, whether in person or virtually.
Environmental Educators of North Carolina Annual Conference
eenc.org
Sept. 18 to 19, 2020
Virtual

Mid-Atlantic Marine Education Association Annual Conference
mamea.org/conf.html
Oct. 27 to 29, 2020
Virtual

National Marine Educators Association's Annual Conference
marine-ed.org
July 12 to 16
Honolulu, Hawaii

International Beachcombing Conference
thebeachcombingconference.com
Cancelled for 2020; 2021 dates to be determined
Annapolis, Maryland

International Sea-Bean Symposium
seabean.com
Cancelled for 2020
2021 date and location to be determined
Need to Contact Me?
If you ever have information to share with other marine educators, please don't hesitate to send it my way for inclusion in a future issue of Scotch Bonnet. Let me know what you're hearing from the sea!
Please share this website or newsletter with others — and share my email address with anyone who wants to receive a message when a new issue of Scotch Bonnet is available online. Thanks for all you do for students and for other educators!
Best Fishes!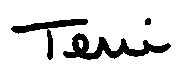 Terri Kirby Hathaway
Marine Education Specialist
North Carolina Sea Grant
Email: hathawayt@ecu.edu
Phone: 252-475-5486
Address: North Carolina Sea Grant, PO Box 699, Manteo, NC 27954