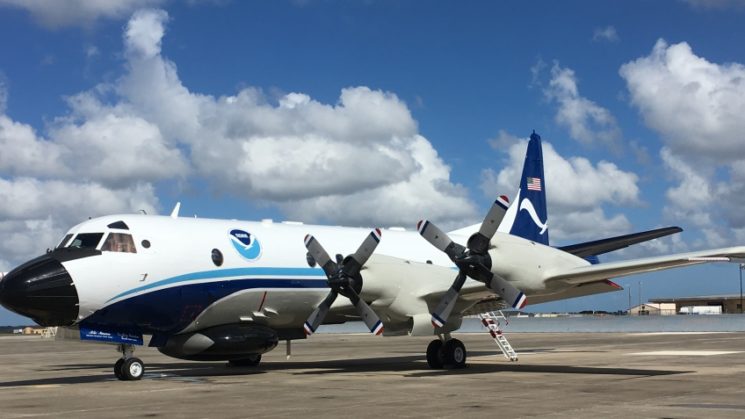 Above: A hurricane research aircraft, the NOAA WP-3D Orion, courtesy of NOAA/NWS.
With the start of hurricane season approaching on June 1, the National Weather Service and the National Oceanic and Atmospheric Administration will raise awareness from May 5 through May 11 with Hurricane Preparedness Week.
Frank Lopez, extension director for North Carolina Sea Grant and Water Resources Research Institute, says hurricane preparedness doesn't only matter between June and November.
"Hurricane Preparedness Week gives people an opportunity to lay out plans for future storms," says Lopez. "However, preparedness is an ongoing process. It impacts the way people do everything from their landscaping to structure maintenance."
To learn more about preparing a home for extreme weather, visit North Carolina Sea Grant's information and resources on Coastal Construction. To learn more about storm ready native plans and landscaping, read about the guidebook Seacoast Plants of the Carolinas.
During the special week, each day will highlight a hurricane preparedness theme, such as "develop an evacuation plan" or "strengthen your home."  The topics will be shared by many NWS forecast offices, along with Weather-Ready Nation Ambassadors, including North Carolina Sea Grant. Watch for North Carolina Sea Grant posts on Facebook and Twitter for updates.
Hurricane Forum in Morehead City
The NWS Newport-Morehead City office will host a community forum on hurricanes at the Crystal Coast Civic Center in Morehead City on Monday, May 6. The free event begins at 6 p.m.
It also will be available online through Facebook Live. Other coastal locations are co-hosting future forums. Check the office's Hurricane Community Forums site for details.
Hurricane Hunters in Charlotte
The week also features the Hurricane Preparedness Tour, with interactive exhibits and displays. On May 9, the Greenville-Spartanburg NWS office co-hosts a stop at the Charlotte Douglas International Airport, with public events from 2 to 5 p.m. Events will showcase crews from the United States Air Force Hurricane Hunters and NOAA aircraft, along with representatives from local and national emergency management organizations.
Note that all visitors must bring a government issued I.D. and pass through security screening. Visitors will park for free at Business Valet 2 (BV2) and take a bus to the site. Buses will run from 1:30 to 4:30 p.m.
School tours of the planes and exhibits also are available from 9:30 a.m. to 2 p.m. Interested educators should contact Trisha Palmer at trisha.palmer@noaa.gov for more information.
For more information from the Greenville-Spartanburg NWS office, visit weather.gov/gsp/hat
Hurricane Science Webinar
Can't make it to Charlotte for the tour but still want to learn more about hurricanes and the science behind them?
NWS also will offer a free webinar on hurricanes for grades 4, 5, and 6 on Thursday, May 9 at 10 a.m.  Part of 2019 Hurricane Preparedness Week, it will be broadcast live from the Hurricane Awareness Tour stop in Charlotte.
During this webinar, students will hear from National Hurricane Center forecasters as well as NOAA personnel who fly into hurricanes. The webinar will cover hurricane hazards, forecasting, observing hurricanes with airplanes, and hurricane preparedness.
For more information and to register, visit: http://hurricanescience.org/resources/nhcwebinar/
##
Adapted from https://www.weather.gov/gsp/hat#public