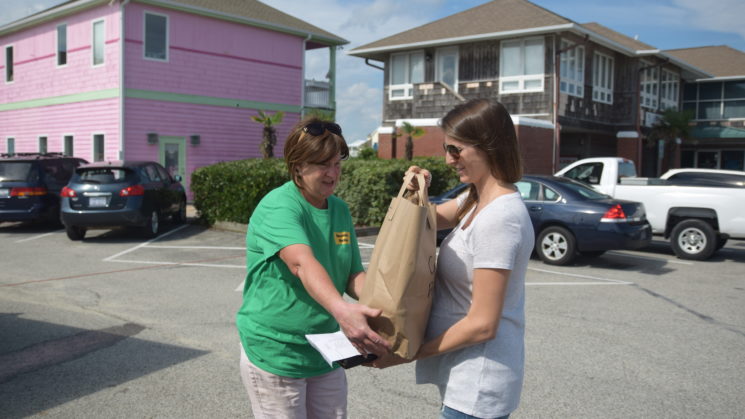 Above: With People-First Tourism's tri-county "Vacationer Supported Agriculture" program, local farmers supply vacationers with produce.
People-First Tourism is a unique endeavor. One part tourism research lab and one part business, People-First Tourism sells experiences their community collaborators design.
NC State's Duarte Morais, CEO of People-First Tourism, says the idea for it began when he noticed that tourism often doesn't benefit the communities where it takes place.
He created an interdisciplinary network across campus, including professors from the social sciences and computer science, as well as the university's agriculture, natural resources and community and rural development campus extension. The group conducted research on coastal rural communities who were interested in making tourism a part of their livelihood. North Carolina Sea Grant and the NC Rural Center provided People-First Tourism initial funding to explore opportunities in the state.
The concept became a company with steady growth, including using grants to explore new ideas. The company leverages its revenue to ensure long-term community partnerships. "The focus of People-First Tourism is to harness the economic muscle of tourism to help communities accomplish their goals in a sustainable and equitable way," Morais says.
Their newest project, Vacationer Supported Agriculture (VSA), is similar to a meal kit program. Partner realtors post a link that beach property renters can use to order bags of produce from local farmers. The growers bring bags to designated drop-off points, usually refrigerated spaces at local businesses, and vacationers can pick them up on Saturdays.
The idea came from a student from a rural coastal community who saw a potential connection between the high agricultural productivity of the summer months and the large volume of summer vacationers. The pilot launched at Ocean Isle in 2018 and is fully operational this year.
Britt Davis, the current VSA project manager, notes the program is particularly popular in more remote locations, where visitors may find it more difficult to bring their own supplies.
"I think it's really cool to re-conceptualize what a farmer's market means," Davis says.
In Brunswick County, People-First Tourism works with a local nonprofit, "Men and Women United for Youth and Families," to provide professional development opportunities for teens, who deliver the produce bags and help hand them out. Local businesses also teamed up with People-First Tourism to assist with produce storage. Davis says it's "awesome" to see the whole community rally around the program.
This year, VSA will run in Brunswick, New Hanover and Pender counties, with more than 15 vacation rental company partners.
"We have this hunger for living a life of consequence and having impact through our careers," Morais said. He adds that he hopes for steady development and innovation.
"We want to grow so we can increase the impact we make."
Learn more about the Holden Beach VSA program.
People-First collaborations encompass a wide variety of experiences, including this fall's "We Are the River" day tours with the Coharie and Lumbee tribes — tours that also were popular this past spring.  
Read more about People-First Tourism.
##