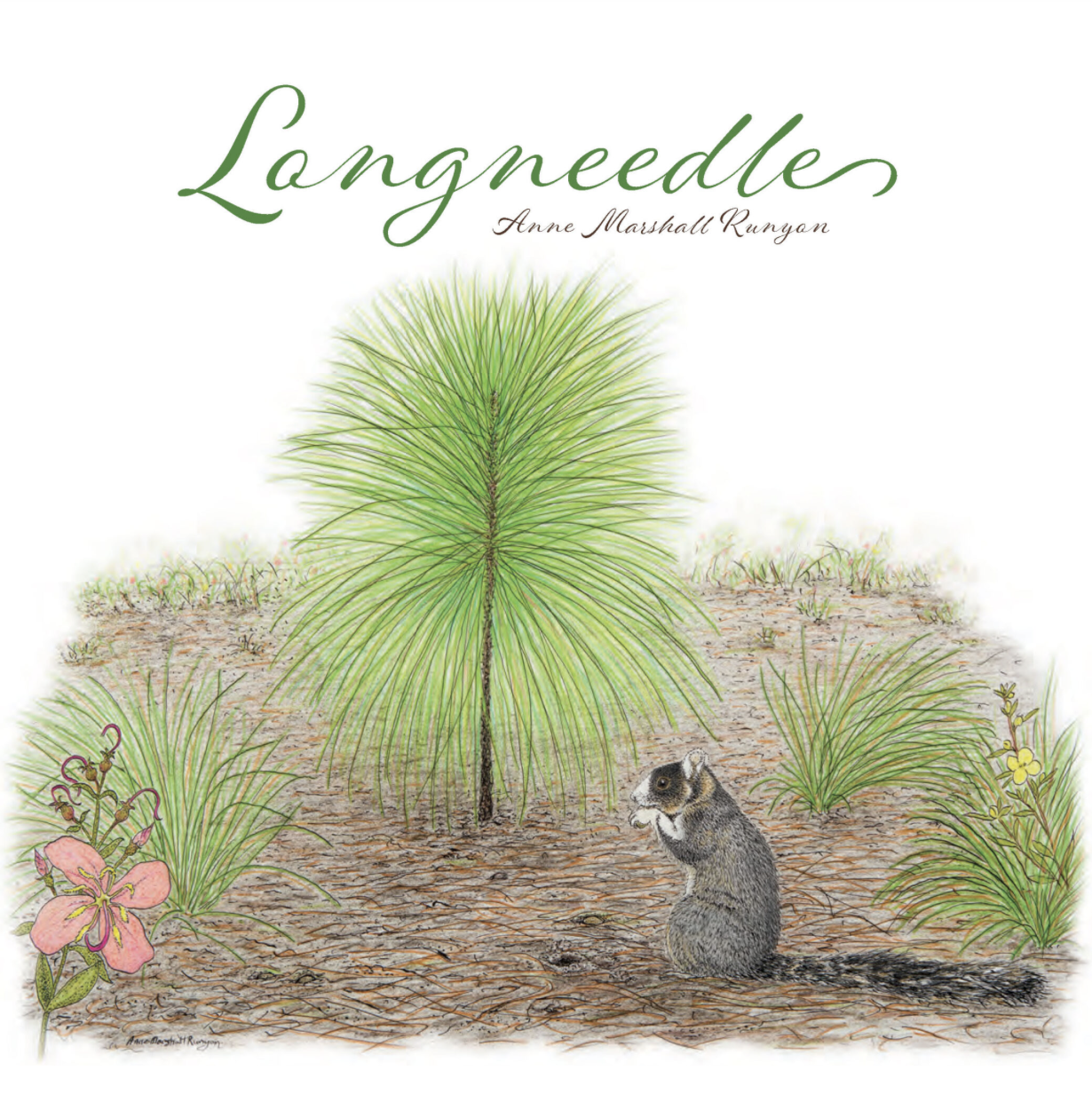 Celebrate North Carolina's natural history with Longneedle, a new book for young readers from the N.C. Office of Archives and History, a division of the N.C. Department of Natural and Cultural Resources.
Written and illustrated by Anne Marshall Runyon, Longneedle tells the life story of a longleaf pine in the longleaf pine savannas of the North Carolina Outer Coastal Plain. The remarkable, fire-dependent tree persists through 300 years of North Carolina history from 1696 to 1996, when hurricane Fran brings its tale to an end. But the tree's descendants live on!
Runyon's illustrations peek into the hidden life of the forest and reveal how Longneedle is connected to a larger community of plants, wildlife, and fungi that depend on it. Longneedle is a story of survival and celebration that will charm and fascinate young readers and families, as it explains the connections between species in a unique and beautiful southeastern American forest.
more information from UNC Press
Author Anne Runyon was born in Washington, D.C. Summers spent on Ocracoke Island, North Carolina, nurtured her love of the natural world. Her family inspired her to be an artist. She earned her BA in studio art from Carleton College, and studied design and children's literature in the Kerlan Collection while earning her MA from the University of Minnesota. She and her husband moved to North Carolina in 1982, where their son was born and grew up. Anne is a freelance illustrator and author. She works on paper with ink, watercolor, and colored pencil creating illustrations for environmental publications and exhibits. She writes and illustrates children's books, creates woodcut prints, and designs paper sculpture craft activities.
The N.C. Department of Natural and Cultural Resources (NCDNCR) is the state agency with a vision to be the leader in using the state's natural and cultural resources to build the social, cultural, educational and economic future of North Carolina.
adapted from this press release
###