Can We Really Mass-Produce Striped Bass?
Research shows this species is well-positioned for farming at a commercial scale.
Anyone who fishes around eastern North Carolina knows that the Albemarle Sound from Manns Harbor to the mouth of the Roanoke River is a prime place to fish for striped bass (rockfish) in the fall and winter months.
But recent data shows that there may be cause for concern for this population long-term, in addition to other populations along the North Carolina coast.
Research Need
Striped bass have experienced major declines due to overharvesting, poorer water quality, and barriers to their spawning habitat.
Hybrid striped bass (a cross between striped bass and white bass) already is farmed in the United States, but it cannot meet the consumer demand for the Mid-Atlantic region. In addition, both the growth and feeding efficiency of hybrid striped bass declines after the species reaches 1.5 pounds.
For these reasons, researchers wanted to explore the potential opportunities for commercial-scale farming of pure-strain striped bass in the United States.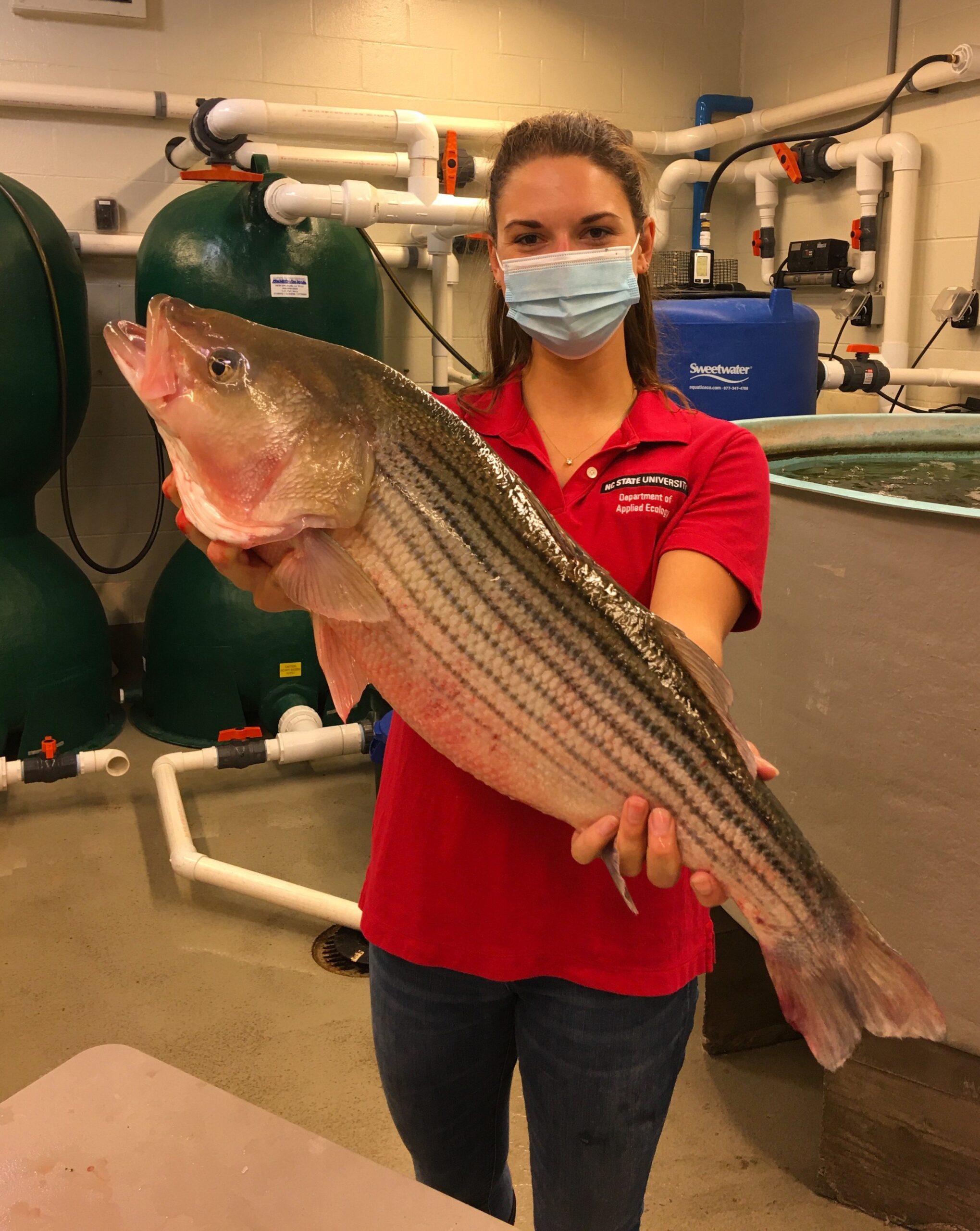 What did they study?
Scientists first surveyed existing research to best understand the status of striped bass farming ("aquaculture"). They also identified larval and juvenile seed-stock supply for striped bass, and the team examined fisheries data that informs the potential market value of aquacultured striped bass. In addition, they conducted market surveys with a North Carolina seafood purveyor.
The team then partnered with industry to form "StriperHub," and, with leadership from North Carolina Sea Grant, they further identified barriers to full commercial-scale production and detailed the economics of production and marketing.
What did they find?
Considerable research on methods and tools for farming striped bass and its hybrids already exist, which has allowed for the development of a domesticated "brood stock" (mature fish used for breeding). Data shows that farmed striped bass can grow in cages and under a recirculating aquaculture system at different salinities.
In fact, the larval and juvenile seed-stock supply for striped bass is presently achievable at commercial scale in the United States.
In addition, retail markets have indicated a high demand in the Mid-Atlantic region for a larger, white-fleshed marine fish in the 3-to-5-pound range. Furthermore, when researchers conducted surveys in partnership with Locals Seafood in North Carolina, they found that marketing value-added, boneless, skin-on fillets of farmed striped bass is feasible — even with a final product price of $18 per pound.
What else did they find?
The ability to farm striped bass in numerous environments on an experimental scale is not in question and, importantly, aquaculture of the fish represents an untapped market opportunity.
StriperHub has enabled a demonstration of the technologies and outreach necessary to commercialize striped bass production. Since 2020, StriperHub efforts have resulted in successful commercial aquaculture production, and the first farmed domestic striped bass were available in select North Carolina markets in 2021.
Anything else?
Venture capital investment is necessary for the next phase of industry development and upscaling. Additionally, outreach and technology transfer can help provide the necessary farming and marketing tools to support the growth of this industry.
Reading
Andersen, L.K., et al. 2021. "The status of striped bass, Morone saxatilis, as a commercially ready species for U.S. marine aquaculture." Journal of the World Aquaculture Society. 52: 710–730.
Funding provided from the following sources: The National Oceanic and Atmospheric Administration (NOAA) and National Sea Grant (E/2019-AQUA-02), North Carolina Sea Grant (R/MG-1411), the United States Department of Agriculture (USDA), National Institute of Food and Agriculture (NIFA), and Foundation for Food and Agriculture Research New Innovator Award (FFAR).
By Sara Mirabilio
Lead photo: StriperHub coordinator Ben Reading, NC State. Credit: NC State University CALS.
The text from Hook, Line & Science is available to reprint and republish at no cost, but only in its entirety and with this attribution: Hook, Line & Science, courtesy of Scott Baker and Sara Mirabilio, North Carolina Sea Grant.