Where on the East Coast Do Saltwater Anglers Encounter the Most Species of Fish?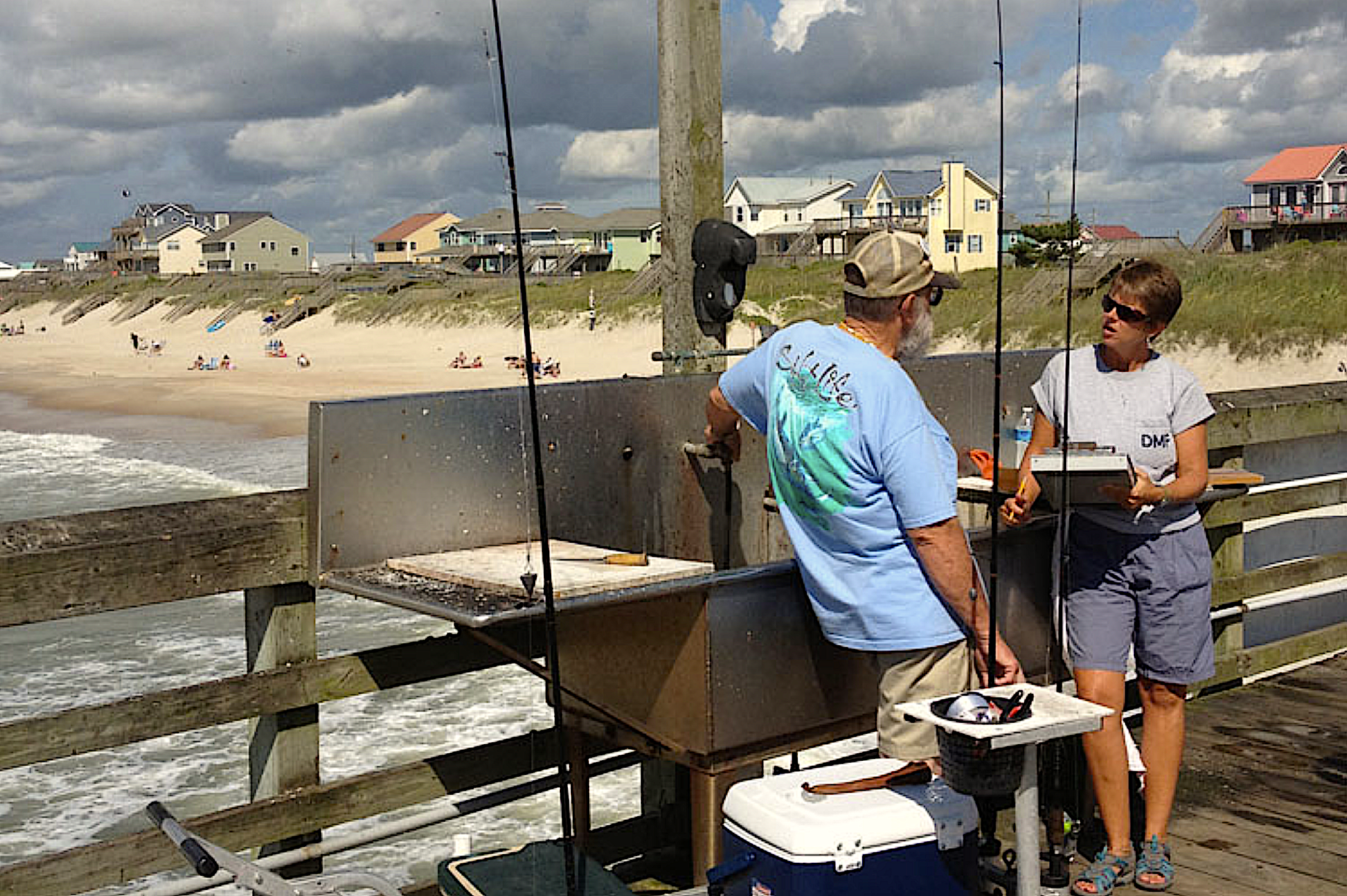 Based on interviews with anglers, North Carolina offers a more diverse array of species than any other state but one on the Atlantic seaboard.
If you're a fan of fisheries facts, stats, and trivia, you may have enjoyed a previous post that used data from the annual publication Fisheries of the United States to determine which coast (the Gulf of Mexico or the Atlantic) was responsible for the most saltwater catch by anglers. We're continuing that fisheries trivia with this post.
Research Need
Staff with the North Carolina Division of Marine Fisheries interview thousands of saltwater anglers each year on the docks or as they return from fishing trips. One goal of those interviews is to put eyes on the fish that anglers keep in order to accurately identify fish as part of the Marine Recreational Information Program (MRIP).
I've always wanted to know which state along the Atlantic Coast has the highest number of unique species or species groups, but this information isn't readily available.
To find the answer, I submitted a data request to staff at the North Carolina Division of Marine Fisheries about the unique species saltwater anglers encountered on the 14 East Coast states from 2015 to 2019. This included kept and released fish, either observed at the dock or reported by fishers.
What Did They Find?
Saltwater anglers along the 14 East Coast states encountered 509 unique species or species groups from 2015 to 2019.
The states with the most species in saltwater angler catch were Florida (398), North Carolina (258), and South Carolina (190). The states with the fewest species in the catch were Maine (60), New Hampshire (62), and Connecticut (87).
Florida possibly has an unfair advantage because the data includes species encountered on both the Atlantic and Gulf of Mexico coasts.
Here's a breakdown of species or species groups for all 14 East Coast states.
Anything else?
Numerous factors influence the species count by state. But if we look at the latitude of each state and the length of Atlantic shore coastline, we can begin to see some interesting trends.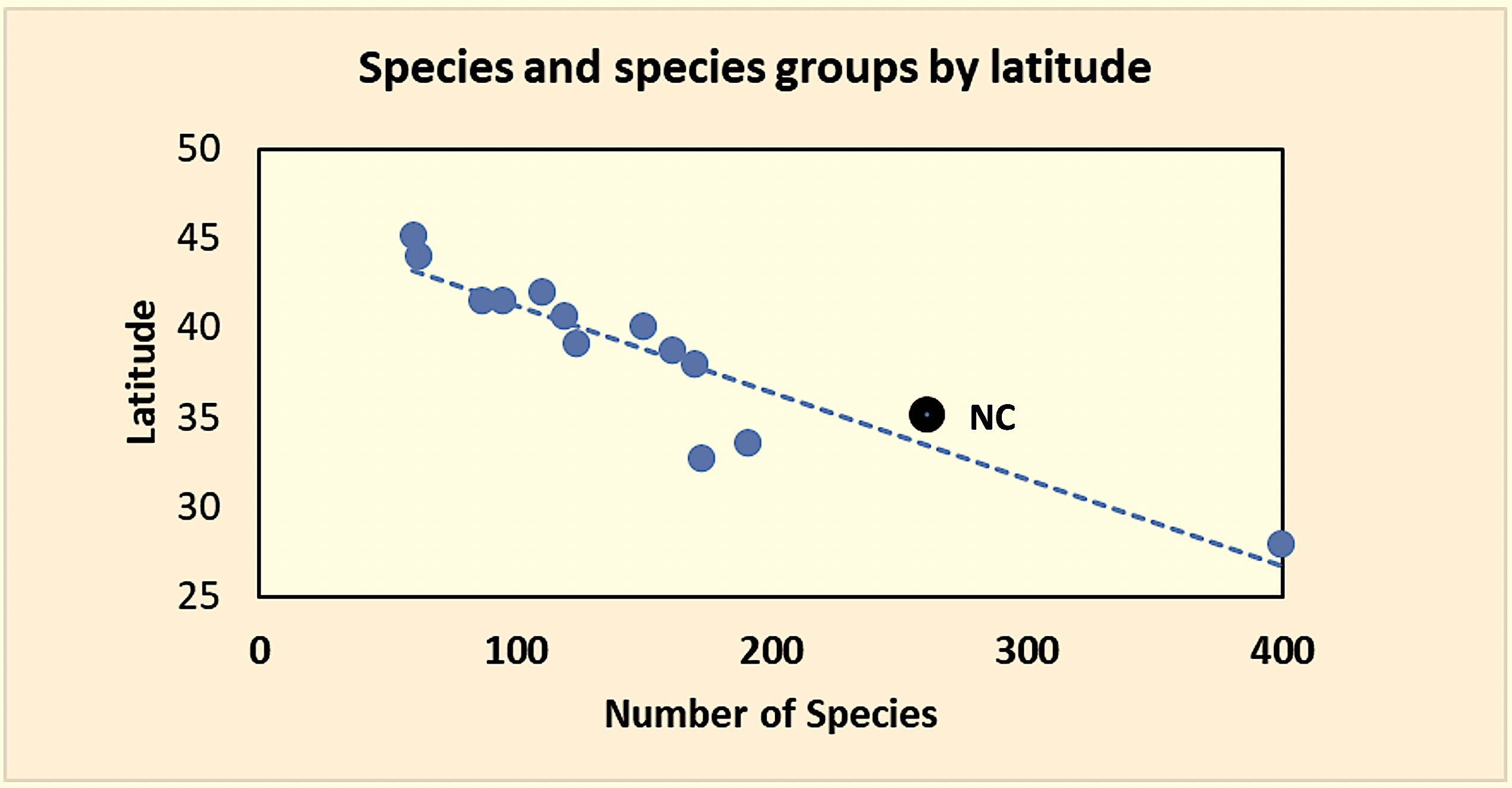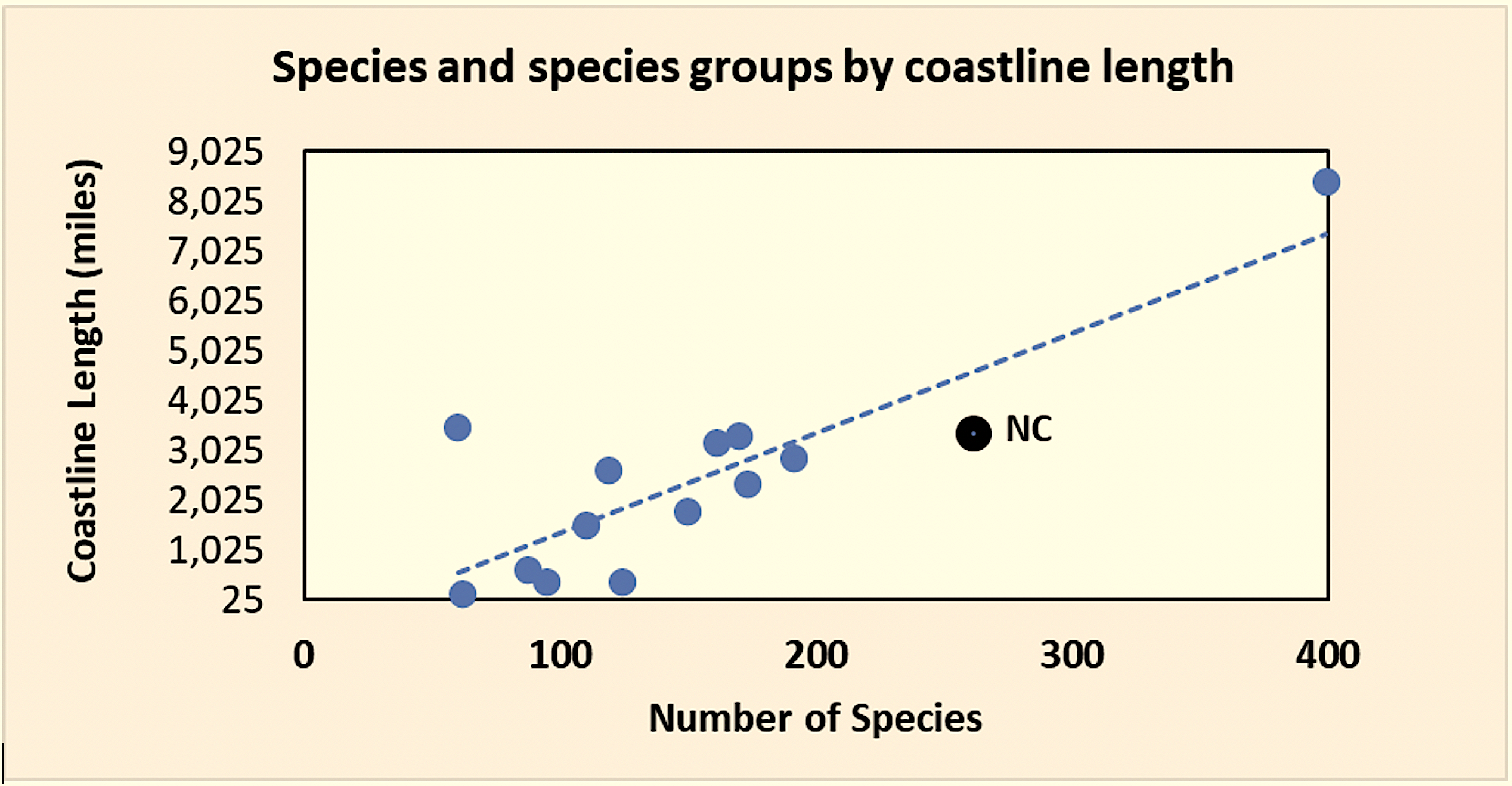 Notably, anglers encounter more species as latitude decreases (as we move toward the equator) and as coastline increases (which provides more available habitat).
So if you fish in coastal North Carolina waters, you'll have a great chance to encounter something new or perhaps unusual — something to think about next time you get a bite on your hook.
Reading
To do your own queries of recreational fishing data, visit this site. It can get complicated fast, so please read the instructions and the disclaimers prior to diving in.
Summary compiled by Scott Baker
Lead photo: A state sampler in North Carolina collects recreational fishing data through the Access Point Angler Intercept Survey. Credit: NOAA.
The text from Hook, Line & Science is available to reprint and republish at no cost with this attribution: Hook, Line & Science, courtesy of Scott Baker and Sara Mirabilio, North Carolina Sea Grant.