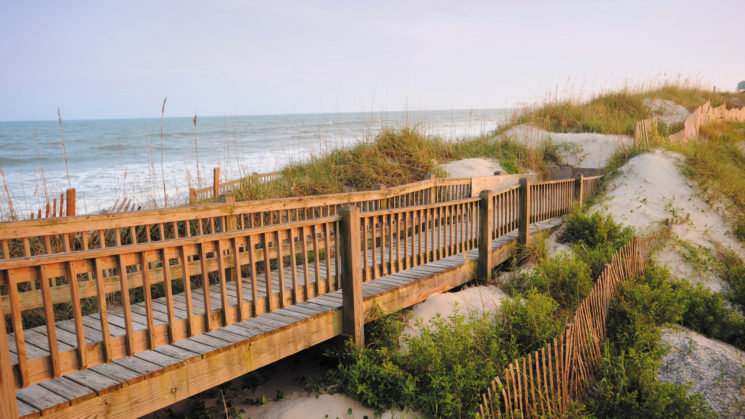 Above: Topsail Beach walkway before Hurricane Florence, by Bill Russ, courtesy of VisitNC.
The towns of Surf City, Topsail Beach and North Topsail Beach will hold a Dune Workshop on Saturday, March 9, from 1 to 3 p.m. at the Surf City Welcome Center on Topsail Island. The event will be free and open to the public.
Spencer Rogers, North Carolina Sea Grant's coastal erosion and construction specialist, and Jason Dail, N.C. Department of Coastal Management's field officer for Pender and Onslow beaches, will lead the workshop. Topics will include how beaches and dunes work, planting grasses, and dune and fence regulations.
Months after Hurricane Florence made landfall near Wrightsville Beach, much of eastern North Carolina is still in recovery. The hurricane resulted in significant flooding, which, along with the storm surge, destroyed oceanfront walkways and crossovers, homes, and bridges, as well as eroding many of the dunes along the coastline.
The level of dune destruction has been compared to what North Carolina faced in the 1990s, Rogers notes. In the summer of 1996, Hurricane Bertha damaged many dunes from Cape Fear to Topsail Island, with Bogue Banks and Brunswick County beaches suffering moderate dune erosion but minimal building damage.
Two months after Bertha, Hurricane Fran made landfall near Cape Fear. In much of that storm's primary impact area, Fran overtopped and eroded those dunes that had remained after Bertha. Fran's storm surge and winds also caused extensive damage not only to dunes but also to many houses and other buildings and structures on barrier islands.
That combination of 1996 storms had worse impacts than Florence along much of North Carolina beaches, Rogers notes. But restoration of the dunes after the 2018 hurricane season will entail a similar slow process.
Although results of storm-induced erosion can seem alarming, North Carolina's beaches already have started the process of restoration, he adds.
"It's not obvious, but much of the sand lost from the beach and dunes in Florence is still in the nearshore waters — and likely will return to the shoreline," Rogers says. "Even though a significant portion of sand had been moved offshore during Florence, post-storm waves almost immediately began moving it back to the beach."
It may take months to years, or sometimes even decades for the dunes to recover naturally, he adds. Human-led efforts can speed up the recovery process. Although expensive, beach nourishment — bringing in sand to plant dunes or to widen the beach artificially — can help.
Thus, if property owners and local officials have an understanding how the beach works, as well as the process of dune recovery, that information can assist with post-hurricane recovery decision-making, Rogers explains.
Workshop co-sponsors include North Carolina Sea Grant, N.C. Cooperative Extension, and the N.C. Department of Coastal Management, as well as the N.C. Beach, Inlet and Waterways Association. To reserve a seat, contact Topsail Beach Town Hall: accountant@topsailbeach.org or 910-328-5841.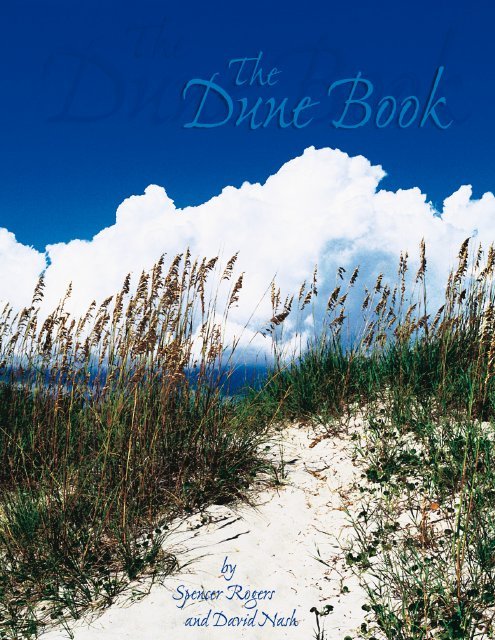 Location:
The Surf City Welcome Center
102 N. Shore Drive
Surf City, NC 28445
A downloadable flyer about the Dune Workshop is available here.
Workshop attendees will receive a free copy of The Dune Book, which Rogers coauthored with David Nash. You also can download a free copy of the book here: go.ncsu.edu/DuneBook. An excerpt from The Dune Book is featured in the Spring issue of Coastwatch.
##