Flounder Fillets with Parmesan Stuffing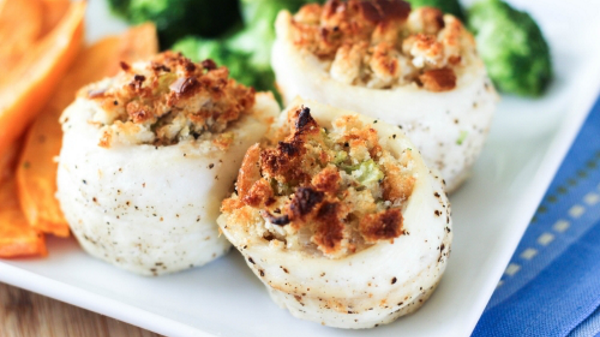 Recipe
6 small flounder fillets, skinless
salt
black pepper, freshly ground
2 tablespoons butter, melted
Prepare Parmesan Stuffing and set aside.
Sprinkle fillets with salt and pepper. Roll up, lapping small end over larger, leaving space in the middle for stuffing.
Place rolled fillets in a greased muffin tin. Spoon Parmesan stuffing into the center of each. Baste the tops with melted butter and bake at 450° F until stuffing is lightly browned and fish flakes easily with a fork, about 20 minutes.
Parmesan Stuffing
2 tablespoons butter
½ cup onion, chopped
½ cup celery, chopped
1 ½ cups fresh bread crumbs
½ cup cheese, freshly grated
¼ teaspoon salt
¼ teaspoon black pepper, freshly ground
¾ teaspoon fresh basil, chopped
Melt butter in a medium skillet over medium heat. Sauté onion and celery until soft. Remove from heat. Combine with crumbs, Parmesan, salt, pepper and basil.
Contributed by Joyce Taylor  From: Mariner's Menu: 30 Years of Fresh Seafood Ideas