Fresh Spotted Trout with Herbs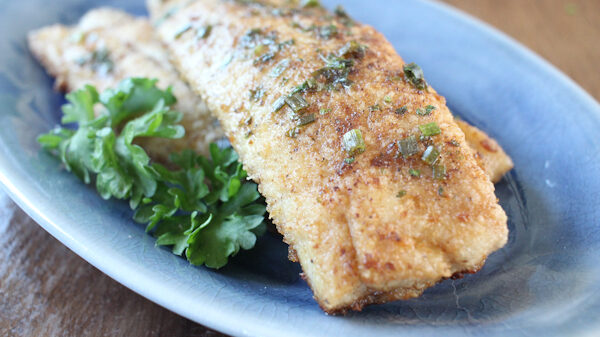 Recipe
1 ½ pounds spotted trout fillets
½ cup flour
½ cup dry bread crumbs
¼ teaspoon cayenne pepper
salt
black pepper, freshly ground
3 tablespoons canola oil
3 tablespoons butter
2 tablespoons fresh lemon juice
4 tablespoons fresh chives, chopped
3 tablespoons fresh parsley, chopped
In a shallow dish, combine flour, bread crumbs, and cayenne. Lightly salt and pepper fish. Dredge lightly in flour mixture.
Heat oil in a skillet to 375° F. Add butter and melt. Place fish, skin sides down, in the skillet, sauté about 4 to 5 minutes. Flip over and cook for 4 to 5 minutes or until done. Remove fish and place in a serving dish.
Add lemon juice, chives and parsley to skillet. Stir well and heat. Drizzle over fish.
Contributed by Joyce Taylor MM2