Fried Clams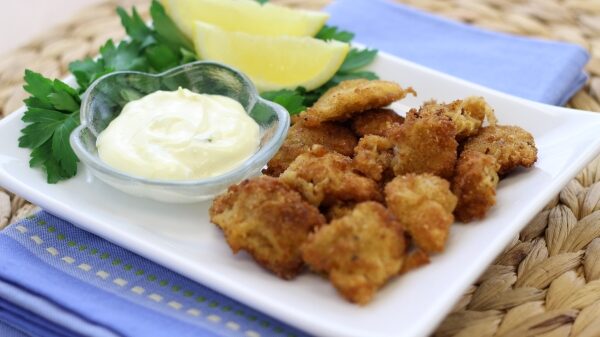 Recipe
"Frying" has almost become a dirty word in seafood circles in recent years, and much of the criticism is deserved. We know that grease-laden foods add fat and calories we do not need. But remember that our bodies need some fat. The problem is that we eat too much of it.
1 pint clams
1 egg, beaten
1 tablespoon milk
1/2 teaspoon salt (see Note below)
1/4 teaspoon freshly ground black pepper
1/4 teaspoon paprika
1 cup dry bread crumbs
oil for frying
Drain clams. In medium bowl, combine egg, milk, salt, pepper and paprika. Put crumbs in shallow dish. Dip clams in egg mixture, then roll in crumbs.
Heat oil in medium skillet. Fry clams at 375° F until brown on one side, about 3 minutes. Turn and repeat on other side. Drain on paper towels.
Note: Before adding the salt, taste the heated clam liquor. Some clams are very salty. The first time we cooked this, we added the salt. The result was a dish that was too salty to eat. To taste the liquor, first heat a few tablespoons on the stove top or in the microwave. Be sure that the temperature reaches 145° F for several minutes. Remember not to taste the raw liquid if you are at risk for Vibrio vulnificus.
Contributed by Joyce Taylor From: Mariner's Menu: 30 Years of Fresh Seafood Ideas