Oven-Fried Spotted Trout with Herb Butter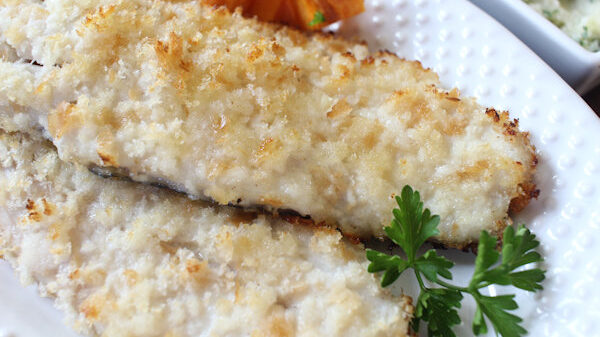 Recipe
1 ½ pounds spotted trout fillets
½ cup milk
½ teaspoon salt
⅛ teaspoon white pepper, freshly ground
1 ½ cups fresh French bread crumbs, finely ground
3 tablespoons butter, melted
Prepare Herb Butter and set aside.
Preheat oven to 500° F.
In a large shallow dish, combine milk, salt, and pepper.
Spread crumbs in another dish. Dip fish in milk, then coat evenly with crumbs. Place in a single layer in a greased baking dish. Drizzle with melted butter. Bake at 500° F until crisp and golden brown, about 8 to 12 minutes.
Remove to a serving dish. Serve with Herb Butter.
Herb Butter
½ cup butter, softened
1 teaspoon garlic, minced
1 tablespoon fresh lime juice
2 tablespoons fresh chives, finely snipped
1 tablespoon fresh parsley, finely chopped
⅛ teaspoon salt
⅛ teaspoon white pepper, freshly ground
In a small bowl, combine butter, garlic, lime juice, chives, parsley, salt and pepper.
Contributed by Joyce Taylor MM2
DID YOU KNOW?

Spotted trout are not actually trout but belong to the same family of fish as the drums and croakers.