Steamed Clams in Wine Broth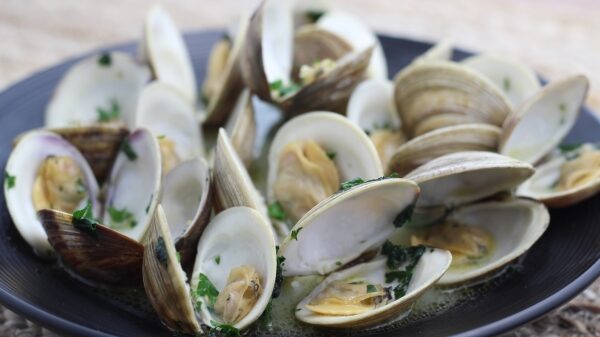 Recipe
Clams can be steamed over water, wine or fish stock with added herbs, butter, garlic or other ingredients. When the clams are done, serve the liquid as a dipping sauce.
4 pounds cherrystone or littleneck clams
6 tablespoons margarine or butter, melted
3/4 cup dry white wine
3/4 cup water
1 1/2 tablespoons chopped fresh parsley
1/4 teaspoon Tabasco sauce
Discard any clams that are open or do not open when tapped. Under cold, running water, scrub clams thoroughly with a stiff brush.
Bring margarine, wine, water, parsley and Tabasco to boil in bottom of steamer. Arrange clams on rack and place in steamer. Cover. Steam until clams open, about 8 to 10 minutes. Discard any that do not open.
Divide clams into 3 or 4 serving bowls. Ladle broth over them.
Contributed by Joyce Taylor From: Mariner's Menu: 30 Years of Fresh Seafood Ideas