Steamed Flounder with Shrimp Sauce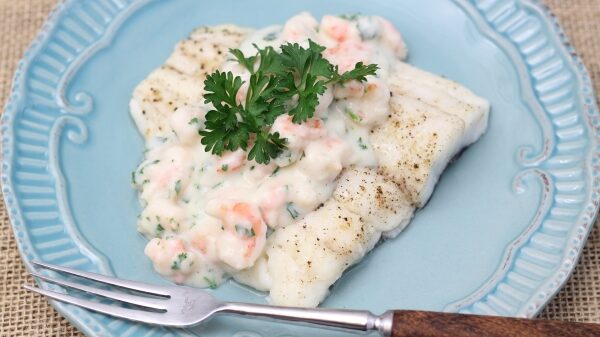 Recipe
An easy way to enhance simply prepared seafood is to use a sauce, butter or marinade. Delicious fish can be made even better by adding a basic, easy-to-prepare dressing. Butters and sauces also add eye appeal, particularly to steamed or poached fish. Remember that you want to bring out natural flavors, not disguise them. Avoid heavy sauces that cover up the true taste of the seafood.
8 small flounder fillets
2 1/2 tablespoons margarine or butter, melted
salt
freshly ground black pepper
Prepare Shrimp Sauce and keep warm.
Bring water to boil in bottom of steamer. Brush fillets with melted margarine. Sprinkle lightly with salt and pepper. Place in top part of steamer. Cover. Steam until fillets flake easily with a fork, about 8 to 10 minutes. Serve with Shrimp Sauce. Serves 8.
Shrimp Sauce
1/2 pound small shrimp, peeled
2 tablespoons margarine or butter
2 tablespoons flour
1/2 teaspoon salt
1 cup milk
2 tablespoons chopped fresh parsley
Chop shrimp coarsely. Melt margarine in small saucepan over medium heat. Cook shrimp until golden, about 2 to 3 minutes. Blend in flour and salt. Add milk, slowly, stirring constantly. Continue to cook and stir until thick. Stir in parsley. Serve over warm fillets.
Contributed by Joyce Taylor From: Mariner's Menu: 30 Years of Fresh Seafood Ideas