Tropical Striped Bass with Fruit Salsa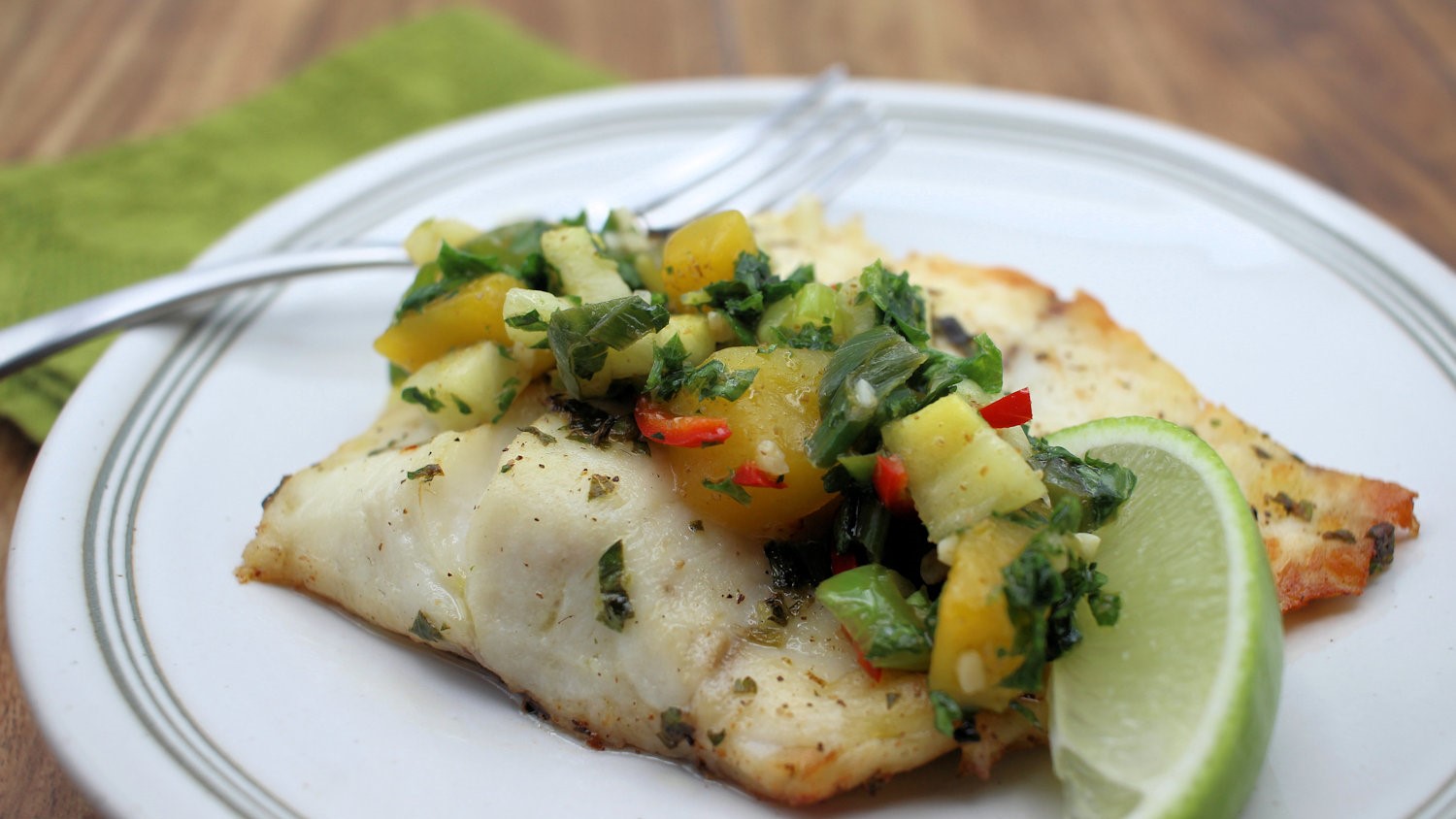 Recipe
2 pounds striped bass fillets, skinless, cut into serving-size pieces
⅓ cup extra virgin olive oil
1 teaspoon garlic, chopped
1 teaspoon fresh ginger root, finely chopped
2 tablespoons fresh lime juice
1 tablespoon spicy rum
½ teaspoon lime zest
½ teaspoon salt
¼ teaspoon black pepper, freshly ground
¼ cup fresh parsley, chopped
Prepare ingredients for both fish and salsa before cooking either.
In a small bowl, combine oil, garlic, ginger, lime juice, rum, lime zest, salt, pepper and parsley.
Marinate fish in mixture for 20 minutes. Place the rack in the top third of the oven and heat the broiler. Place on a sheet pan lined with non-stick foil. Broil until done, about 6 to 8 minutes, or until fish flakes easily when tested with a fork. Top with warm salsa.
Fruit Salsa
2 tablespoon extra-virgin olive oil
2 teaspoon garlic, chopped
2 teaspoon chili pepper, chopped
½ cup green onions, thinly sliced, including tops
½ cup mango, chopped
½ cup fresh pineapple, chopped
¾ teaspoon salt
½ teaspoon coriander
½ teaspoon Tabasco sauce
½ cup chopped fresh parsley, chopped
In a small pan, lightly sauté in oil, garlic, chili pepper and onions.
Stir in mango, pineapple, salt, coriander, lime juice and Tabasco, cook lightly, being careful not to break the fruit apart.
Remove from heat and add parsley. Serve over warm fish.
Contributed by Joyce Taylor MM2