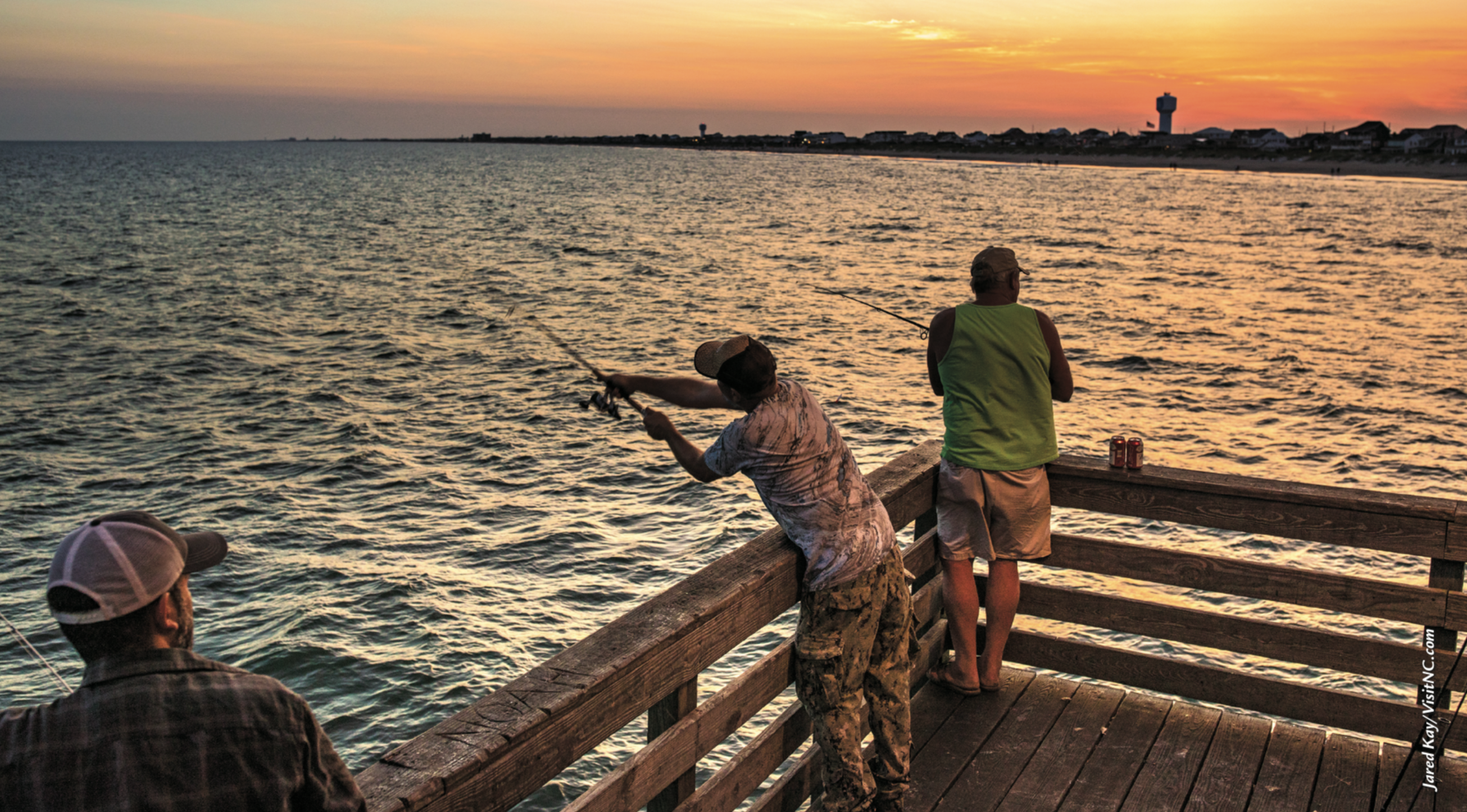 Hook, Line & Science
Life and Death for Dolphinfish, Roaming Red Drum, Triggering Triggerfish, and Summer Vacation for Striped Bass

BLOGPOSTS FROM THE POPULAR NEW SERIES FOR ANGLERS FROM SCOTT BAKER AND SARA MIRABILIO
Does It Make a Difference Where the Hook Lodges?
For dolphinfish, a hook imbedded in the roof of the mouth or in the jaw could mean the difference between life and death.
Research Need
Dolphinfish (right) continue to be one of the top-ranked recreational fisheries in numbers caught within the U.S. south Atlantic. For multiple reasons, including ethical angling, bag limits and size, fishermen in this region often release dolphinfish after capture.
Does this fish survive hook trauma? Post-release mortality for the species is unknown, which can lead to uncertainty in assessing the health of the fishery.
What did they study?
Hooking location is the most important contributor to post-release mortality, according to reviews of catch-and-release studies across species. A total of 42 dolphinfish carcasses were collected along the waterfront in Morehead City, North Carolina, from May to July of 2016 and 2017. Researchers determined hooking locations by observing wounds or hooks left in place. They used gross necropsy — a surgical examination of the dead body — as well as CT scans to assess the extent of injuries to soft tissues and bone.
What did they find?
Dolphinfish likely experience higher mortality when hooked in the roof of the mouth than when hooked in the jaw. In 75% of roof-hooked fish, the injuries would have resulted in long-term visual impairment — and sight-feeding is critical to dolphinfish survival.
What else did they find?
Some injuries that gross necropsy revealed, including optic nerve damage, were not detectible on CT scans. But, overall, CT and gross necropsy diagnoses agreed nearly 80% of the time. Given the agreement between approaches, researchers could use time-saving CT scanning as a first approach to identify severely injured fish.
Anything else?
In light of these findings, dolphinfish hooked in the eye or roof of the mouth may have a lower chance of survival if released, compared to fish hooked in the jaw.
Summary by Sara Mirabilio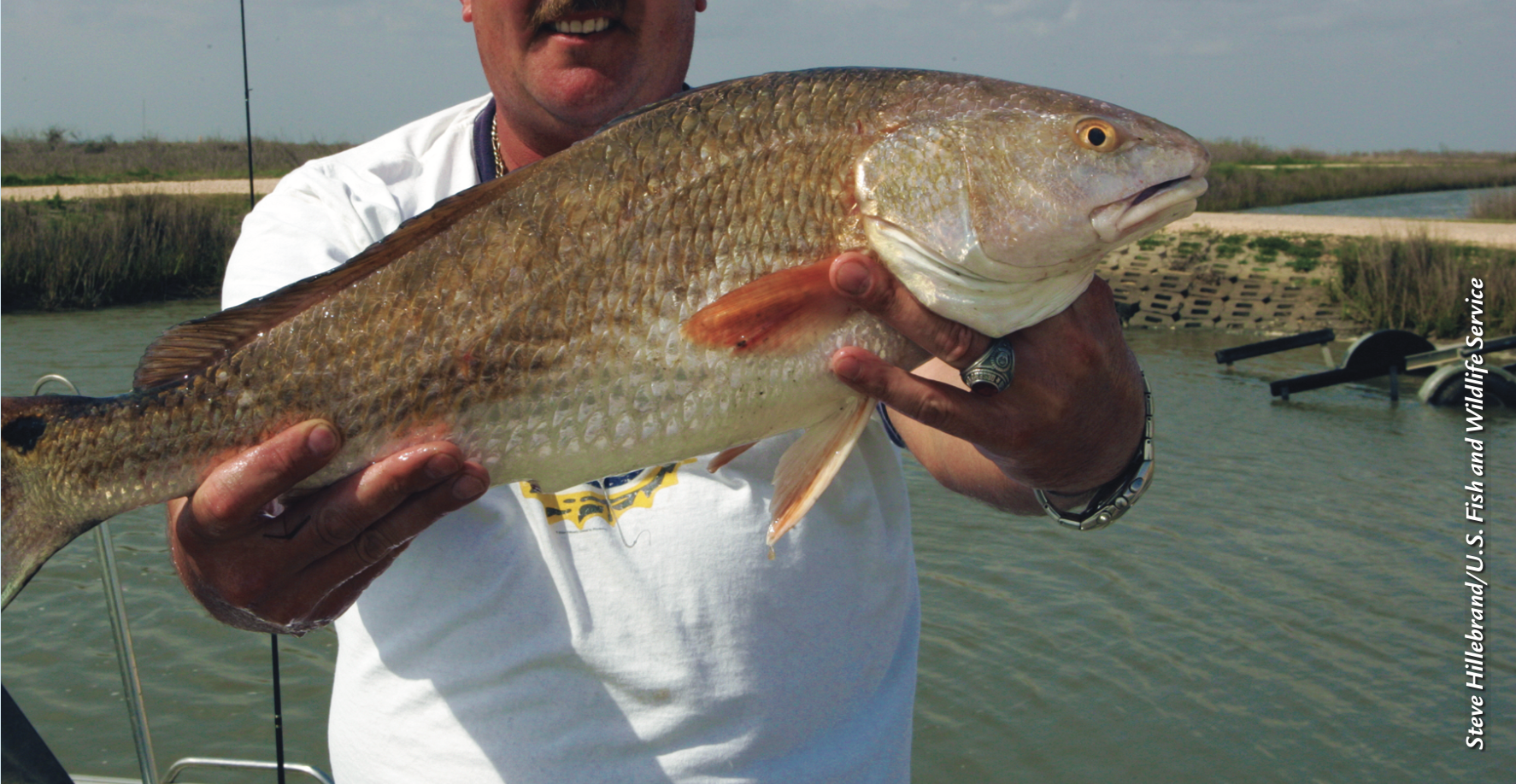 Can NC's Official Saltwater Fish Survive in the Mediterranean?
A Facebook group identified a red drum caught off the coast of Italy.
Research Need
North Carolina designated the red drum, Sciaenops occellatus, as its state saltwater fish in 1971. (The state freshwater fish is the brook trout, Salvelinus fontinalis, as designated in 2005). Common to the Atlantic coast from Maine to northern Mexico, red drum (above) thrive in North Carolina waters, preying on crustaceans and finfish. Because these predators are large and mobile, red drum are an important component of coastal food webs — and a popular target for saltwater anglers.
But commercial aquaculture facilities, both in the United States and other countries, also have grown red drum for some time. Most cultivation of red drum outside of the United States is for human consumption.
What would happen if any of these red drum were to escape or were released into ecosystems outside of the species' native range? Would they survive?
Non-native species have the potential to alter natural ecosystems. In the southeastern United States, we certainly know all too well about lionfish.
What did they study?
On April 17, 2016 a local commercial fisherman landed an unusual fish in his trammel net in the estuarine waters of southern Sicily, Italy. A concerned citizen noticed the fish in the day's catch and then posted a picture of it to an Italian fisheries Facebook group to seek an identification.
What did they find?
Referring to common features outlined in published North American fisheries field guides — such as body shape, color pattern and a distinctive dark circle with pale edges near the fish's tail — the group identified the specimen as a red drum. It was the first red drum reported in Italian waters and only the second documented in the Mediterranean Sea. The single fish was among typical estuarine species of the region in the same catch, but, unfortunately, no one preserved the red drum for further examination beyond the photo.
What else did they find?
Based on the known size of the fish tote in the Facebook photo, the red drum was 25 to 27 inches long.
Anything else?
The investigators can only speculate about how the non-native found its way into the wild off the Italian coast. However, the size of the fish coincides with those from an aquaculture facility in southern Italy that started culturing red drum in 2013. Likewise, red drum are regularly farmed in Israel, across the Mediterranean Sea.
Summary by Scott Baker

Do Hurricanes Affect Fish in Deep Water?
Tropical systems can cause gray triggerfish to evacuate.
Research Need
Hurricanes wreak havoc on coastal marine ecosystems. They destroy coral reefs, mix up the water column, redistribute bottom sediments and increase pollution through storm-water runoff.
Hurricanes also can cause fish to evacuate nearshore estuaries and coastal ocean environments for deeper water. Nobody has previously studied whether storms influence fish in deeper water, but most people have assumed these fish remain generally unaffected. 
What did they study?
Researchers at the NOAA Beaufort Laboratory in North Carolina and a colleague at the Naval Postgraduate School affixed transmitters to 30 gray triggerfish (above), a commercially and recreationally important oceanic species that dwell in rocky reef habitats in the southeast United States. The team tracked these fish in an area off North Carolina during September 2017 as two hurricanes, Jose and Maria, moved along the coast.
What did they find?
Surprisingly, as each storm approached, most of the gray triggerfish quickly evacuated the 120-foot deep study area for even deeper water, and those few fish that remained in the study area swam much faster than normal. After the passing of each storm, many of the gray triggerfish returned to the study area within a couple of days and resumed normal swimming behavior.
What else did they find?
Previous studies have indicated that falling barometric pressure, increased runoff, or a change in water temperature are primary cues that fish use to determine storms are approaching. Here, though, gray triggerfish evacuated the study area one to two days in advance of hurricanes, long before any changes in barometric pressure or water temperature occurred.
But why?
The research team determined that as surface waves increased in size from each approaching storm, energy from those large waves transferred to the bottom, sloshing water on the seafloor. Only waves from the largest storms can transfer enough energy to cause this sloshing at a depth of 120 feet.
It appears that the sloshing of bottom water, or the related fluctuating water pressure from sloshing, was the cue to which gray triggerfish responded.
Summary by Kyle Shertzer and Nate Bacheler

Where Do Large NC Striped Bass Spend Their Summers?
In the northeast United States — and they don't waste time getting there.
Research Need
The Roanoke River in North Carolina represents an important spawning habitat for striped bass. Anglers flock to the river (above) each year to target this charismatic species.
Fisheries scientists understand the basic migration patterns of striped bass. Simply put, adult fish spawn in the river and feed in the ocean. What is much less certain is where the fish go specifically, how fast they travel, and if and when they return to the same place to spawn. Changes in water temperature may trigger these migrations, or other factors could be at play.
Having a better understanding of the species' fine-scale movements throughout the year can help managers to craft specific regulations at the local level, as well as to identify essential fish habitat on the broader ecosystem level.
What did they study?
Scientists from NC State University telemeter-tagged and released 17 female and two male large Roanoke River striped bass, 29.5 to 45.0 inches long, during the springs of 2011 and 2012. The investigators tracked fish movements in near-real time with an expansive network of 480 acoustic receivers throughout the U.S. south Atlantic east coast, including North Carolina waters. Multiple researchers, institutions and organizations own the receivers and collaborated on the study, sharing data whenever a new tagged fish entered the array.
What did they find?
All fish survived tagging and rapidly left the Roanoke River after spawning.
Four fish likely migrated into the ocean, and fishermen later caught two other fish in coastal Massachusetts waters and in the Albemarle Sound; 11 of the 13 remaining fish, all females, headed great distances to northern ocean waters offshore from New Jersey to Massachusetts, where they spent their summers before returning to the Roanoke River to spawn the following year.
The two males, which also happened to be the smallest tagged fish, left the river after spawning but appeared to remain in offshore North Carolina waters before returning to spawn the following spring.
What else did they find?
No tagged fish left the spawning grounds until river temperatures reached at least 64.5˚F.
Fish journeyed from the Roanoke River around May, spent June to September in northern ocean waters, and then started swimming south again in October to arrive in the Roanoke River by the following spring. The return trip in the second year of the study began three weeks later, likely due to cooler ocean temperatures than the year before.
Anything else?
The striped bass covered about 27 miles per day. Larger fish tended to swim at faster rates that smaller fish. For example, the largest striped bass in the study, a 49.5-inch female, traveled from the Roanoke River spawning grounds to New Jersey — a distance of 521 miles — in 10 days.
Summary compiled by Scott Baker
The Hook, Line & Science blog series now includes over 30 posts for anglers.