Signs of Spring
Here's hoping that you have enjoyed some sights and sounds of spring already, maybe even some examples very close to home.
The arrival of spring last year came just as the impacts of a global pandemic moved from theory to reality. Within a matter of days, it seemed, our lives focused on remote work and schooling, face coverings in public, and social distancing. For many, the impacts were much more dramatic life disruptions and illness. Our hearts especially go out to those who have felt deep loss in the past year.
While many of these societal changes are with us into 2021, our team at North Carolina Sea Grant has continued our work on many fronts. For a quick two-page snapshot of some of our recent accomplishments, visit go.ncsu.edu/yearly-snapshot.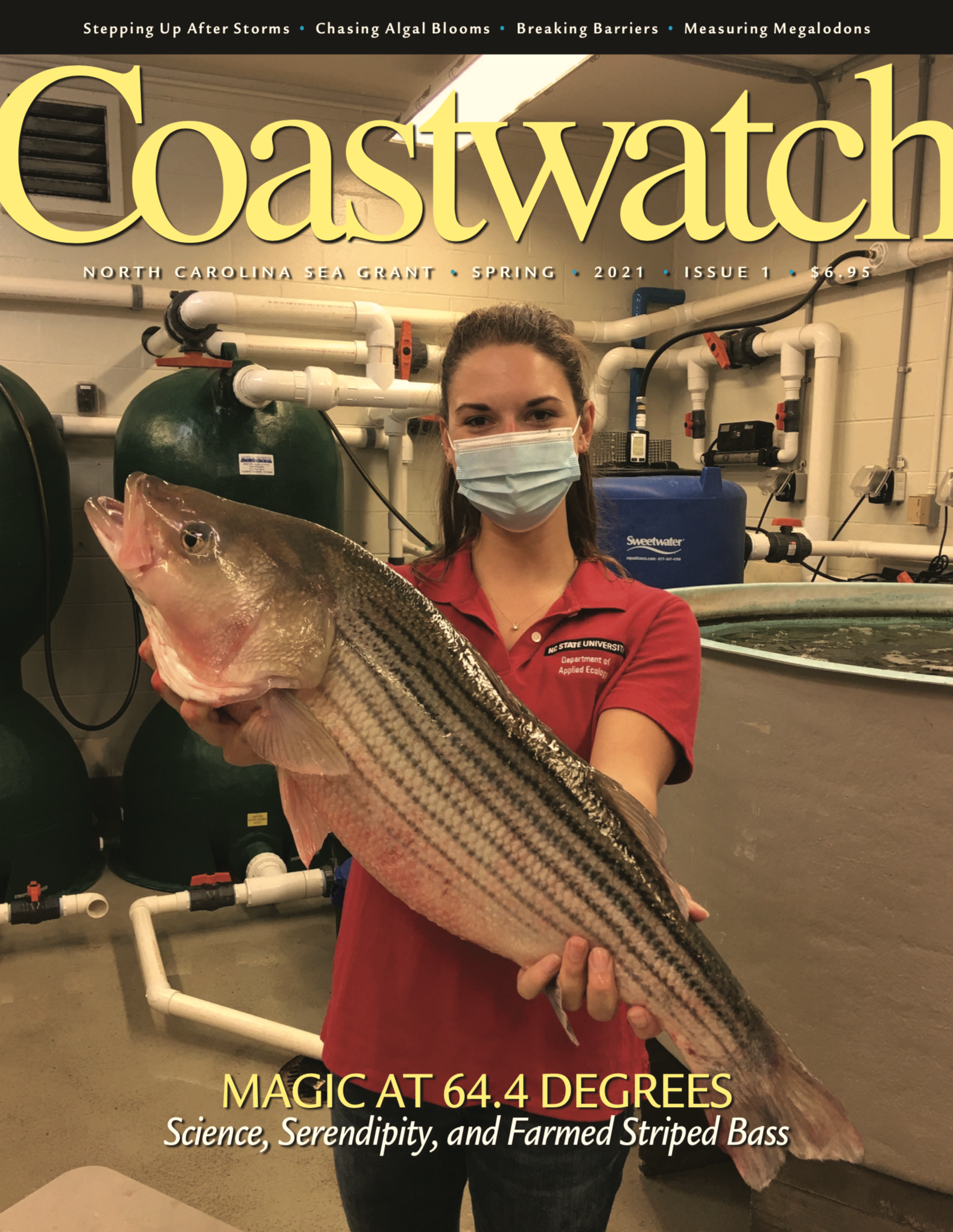 Not surprisingly, women drive much of our work. March is Women's History Month, and you can celebrate women at all stages of their careers simply by acknowledging the authors of many stories in this issue of Coastwatch.
Graduate students Haley Plaas and Erin Voigt are sharing their own research on algal blooms and crab habitats respectively. Also, Susan West, a journalist and longtime partner for Sea Grant research and outreach, explains results of a Community Collaborative Research Grant focusing on resiliency in the seafood industry, a project led by cultural anthropologist Barbara Garrity-Blake.
Lauren D. Pharr, a science communicator with North Carolina Sea Grant — and a scientist in her own right — provides profiles of women and men facing challenges of being Black researchers in the aquatic sciences.
You will find other important contributions from women in this issue as well: Jane Harrison in her role as a Sea Grant economist and mentor; Allison Fisk explaining fisheries science in Hook, Line & Science; and Vanda Lewis helping consumers enjoy N.C. seafood with Mariner's Menu. Linnea Andersen is a key collaborator on groundbreaking research from NC State scientists about farm-fresh striped bass, which we cover in "Magic at 64.4 Degrees." Of course, science editor Julie Leibach often writes for Coastwatch and plays an important role in every issue.
By the time you read this, we will have completed our spring meeting for the Sea Grant Association. In my role as SGA president, I am proud to lead this organization, which represents the nearly three dozen Sea Grant programs in our national network that runs from Maine to Guam. While each program focuses on needs in respective communities, we can share impacts and consider critical challenges together.
Looking ahead, applications again have impressed us for the National Sea Grant program's next class of Knauss Fellowships and for the second year of our NC STEM Policy Fellowship. This year, the N.C. Department of Natural and Cultural Resources will partner with us and host a STEM Policy Fellow, joining ongoing partners at the state Department of Commerce and Department of Environmental Quality. Read Currents for updates on the state and national fellows and other students in our programs. These fellows are the next generation of state and national leaders.
Enjoy the spring sunshine and plan-making for the months to come. In the meantime, if you have topics of interest, please drop me a note: snwhite3@ncsu.edu.
— Susan White, Executive Director, North Carolina Sea Grant